This is a placeholder text
Group text
by Acameron on 06 June 2022 - 19:06
We are just starting to look at importing a dog ( not a pup) from Europe if we can't find a great match reasonably close to us in the US . Its been over 5 years since the last time we explored this . The shipping and broker costs totaled about $2,100 back then for a dog from Germany , and similar costs for a Czech dog.
We've been told prices have doubled with airfare rates going insane and new shipping restrictions in our brave new world,. Does anyone have recent experience ( since March 2022) and have ball park expectations on costs?
Thanks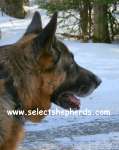 by Sue-Ann on 06 June 2022 - 23:06
Acameron, prices are high and regulations are a changing, moving target. Consult state and federal sources for the current rules. Things have changed. There are new age restrictions as well as APHIS requirements. My most recent experience was the end of March.
by jillmissal on 11 June 2022 - 21:06
Yes, costs are extraordinarily high right now. Your best move is to fly there yourself and bring the dog back, it is SO much easier and cheaper!
Edit: I just returned from EU. Airfare was pretty reasonable with ahead planning. 
---
---
Contact information
Disclaimer
Privacy Statement
Copyright Information
Terms of Service
Cookie policy
↑ Back to top