This is a placeholder text
Group text

by ShepherdEnthusiast on 15 August 2023 - 18:08
Hello all! Does anyone know any sable show line breeders? (American or West German show lines, doesn't matter to me.) Planning on getting a pup in early 2024, and looking around for breeders. Adore the temperments of show lines, but prefer sable coats. Please let me know if there's any out there!

by mrdarcy on 16 August 2023 - 04:08
You could try placing an ad in our "Request to Buy" classified section, good luck with your hunt.

by apade on 16 August 2023 - 14:08
Hello
Im EU Breeder Sable line gsd too.
If You wanna more info, just send email or msg by WhatsApp.
I will can send details and video.
WhatsApp: 0048507071847
Email: a_posse_ad_esse@o2.pl
by Weirdanimalguy on 16 August 2023 - 17:08
What is your location? If in the US or Canada, maybe Kysarah Shepherds in New Hampshire could have something you may like. They produce sables regularly, usually dark ones too. American show lines, several have gone on to some herding titles and a couple of service dogs.
by Steve1972 on 21 August 2023 - 07:08
A "Showline" GSD is defined by many attributes that differentiates it from a "working line" one of those attributes is the appearance of its coat. If you were to look up the standard you'd find that they are black and red / tan and must have a saddle.

Finding a true "sable" Showline dog will be impossible as it was bred out of Showline dogs when they were developed.

It is quite common to find black and red Showline dogs with sable coloring on top of the neck, shoulder and back, thinning towards the tail and continuing down the tail. This is much more common with females than males. But they still exhibit the standard coat color and pattern of a "Showline" GSD.

If you want a sable dog you should have one. Finding it in a Showline version will prove to be difficult due to the many many years of breeding the sable color out.

Do not dismiss a working line dog because of temperament. There are stupid, ill-mannered, un-loyal & not trust worthy dogs on both sides of the fence. I personally own both, two working & two show. There are obvious visual differences between them, but they all have excellent temperaments.

I believe the temperament that you are trying to stay away from is trained into a working dog. True that some pups will pick it up faster and more natural than others. But still a trained behavior. My working dogs are very mellow and sociable.

Apade posted that he is a EU breeder that breeds sable. Notice that he didn't specify Showline.

Consider a working dog. There are many benefits to a working dog. An important one is that they are not as affected by dysplasia, degenerative myelopathy and other diseases as their Showline counterparts. I'm not saying that it doesn't happen. I'm saying that it is much less prevalent. Overall, a working line dog is more healthy.

Good luck. If you choose to import a dog, use a broker that is based in your country to protect yourself.

by Dog1 on 22 August 2023 - 13:08
Sable showlines exist. They are essentially descendants of Timo Berekasten, or Champ Dakota as those males were good enough to attract breeders to the sable color. Good examples are difficult to find as the numbers to choose from are small. The best results have been from Polara Schaumberger land and Happy Fichtenschlag.





by apade on 22 August 2023 - 15:08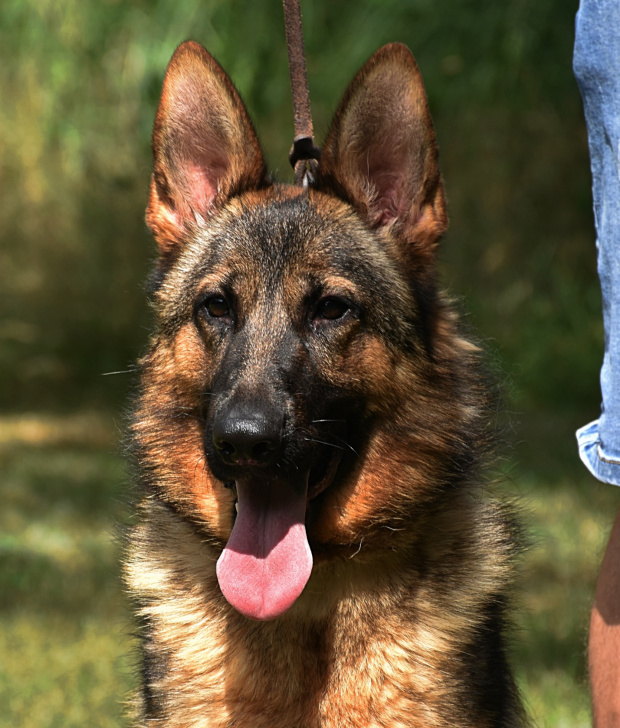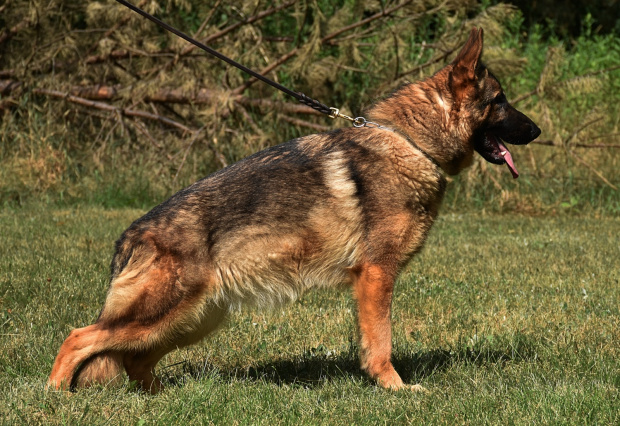 Its Champ von Dakota bloodline Link to her pedigree: Pedigree
by Steve1972 on 22 August 2023 - 21:08
Again, female Showline will exhibit sable coloring on their top side from neck to tail. Much more than males. But this is NOT considered a sable coat.

The dog in the pic posted by Apade appears to have a substantial amount of sable on it. Interestingly if you follow the link he posted, all of the dogs in the pedigree are black / red Showline. And if you manually search for Champ Von Dakota you get a completely different pedigree than the one linked to the posting. The dog posted by Apade does not look like the photo that PDB has of Champ (not same dog). Still, the "sable" dog in the pic has a standard Showline (all be it more sable than most), (likely a female) coat. All dogs in both of those pedigrees are black / red Showline dogs. None of them appear to be "true" "sable" in the pics.

V Umma Z Jirkova Dvora
Is a very good example of a "true sable" notice the difference. No blanket and the color is pretty consistent through out her body.

Gama Nokafi is another nice example of a sable color dog.

They come lighter and darker. Most notably, there will be no blanket / saddle.

Sable coat is defined as "lighter root with a darker tip" if you pluck red hairs from Champs body it is red from root to tip. Therefore, not sable. If you pluck a hair from Umma's body it will have multiple colors in a single strand. And it changes with every shed cycle. A sable dog will appear lighter and darker through its life. Especially during shed seasons.

Neither even closely resemble a "Showline" GSD. Coats are very different.

A Sable Showline is in fact an oxymoron. It's contradictory to the development of the Showline dog. Original GSD's were sable and black. Showlines were developed later through selective breeding to breed out sable and black. The result is black & red / tan. Breed standards dictate a distinct pattern of a Showline coat as well. Therefore, a sable GSD can not be Showline…

Even Champ von Dakota is not a "true sable". As evidenced by the pic right here I'm PDB. It's a black and red Showline dog.
by Steve1972 on 22 August 2023 - 21:08
Horand von Grafrath, the very first German Shepherd dog. The dog that the entire breed is based off was in fact a "Sable".

Look him up. There's a ton of pictures of him on the web. Does he look "Showline"?
by Steve1972 on 23 August 2023 - 00:08
My apologies to ShepherdEnthusiast. I have unintentionally turned this conversation into a debate as to what is and isn't a sable coat and is or isn't Showline.

You know in your head what is sable to you and you should have exactly what you want.

In your post you stated "Adore the temperaments of Showline" this indicates that you do not adore temperaments of the working line. I assume that you associate fierce and aggressive behavior with working dogs. Calm, relaxed and loving behavior with show dogs. I can tell you that this is not true. There are some ill tempered dogs on both sides. As I stated, I own both. My male working dog has a much better temperament than my female show. She can be quite snotty. She is great with our family but I do have to be careful in public places. I've learned to trust her judgement but could still find myself in trouble if I am not attentive.

In U.S. news recently, the presidents dog has bitten several times staffers and security personnel. This dog was a replacement for the previous dog that also bit staff. Guess what, both of them Showline German Shepherds. A dog should not bite unless instructed to do so. I highly doubt that anyone is commanding these dogs to bite.

The stigmata associated with working dogs is a trained behavior. They are not born that way. It is learned. Some are better at it than others. Same in the show world. The sport of Schutzhund which all competing Showline dogs participate in requires dogs to protect. Which requires biting. However, only on command.

I hope that you find exactly what you are looking for. Obviously my advise would be not to dismiss a working line GSD. As you can see right here on PDB, working dogs are as desirable as their show cousins. After all, the German Shepherd is in fact a "working" dog intended to be a "shepherd" but intelligent and courageous enough to be able to do many other forms of "work".

---
---
Contact information
Disclaimer
Privacy Statement
Copyright Information
Terms of Service
Cookie policy
↑ Back to top