This is a placeholder text
Group text

by armauro on 25 October 2022 - 08:10
Purchased a puppy born 7/02/22 from him. Dog now almost 4 months- for weeks been trying to get pup shipped with nothing but excuses. He is always posting on facebook. Paid $3500 for pup including shipping.
Conclusion- stupid American has been SCAMMED.
by Mike Delaney on 25 October 2022 - 09:10
Are there breeders/puppy sellers from Serbia that are NOT scammers? I've never read an ad from serbia that appeared legitimate.

by armauro on 25 October 2022 - 09:10
I am learning one hard lesson-embarassing and $ lost.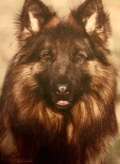 by LovesGSD007 on 25 October 2022 - 17:10
I'm so sorry that happened to you.
Awhile ago I thought I would go through a breeder from the states.
Boy did i get ripped.
I've learned to go there. See the parents, ask questions, lots of questions. I never want to go through what happened before.
Hope that helps. I've also (heard) the dogs from Siberia are super beautiful, but in really poor health.

by Kallen88 on 29 October 2022 - 09:10
American here!! I purchased a Gero puppy from him (Danijel Nikolic-Empire of Wisdom kennel in Serbia) this year and it was a smooth, seamless transaction. I received my pup as planned- he's a beautiful dog and arrived in good flesh. He sent me proof of all paperwork and I've put down a deposit on his Bordy Blendy litter. Not sure if the OP is the same person or not, but someone had tried to scam Danijel and cancel their wire and the pup was already on its way to the states. He got the pup back but the scammer was posting similar stuff all over Facebook.

by Kallen88 on 29 October 2022 - 09:10
I will say that we had to postpone due to temperatures not being ideal and the airline had an embargo against live animal shipments but I've found him to be an honest businessman in our dealings.

by armauro on 30 October 2022 - 05:10
Kallen88- glad your transaction went smoothly- can not say the same- for a month now has excuses for not shipping- I had to pay his "partner" for the dog. He is booked now but can not get health certificate etc, he says airline will give it???? FYI he does not own any of these dogs- sire/dam as I found out. Pup is now 4 months old- he claims- almost impossible to get a picture.
It remains to be seen if he ships this Friday without a hitch-he is on FB all the time- but not a single review. Then there is the issue of the quality of the "1st pick male".

by armauro on 30 October 2022 - 05:10
FYI he is now posting under a different web site.

by Kallen88 on 30 October 2022 - 06:10
OP- I sent screenshots of this convo to Danijel and he said your puppy is due to fly out on the 4th and he couldn't violate export policy and send the dog earlier as it would have been too young. I do hope that you receive it and it's all you expect. I don't think it's anything weird that he doesn't own both parents. Sometimes I do deals with people and am owed a pup from one of their litters. I don't own the male of any of my recent litters so I don't think that's anything to be alarmed about or any reason to drag someone's name through the mud. This guy is breeding top quality pups from some of the biggest names in the world- one reason I'm sure you chose him as well. I'm only sharing my experience because I'm importing my second pup from him with no issue and I believe he deserves a fair shake.

by armauro on 30 October 2022 - 09:10
SHOW ME DO NOT TELL ME- is a motto of mine- please do not make excuses for this guy- trying to get my dog for over a month- I even told him to refund the shipping and keep the pup and the $. No response. Then he got me for another $500.
FYI I said in earlier post he is scheduled to fly the 4th.
I noticed this am he is now posting his dogs on K9Working Dog - not his name.  Wonder why that might be.  I say where there is SMOKE THERE IS FIRE.
---
---
Contact information
Disclaimer
Privacy Statement
Copyright Information
Terms of Service
Cookie policy
↑ Back to top