by txarkoeta on 26 October 2020 - 10:10
Hi. I am looking for a female puppy dog, I am looking at some lines and kennels, I have also valued Jinopo, I have a friend in R.Checa and he tells me that in R.Checa nobody buys in Jinopo, which sells a lot to the US but in R.Checa he sells nothing, that his dogs do not have much instinct and that they are not what they were.
What is your opinion?
by joanro on 26 October 2020 - 10:10
Jopo sold all their great dogs to other countries, including many to USA and Canada. If you are looking for the great dogs from those original pzs bloodlines, don't go to jinopo. They have brought in German dogs to their program, so their dogs today are not what they used to be.
by txarkoeta on 26 October 2020 - 11:10
I am not looking for a puppy with only old lines, but with instincts, for sports and for guarding, I am looking at kennels such as ze stribrneho kamene, tenebris bohemia, anrebri, eqidius, lomeckeho polesi etc ... Do you know any more Juanro?

by Koots on 26 October 2020 - 11:10
Where are you located? Canda, USA, region. If you let us know the geographic area you are in, then people can recommend breeders in your area. It is best if you can go look at the parents and see them working if you don't have any connections. Or go to your local dog sport clubs and see the dogs there, ask about the ones you like and talk to the handlers/owners. As previous poster mentioned, there are lots of Jinopo dogs in USA and Canada.
One example of Jinopo in USA:
by txarkoeta on 26 October 2020 - 11:10
España,Europa

by Koots on 26 October 2020 - 12:10
The only person that I could recommend over there is Duke1965 (he's on here) or you can contact him through his website. He's not necessarily into Jinopo, but may be able to find a pup that could have the qualities you seek, or a young adult.
by duke1965 on 26 October 2020 - 13:10
txarkoeta forget the haters, from all the kennels you mentioned, I would buy from Jiri(Jinopo) if you want a dog for club level ipo and family/guarding, if you want high level sport, and extreme drives, I would look elsewhere
by joanro on 26 October 2020 - 14:10
Duke, if you are calling me a hater, you are wrong. I'm voicing my opinion through real experience. Not experience on a comment board, like others here. Their dogs are not instinctual like they used to be 16 years ago. How many dogs do you find suitable for le, that are promoted for sires with high level sport accomplishment? I doubt if you seek them out.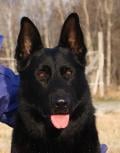 by arra on 26 October 2020 - 15:10
Jinopo is a great kennel and it is not true that they don't sell any dogs in their own country Czech Republic. I actually see many other breeder's that use Jinopo stud dogs in their breeding program. Of course they sell a lot of dogs all around the world but they still have good dogs! Yes also Duke has good dogs, especially for police.
So Joanro I would be careful what you say on a public forum about Jinopo! He is one of the best breeder ever and his bloodlines are proven over many decades and many generations and his bloodlines are in the best breeding programs all around the world that is for sure a fact! Yes Jiri is getting older but from those "older breeder's" you learn most.
by joanro on 26 October 2020 - 15:10
Yes, arra, my foundation bitch and foundation dog are by jipo-me kennel. I commented, from experience with jinopo, that the dogs at jinopo are not the same as they were 15 years ago. Am I in danger commenting about jinopo, so I must " be careful"?
---
---
Contact information
Disclaimer
Privacy Statement
Copyright Information
Terms of Service
Cookie policy
↑ Back to top