This is a placeholder text
Group text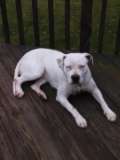 by pdbulldogs2 on 12 July 2018 - 15:07
Hello all.. I am not new to PDB but this is my first post on the American Bulldog forum, or any forum. I was wondering if anyone else is having issues similar to mine ?? I am having an issue registering a dog due to the Sire and Dam not being accepted during the registration process. I have put several ABs on the database and have had this issue multiple times. The issue I keep having is I can type the parents' name on the "Pedigree Search" page and it will bring them up immediately, but when I type that same name into the Sire or Dam section during registration it appears it doesn't recognize the name. Instead I get the 2 options "Parent not known" and "Create and set as parent..." If I try to use the "Create and set as parent..." option it will accept the name you type but it will not have any of the ancestors behind that dog. It seems to treat it as a new and unknown dog. I have run into this issue several times in the past and it is quite frustrating. In the past when I had this issue I was able to eventually get it corrected, but it often took several attempts to do so. This time it took 3-4 tries for the mother, but no luck with the father after 8-10 attempts. I went back thru the AB forum posts and it seems the website was having this same type of issue back at the end of 2016...?? I recently sent a couple PMs to an Admin. about my difficulties and have not heard back yet. In case an Admin. reads this, I am trying to update the info on a female I recently added to PDB named "Reed's Little Dixie of Garcia's catchdogs" and her father's name is "Horton's Hawk (catch dog)." Any help getting him added to her info would be greatly appreciated.
I also have a question regarding the registration process... I have seen a few times that the same dog may have been registered multiple times by multiple people. Usually the dog has the correct original reg. and pedigree and then other ones with no ped or partial peds. It appears this is most often caused by incorrect spelling of the dog's name, or someone being too lazy to or not knowing how to do a bit of research to see if the dog already exists on PDB. To help deal with the issue of spelling the dog's name correctly, I was wondering why there is no option during the registration process of using a parent's registration number instead of, or in addition to, their registered name. It would seem a 7 digit number would be harder to mess up than a multi-word name. In case the name is not quite right, using the number would positively identify the dog. Just a thought.

by GSDHeritage on 12 July 2018 - 17:07
I will send you a PM to help you.  Sent PM but entered the sire Horton's Hawk (catch dog)
for your dog Reed's Little Dixie of Garcia's catchdogs. 
The problem is the apostrophe (') the system does not recognize it for some reason.
SEARCHING for a dog without entering the apostrophe helps. So search for Horton Hawk or Reed Little Dixie of Garcia 
If you found the dog it can be tricky with the apostrophe (')  to add it as you can create a duplicate.  If the dog does not show up and asks to create another dog send me a PM to help you.
by leonardolechuga on 11 October 2018 - 14:10
I had the same problem and was not able to get it fixed not it shows me having registered those dogs so now when you search the parents the original shows up as well as my created dog and I cannot delete my input.
by GSDHeritage on 11 October 2018 - 14:10
Will send you a PM will be glad to help you leonardolechuga
For other members that might have issues...
This is available on Tutorial page it is much easier if members contact us directly for help.
To contact an admin for help in creating, changing, adding to or deleting a pedigree and/or photo.   Anything pedigree or related to a pedigree please contact
GSDHeritage - all breeds - Speciality is AKC dogs and White Shepherds/ Berger Blanc Suisse
Fantom76 - all breeds - Speciality is foreign registered dogs
by Ilovemybreed on 12 October 2018 - 00:10
I'm having the issue
by GSDHeritage on 12 October 2018 - 01:10
llovemybreed, I replied to your PM you sent me.
---
---
Contact information
Disclaimer
Privacy Statement
Copyright Information
Terms of Service
Cookie policy
↑ Back to top