This is a placeholder text
Group text
by dravensgl on 07 April 2016 - 21:04
Hi, I have contacted 3 vets in my area, asked about ofa tests like hips, elbows and eyes. when I ask about price they said give me your number and we'll have to call you back. Can someone please give me a straight answer on how much it costs? I want to get my dog tested later this summer and I want to put the money back. No vet's office will tell me the price. they want me to make aptment. I want to pay in full before the tests.

first time doing this so please no negative remarks. trying to do things the right way, already titled now needing tests.

by Western Rider on 07 April 2016 - 21:04
Where you live will make a difference I have noticed from other topics covering the same questions.
I don't do eyes so can't help you there.
Hips and elbows in my area of So Cal, from the Vets that I and others I know use are from
$175 to $250.
There are others that charge more this is the range we are charges. Discounts if we do multiples a visit.
by dravensgl on 07 April 2016 - 21:04
Thank you, i live on the east coast. And I thought I would get all that are required before I bred to a champion male later this year.

by Western Rider on 07 April 2016 - 22:04
Sorry about that.  I have read that they are double on the East coast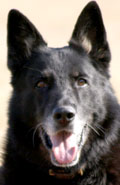 by BlackthornGSD on 08 April 2016 - 00:04
It costs about $485 to do hips and elbows in Virginia, at most vets. I know of a couple of places where it goes from about $150 for just hips to $350 for hips and elbows -- old-style xray machines (not digital).

Christine

by dragonfry on 08 April 2016 - 00:04
In Florida i got Hips and Elbows done at my vet for about $90 for the X-ray films. And he shoots film until they are perfect. He would never send in poor quality or positioned X-rays.
But i also did not have my dog sedated. I held her myself with the help if one of my tech friends. And we got the images done. Next time i may pay for sedation as my dog is like a spider monkey on Meth.

So you need to probably figure the cost of Sedation (sedation is charged by weight and maybe Bloodwork to make sure the dog is healthy for sedation) + Films+ the price that OFA charges to have the films evaluated. (Think it's like $35 to $50?) And a few bucks for mailing it all in,

So probably bank between $300 and $400 to be on the safe side.
Make the appointment, get the paper work started, Plan the date to have the dog put under. (Can't feed or water the dog after 12 pm the night before the producer)
Get the films done, discuss the films with said vet. Get the paperwork filled out and signed, and mail that sucker off.
Takes a few weeks and you will have your results.
Good luck
Fry

by advantagek9 on 08 April 2016 - 08:04
Here in Western WA it is $79 (no sedation) for hip and elbow film at 3 vets. Others that can run close to or a little over $200.
by dravensgl on 08 April 2016 - 22:04
Thank you everyone. You gave me an idea on what I need and i'll call this one vet back and get the apt. made to get these tests done.

by melba on 09 April 2016 - 02:04
Central NC I pay $150 for sedated hips and elbows, digital xrays.

by bubbabooboo on 09 April 2016 - 13:04
In the Raleigh, Durham, Chapel Hill area of NC the cost is $400-$500 but in more rural areas where the vets are not all small animal exclusively ( Vet in a box ) the costs are lower. There was an older vet in N Wake county who did hips for $90 with no sedation but he sold out to a Corporate Vet Company and the price is now $450. Price fixing is rampant in both the human and vet medicine fields. Hip x-rays will tell you what your dog has but won't tell you what they will produce when bred to another dog.
---
---
Contact information
Disclaimer
Privacy Statement
Copyright Information
Terms of Service
Cookie policy
↑ Back to top