This is a placeholder text
Group text
by Roll n Oaks farm on 16 December 2011 - 21:12
 My question  is it right for a seller to misrepresent a dog just to sell it? I purchased a corgi, a UKC champion in fact. I asked several times if she ever had a c section and i was told no, i specifically bought this beautiful girl to breed to my boy... after eratic heat cycles she finally bred. carried the pups full term, oh...... well most of them. I took her to the vet and he had no choice but to do a c section. he shaved her belly and much to my surprize she had already had a or some c sections. the pups could not pass through the lesions from  her past c section or sections. 3 days prior to whelping i call the person i bought her from to talk and find out her whelping pattern. she never returned my call.. i thought that was odd because out of concern  if it was one of my dogs even if i had sold it I would have returned the call, and at that point and  revealed the truth.. especially knowing the dogs life could be at risk! needless to say momma has been at the vet all week, I lost 3 pups, and have a very large vet bill and not even a return call. For the novice who loves a breed and would like to raise some quality pups beware...we love our corgis dearly and are sickened with what has happened.

by VonIsengard on 16 December 2011 - 22:12
I'm so sorry that happened to you. If you were told point blank she had not had c-sections, and she obviously has, that is not only dishonest but reckless and potentially life-threatening for the dog. Perhaps you should reveal the name of this breeder as a warning to others and to give them the opportunity to explain themselves. There are two sides to every story, to be fair.

by Olga Ashley on 17 December 2011 - 00:12
It is always very wrong to misrepresent any dog/puppy when placing, it is the sellers responsibility to find the best home possible for any dog/puppy in their care thus disclose any and all aspects of that dog.  To read that the seller misrepresented the fact that she had in fact had and needed c-sections to whelp is HORRENDOUS!!!  Its risking her life and putting you through a lot of emotional AND financial stress!!  Especially since you did buy her with the intent of breeding her.  C-sections are NOT a huge deal when they are planned; you can time them correctly, find a good repro vet to perform them and its usually an in/out kinda thing with minimal stress.  When they are emergency c-sections, its a very different story.  If I was looking for a female, c-sections would not deter me from buying a quality female.  What a shame....I'm glad your girl and her surviving babies are OK!  BTW, when I was in Pembrokes, I did not hear the best thing about your girl's breeder (I found your website).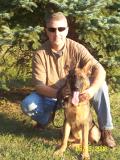 by JON ERIC on 17 December 2011 - 01:12
 As I have stated every time this Subject comes up,if the Seller would Simply list an Initial Asking Price,and Provide all Info on Sire/Dam,then they would avoid alot of Time Wasters,even though I Do not like that Term for a Prospective Buyer.
  If a Seller does Not like to answer Questions,then he or she should Not Advertise the Animal.
by Roll n Oaks farm on 17 December 2011 - 03:12
 That is the story, I wish there was more to it. I was told by a breeder to stay away from dogs who have had c sections, unless I wanted to continue them. When i called her it was 2 or 3 days prior to whelping and left a message asking what her whelping pattern was I feel that left the door wide open for her to tell me. I could have taken her in on that day for the c section. this could have been prevented. I was honest when i spoke to her, i told her what my intentions were. she knew I loved my dogs. I paid her western union for the deposit and cash upon delivery. I wony mention the holes she had in her pads from her toenails.
by hexe on 17 December 2011 - 03:12
If you're buying an adult dog, I feel it's reasonable to request a copy of the dog's *complete* vet records--and those should come directly from the vet, not from the seller. It's not hard to do--the seller simply has to give the vet's office the OK to release a copy of the records to that individual. If there's any fee for the service, the prospective buyer covers that, just as they would if they were getting a CarFAX report on a vehicle they were considering.  No vet records, no sale, IMO.
---
---
Contact information
Disclaimer
Privacy Statement
Copyright Information
Terms of Service
Cookie policy
↑ Back to top