This is a placeholder text
Group text
by gsm44 on 13 April 2009 - 22:04
Could someone post the results from yesterday's show?
Thanks.
by Caffrey on 14 April 2009 - 06:04
Bitches Mr W Vessey

MPB 13 entered 7 absent
1st Gazjackhof Carly
2nd Shernna Cookie
3rd Rangemore Ulli
4th Iolanda Quina
5th Parmo Duffy
6th Merjuke's Hope

PB 3 entered 1 absent
1st Nikonis Dolores
2nd Chiara Isolla

JB 12 entered 5 absent
1st Veneze Chaos
2nd Danashe Dita
3rd Graybeck Kitana at Mazannah
4th Flickzenburg Indi
5th Etchica Queska
6th Samaravic Shayla

YB 8 entered 5 absent
1st Gayville's Asia
2nd Videx Rakell
3rd Mascani Giselle

PGB 19 entered 11 absent
1st Corjon Otty
2nd Willowdale Keifa
3rd Korzwin Glitzi at Vashika
4th Impranah Razzamattaz
5th Draycore Niska at Reyanheath
6th Etchica Piper

LB 14 entered 8 absent
1st Gayville's Zora
2nd Vonmeister Santa
3rd Flickzenburg Catalina
4th Chiara Farina
5th Romanville Darla
6th Vonmeister Destiny at Tyeashann

OB 7 entered 4 absent
1st Parmileon von Becka
2nd Ganja vom Larchenhain
3rd Lindavale Olympia

BCC Gayville's Zora
RBCC Corjon Otty
BPB Gazjackhof Carly

BIS Zora


Dogs Mr W Thomas
MPD 13 entered 9 absent
1st Iolanda Quido
2nd Veneze Dino
3rd Shernaa Chip
4th Rangemore Ouzo

PD 8 entered 4 absent
1st Nikonis Dave
2nd Jorrocks Juno
3rd Fouranfass Le Dauphin
4th Anpo Uppy

JD 8 entered 1 absent
1st Veneze Conner
2nd Romanville Mikkee
3rd Robuna's Warwick
4th Vonmeister Yorky
5th Nikonis Arthur
6th Jupaaza Francisco from Nikonis

YD 7 entered 3 absent
1st Shernna Vodka
2nd Greenveldt Kyan
3rd Nikonis Yasko
4th Iolanda Inzzaghi

PGD 10 entered 5 absent
1st not in catalogue Pakros son owned by Paul Bradley
2nd Blerio Schillo at Parmo
3rd Robuna's Vargas
4th Arochia Ando
5th Kyloni Kalisto

LD 11 entered 2 absent
1st Flickzenburg Vonmeister Lex
2nd Conadrew Lesko
3rd Korzwin Randy
4th Presidio Eroc
5th Romanville Monteiro
6th Rustanville Erasmus

OD 8 entered 5 absent
1st Balko vom Gleisenauer
2nd Robuna's Quanta Master
3rd Grangehey Hugo

DCC Balko
RCC Vonmeister Lex
BPD Nikonis Dave & BPIS


by Heather on 14 April 2009 - 13:04
Congratulations to Zora for her Best of Breed, well done to the team!  Also, well done to all winners and to Balko, Otty and Lex and very well done to Gazjackhof with Carly's Best Puppy win, a great start to her year :-))
Heather & David
www.conbhaireangsd.co.uk

by JOZOLLI on 14 April 2009 - 16:04
Wow.  An awful lot of absentees no?


by Videx on 14 April 2009 - 16:04
Actual entries are continueing to fall, maybe, just maybe, we will all agree on all of the problems one day, and then maybe, just maybe, we will all agree on the answers one day, and then, maybe, just maybe, it will not be too late!. Although I doubt that very much.

by funky munky on 14 April 2009 - 18:04
Jozolli, wow you are so right, makes you wonder, liz
by paulie on 14 April 2009 - 18:04
I agree with you David, i was at the show, and as far as shows go, it was good.  Both Judges were competent, and handled their respective entries in a thorough manner, leaving we ringside pundits in no doubt how they arrived at their placings, which made a change from some recent shows, where head scratching was so rife,  that the Nit Nurse was nearly called in.
        I smiled to myself when overhearing a group of people discussing the merits ( or lack of them ) of the  Dog CC winner.
It absolutely amazes me when people who should know better criticise animals, one person described him as an "ordinary dog " but  could not  give me an answer  when i asked where that left the English Dogs?  Perhaps somebody can enlighten me on that score.

   Regards Paul Rattigan.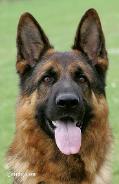 by NikkiF on 14 April 2009 - 19:04
Best Puppy in Show - Nikonis Dave
by Caffrey on 15 April 2009 - 06:04
My Apologies Nikki, Thank you for the correction

by JOZOLLI on 17 April 2009 - 11:04
Yes, entries are falling - thats universal for a variety of reasons - though UK has several reasons all of its own....


But the absentees!!!!  PGB 11 absent?  LB  8 - more than half of the class, absent.  It just seems ALOT at a breed championship show.

---
---
Contact information
Disclaimer
Privacy Statement
Copyright Information
Terms of Service
Cookie policy
↑ Back to top