This is a placeholder text
Group text
by BoyDerDog on 01 January 2009 - 04:01
Just to be clear...this is the powerful father?
http://www.youtube.com/watch?v=QPQTI3FlzeM&feature=related
Scott B
by Lyagers on 01 January 2009 - 11:01
Right you are; Powerful Breeding father-lines!

by JOZOLLI on 01 January 2009 - 13:01
Hi
Juat a little add on to all these Banderas comments.
Aren't the valid ones ONLY from those who have seen the dog - NEVER trust a photo!
Banderas is a stunning male - absoloutely spectacular colour and the most intense unbroken black saddle etc I have seen. (for me he is more intensely red and has 'longer' hair than in the new picture - before it appeared here with the colour turned up!)
His nature is superb and his play drive HUGE - I have not seen him work, but have seen him play and socialise, thats all.
Finally, he is with Margit Van Dorssen at Arlett kennels and anyone who takes 5 minutes to speak to her would realise she puts dramatic emphasis on the nature and workability of her dogs and she knows her dogs VERY WELL.
But I am sure Banderas will be seen enough in 2009 to clear up any speculation.
We should add that he is a SUPER stud dog - no worries on travelling to him!  And the pups we saw from two mothers had his very good colour and lovely clean lines.
Our female is 4 weeks mated and looks to be in whelp to him - fingers crossed.
I would recommend him, and a trip to Margits kennel to anyone!
Jo (Cinderhof) 
and Fiona (Amulree) Belgium

by steve1 on 01 January 2009 - 13:01
Hey Bob
Watch it
I thought miss beeb was promised to me, a poor old Ex Pat
Yes i too would like to see Videos of him working, there must be some if he is a Super star
Steve

by missbeeb on 01 January 2009 - 14:01
Hi Steve, Happy New Year!  Your baby's a cute wee bear!
I didn't like the photo of this dog so much, but the little videos of him... yes please, he's quite a looker and I'd be cock-a-hoop if he were mine!
by patrick on 01 January 2009 - 22:01
When I used Banderas 3rd October 08 he was at Leo Behrens von Streek kennels for training sch 2 and kkl. I also went to the training club with Leo, and watched him doing his bite work. He went through his session with great vigor and determination, came off on command, very impressive. We went back to Leo's to mate the female about 8pm. I remember before I went to use him I had a conversation with Magit to see if he was a keen stud, "She replied"   count to 5 and he will have mated her! Nothing like driving 1500 kl to find the dog wont mate, Believe me he was very quick. When they were tied Leo went in to answer the phone, I remember looking into Bandeas's eyes from 6 inches away and the quality of the dog really hits you. Leo came back out and said, Its Margit she wants to talk to you! She was on her way to a show in France, she was stuck in trafic, She was asking, was everything ok, I was sat there holding the 2 dogs, I said, "Margit" you tell me lies! You said, count to 5 and they will be mated! She said, is there a problem! I said, I only counted to 3. Believe me When I say, The dog has everything, colour, type, attitude, movement, correct size, and great quality. Superb breeding, He is bred to produce on. I had 1 puppy 4 weeks ago, a female, with the qualities I expected from a dog like Banderas. Would I use the dog again? Without hesitation.  Bill Owen.     

by missbeeb on 01 January 2009 - 22:01
Hi Bill, Happy New Year!  Are you keeping her?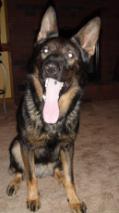 by Slamdunc on 02 January 2009 - 00:01
Beautiful dog, absolutely a great looking GSD.  I hope he works better than Vegas though, that was some poor bite work in the video Scott posted.
Jim
---
---
Contact information
Disclaimer
Privacy Statement
Copyright Information
Terms of Service
Cookie policy
↑ Back to top