This is a placeholder text
Group text

by Richie23 on 19 March 2009 - 03:03
Hello,
I have been researching my male and female' pedigree's my male will be 5 in Aug,  I am looking to get another male around the time he turns 6 maybe7 and I just wanted peoples thoughts, on where I should buy a pup from....I really like the red/white...  I have very nice importlines in both of their pedigrees.  Winston cap, Bess, Dryden joe, Bosworth Coon, just to name a few...anyway what are the better lines to have.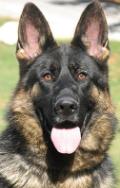 by katjo74 on 26 April 2009 - 19:04
You need to do research on other nice working lines that maybe have some similarities to those dogs you've mentioned above in your existing male's pedigree (can even be the same ones if far enough back in the pedigree). Or, you need to find what we call "types" which are similar in the drive/looks you are wanting, and purchase from there.  
And look for qualities/traits you definitely want to pass on-pleasant temperament, certain markings, coat length, working drive, health clearances, etc. I would also make sure to ask breeders about personality and check the puppy you are considering prior to committing in the future since timidness can run in your breed and is seen as a disqualifying fault for your breed just as much as albinism (excess white). Breeding backward dogs to backward dogs is going to produce a litter of backward pups-they may look good but their insecurities will make them ineffective to do much of anything in competition, working, etc, especially if around other dogs/people they don't know.
The personality alone of your existing blk/wht male is going to be a tough task to "replace". He is wonderful in personality, looks & drive and is an exceptional fella.

by Richie23 on 28 April 2009 - 01:04
I have been doing researching and Iam just looking to see what other people may have or whatever...My merle isn't doing to bad, she is comming out of it, Its almost like she gets upset with to many people around I guess...you get what I am saying!  I did find a really high drive female, that I would LOVE to see what she produces with the Saddle back that I found!!
  But I have Learned something when breeders who put their, pups out at 3wks its nice that breeders introduce them to different sites and sounds, but they really do need to handle theirs much more when outside.  I think that is her MAJOR problem...As soon as she get her puppy shots we are going EVERYWHERE!!!!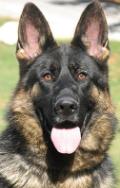 by katjo74 on 03 May 2009 - 01:05
Very good plan, Richie. Some breeders fail to understand the important roll they play in the lives of the puppies they produce in those first 8 weeks of life. Putting them out in a kennel at 3 weeks old is absolutely absurd. The less human handling, the more backward and unsure the puppy becomes with the world around them. Puppies need a general exposure to lots of things, from sights to sounds, surfaces to smells, etc. A good foundation helps build a bright future for confident, outgoing puppies.
Don't be afraid to ask the breeders worthwhile questions and concerns for a potential puppy. If you want one for certain things, then you need to ask questions pertinent for such. For example, if you want a BC to be a very friendly therapy dog, don't buy from the breeder who tells you, "I have nice pups and we put them outside at 3 weeks old and don't overly handle them further until the people who have bought them not realising we do this picks them up." By then, you're work is already cut out for you to be 'undoing' some of what has been formed young in that puppy's life-its not hopeless, but can be avoidable. Talking to other people who have pups from certain breeders will shed some light on such situations. And never be afraid to WALK AWAY from a situation/litter if they've not been handled and raised properly-you'll just be saving yourself alot of effort and heartache down the road.
Compair the attitude & personality of your own puppies you have produced in the past and the effort you had to put forth to cultivate that (and how they reacted to people when they visited-most if not all come running out to meet the strangers, explore, etc) with how pups are being raised  by people whom you might wanna buy something from. How puppies are raised in those first couple of months DOES matter.

by Richie23 on 03 May 2009 - 15:05
My girl has really came out of it slowly but surely she is!  Her Breeder is a very nice person, and I understand some of what she doing, but I didn't like the way my girl has acted about thing here the few weeks I have had her.  Her and Garfunkenl are playing she is getting more and more used to the idea of people, and everything.  So I don't complain to much about  things I have been able to turn  her around so far but I did learn a lesson from all this. It is what its is Never again.

 I do like the Saddle-back Sable male I found, but I am still leaning toward the idea of bring in a male from Belgium.  I like what they have.  But I really Like that Saddle-back for me to have something that looks like him is worth waiting on my import at this time.  I am still looking for a male to make sure I am dead set on this.

I do have major plans for Skyler, just giving her time to be a puppy and come more and more out of this backwardness issue she has going on.  I know how well the breed works is a major issue, so I like that fact that Both Spike and Daisy have the drives they do which made for some nice drive for work in the litter between them.  If Skyler is more laid back its an alright thing, it wouldn't hurt but she does come from good working lines so I am really happy about that, But I do look forward to showing her and Spike this fall, I want to show both but that will depend on Skyler and How she acts about things.  My boy is going in even if he acts up I don't care.
---
---
Contact information
Disclaimer
Privacy Statement
Copyright Information
Terms of Service
Cookie policy
↑ Back to top