This is a placeholder text
Group text
by roxydog on 23 January 2012 - 20:01
Hi,
What should i look for in a pup and breeder when going to look for a new pup.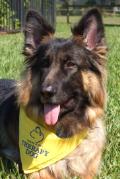 by starrchar on 23 January 2012 - 21:01
What goals do you have for your future dog? A pet, a sport dog, or something else?
Here a great link to check out:
http://www.gsdca.org/german-shepherd-dogs/choosing-a-puppy/types-of-breeders
Of course this is just for starters. I realize this for GSDS, but everything still applies.
Health is number one because no matter how great everything else seems if your pup isn't healthy, nothing else matters. In my opinion, the parents must have passing hips and elbow scores and it's an added bonus if the parents have had other screenings. 
The parents of the pups should be temperament tested and titled (some type of significant performance acheivements).
A good breeder:
Will help match your personality and goals for your pup with the right pup. 
Will interrogate you and educate you in order to make sure you fully understand what it really means to add a Rottie puppy to your household.
Genuinely cares about their pups and will have have something in their contract stating that if something happens and you no longer can keep or want to keep your pup/dog you will return the pup/dog to the breeder.
Will make sure that he/she is available should you have any question or concerns about anything regarding your pup.
A health guarantee, that states in the event something is wrong with your pup you will get a replacement pup and not be forced to return your original pup. Most contracts will be fairly specific about what warrants a replacement pup.  
I could go on, but I've run out of time.
I'm sure many others will chime in.  I hope this helps a little bit.
* I want to add that I don't know what your situation or goals may be, but there are thousands of Rotties in shelters and rescues that are in desperate need of a forever loving home. Thousands of dogs are being euthanized everyday. Something to think about... 
by m_zaki40 on 23 January 2012 - 21:01
http://hauspharao.com/puppiesqnada.html

by trixx on 23 January 2012 - 21:01
well first i would say a friendly breeder by Phone , one that will let you come and see there breeding stock. i would buy from home rasised pups not  left in a  kennel, a breeder that socializes the puppies, parents are of very good temp ,  strong , very sure of themsleves. breeding to the standard, parents to be title, show rated. KKL - hip/elbow cert, DM tested, clean enviroment, if you are looking at a german shepherd. i would go with german Lines.  Guarantee in writting. this is just a few ideas off the top of my head.

its very important to buy from a honest breeder.

where are you located ,  maybe i  may know a few breeders your way and also what  lines are you looking to buy from -working or show?
by roxydog on 23 January 2012 - 21:01
Thanks for the links.
I want a rottie pup as my current rottie is 6 and a half. It would be a pet and company for me and my other dog. My current rottie is very placid and easy going. The top end breeders are too expensive for me and i don't want a byb pup. I tried one rescue centre but there were so many terms and conditions to meet I couldn't get one. That's not to say i'm not going to look at other rescues. I had a bad experience with my first gsd buying him at 18months. He was very damaged which is why I would like to get a pup so at least i know i'd be responsible for the socialisation.
 
by SitasMom on 24 January 2012 - 01:01
FIRST - do some soulsearching and decide exactly what you want your puppy to do.....
pet/companion
obedience competition
camping/hiking
Schutzhund
protection
 
NEXT - decide how much time every day and every week you can give for training....
 
NEXT - decide what personality types you prefer and how much energy you prefer....
 
THEN - you can start looking at the breed you want and possible breeders. 
 
So many people have an idea of the perfect dog, but purchase a breed that are not suited for this idea.....
 

 



by roxydog on 25 January 2012 - 20:01

Definately pet and companionship. Although, I would be lying if i didn't say I feel safer with one in the house. I am on my own a lot and as well as company, I would like the security aspect of it.

 I am known locally for having dogs, so I'm not having bother any more with unwanted visitors.( we had bother with theft)

 I have time everyday for walks and training. I'm in a position to bring a pup everywhere with me to get socialising and i'm in a dog walking club. 
 I have other dogs, a gsd which is a placid fool, a strong minded jrt and have done well with their training.

I have read the thread about the negative responses to rotts and i'm aware of that isssue. I would like advice on socialising a rott tho, do i need to do more than i did with the others or do the same rules apply.

like the demeanor of the rottie, they are more ''wait and see'' unlike the gsd, who can be on the nervous side sometimes. Rotts are more facially expressive and like it was said in either this thread or the other one, they give plenty of warnings before they get aggresive.


I still haven't purchased, but I have spoken to a breeder who has full papers for parents, I can see both parents. He has a vet cert for all vaccines and check ups, is offering a money back garantee for health reasons or if I decide for any reason I have made a mistake in buying it. He has also said i can call or visit him anytime for help and advice.




---
---
Contact information
Disclaimer
Privacy Statement
Copyright Information
Terms of Service
Cookie policy
↑ Back to top