by emilyhowell on 29 November 2017 - 23:11
are the two breeds reconsider as one depending what colour the dog is? say it's brindle but mum is malinois and dad is dutch herder.. would it be classed as dutch? tia

by 8lu3d09 on 30 November 2017 - 00:11
I asked a similar question.

http://www.pedigreedatabase.com/belgian_malinois/community.read?post=894973-knpv-progeny#894997
by apple on 30 November 2017 - 13:11
It depends if the dogs are registered or not. FCI registered Dutch Shepherds and Belgian Malinois are separate breeds. The Dutch have unregistered lines of each, but they are really not considered separate breeds. If the pup comes out fawn colored, they call it a Mal and if it comes out brindle, it is called a DS. Keep in mind that these unregistered Dutch lines have outcrossed to other breeds in the past such the Great Dane, pit bull, Rottweiler, etc., so they are not actually "purebred" dogs.

by marsiii on 01 December 2017 - 00:12
The original Belgian Sheepdog conformation which includes Mals have a distinct head and muzzle shape which looks that of a Collie. The Dutch Shepherds head looks more like a short coated GSD. i say, check the head shapes and see for your self. There is no "bad color" for a working dog, so for me, other than faulty colors i dont go just for stripes.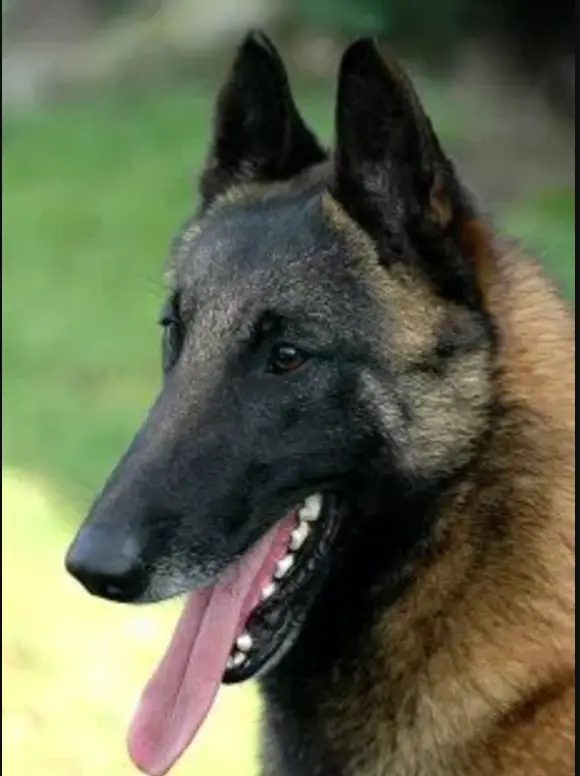 by Hundmutter on 01 December 2017 - 08:12
[Belgian Shepherd Dog heads] Yes. Something very Terveuren about the head in that second photo !
(Genetically, all BSDs - Malinois, Tervs, Lakenois & Groenendal - have been demonstrated to be the same breed, only with peripheral phenotypic differences to coats/colours/heads &c. All 4 varieties have been interbred with each other at some point, still within the bounds of being 'purebred'. )
by apple on 01 December 2017 - 13:12
Keep in mind that the pictures posted above are very likely of an FCI registered DS and Mal. Not the same as unregistered KNPV lines MalX's. There is less uniformity in type and sometimes you really see the effects of outcrosssing to other breeds, like a brindle dog with a head similar to a pit bull.

by susie on 01 December 2017 - 16:12
Hundmutter, although the Belgian Shepherd Dog officially (by FCI) is one breed with 4 varieties the 4 varieties are pretty different in temperament.

- Almost everybody knows the Malinois and its character ("everybody" wants to own one, the result: mediocre parents bred to satisfy the market=a lot of experienced people buy outside of FCI
- The Groenendael ( my grandpa owned one in the seventieth, a very serious dog, this male was my "pet" ) was bred for outlook first and foremost for at least 3 decades now - no real working dogs any more, a lot of them nervy, shy, but good looking...
- The Tervueren - something between the worlds, but over all more like the modern Groenendael than the Malinois
- the Laekenois - in my opinion the most original dog of the 4 varieties, not that fancy, not that much bred, but even this changes right now

Both Belgian Shepherd Dogs and Hollandse Herders do have the same routs, but the Hollandse Herder never became as "famous" as the Malinois ( in case of working ability it´s always only about the Malinois, never about Tervueren, Groenendael, or Laekenois ). KNPV was a great "promotion" for the Mal, be it good or bad for the breed in itself.
The Herders didn´t get this promotion, so now, when the Mali was already bred to death, people start to realize there is a breed called the "Hollandse Herder" - originally the same dog, but not that overbred.

Way to go - scrupelous breeders, naive buyers, and the next breed will suffer.



by Hundmutter on 01 December 2017 - 22:12
Yes Susie I ought to have mentioned there are some temperament differences, sorry. I only have direct experience of 3 out of 4; although I have seen the odd Lakenois from a distance I have not 'known' them / had hands on one.

Show Malis are really different to even the purebred Working dogs, let alone any less stringently bred specimens created specifically as work / sports stock, I appreciate that; the Show specimens I am more familiar with & they do not seem too different from the Show /pet Tervs I have also known fairly well. There are distinct differences from GSDs which leave me preferring the GS. Groenendals I love the looks of, but find many of them over the past 2/3 decades have really unsound, nervous temperaments, which I find very sad - they didn't used to be that way.

by BlackMalinois on 02 December 2017 - 20:12

I have explain it many times on this forum the roots,differents between both breeds and all info about X cross breeds.

There is a search bottom here on this forum, here you can find a lot of posts of both breeds


Have at this moment a KNPV dutchie X female 7 months old out of a yellow malinois and a brindle
dutch shepherd female she is very dark brindle female very happy with her , much potential and turbo drives


in all different diciplines not an easy dog but with some good help I hope I can put/get all the potential out of her.

---
---
Contact information
Disclaimer
Privacy Statement
Copyright Information
Terms of Service
Cookie policy
↑ Back to top