by Bloodypathetic on 07 April 2012 - 18:04
I've recently acquired a 2yr old AMPT; Basically the previous owner did not realize the effort it took to own a dog (he only had it a few months). I'm told he is a full blood red-nose pit however no one can produce documents to prove this. Also his Vet records magically vanished; no worries as he has a vet appt to evaluate him and get everything up to date. Since I've owned him (few weeks now) I've seen that he is a very docile, calm, and playful dog. He obeys my commands, performs the tricks I've taught him, easily controlled on the leash and during walks, enjoys meeting people and even other dogs and animals. I did have some concerns as the breed does have a rep; but being a previous dog owner I know there are only bad owners not bad dogs. He is starting to fill a void left in me from my old dog whom I had to euthanized due to a rapidly spreading bone cancer.
I've been playing around with the idea of studding him out but before I do so I need to ensure a few things because I would hate to claim something he is not and also possibly taint somebody elses bloodline. First, how do I start tracing his pedigree and bloodline? And once everything has been confirmed what is the most profecient way of screening potiential mates? More importantly, the owners of said mates because I do not want to unknowly give to someone whos raising fighters/irresponsible people.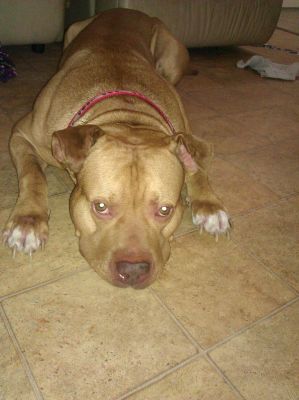 by kitkat3478 on 07 April 2012 - 18:04
Yes,your dog looks to be purebred,and having had pitbulls myself,raised properly they DO make excellant family dogs,BUT;;; Please,look at ANY classified section and see how many pits are for sale for 50 dollars,how many are in shelters and how many are killedk everyday. I'm not saying don't do it, just tkhink real hard before you do.(and yes,i do breed occasionly,but I notk only am willing care for any pup not sold, I am also willing to care for any dog I produce for the life of the dog). (sorry for spelling,i'm using i-pad)l
by Hutchins on 07 April 2012 - 18:04
I would suggest that you contact as many pit breeders you can. Contact as many vets inquiring about Pit breeders. Many vet will not give out that information, but you may get one that will. Check feed and seed stores for ads. Join Pit forums.... Check the newspaper for ads and do some calling and explain what you are trying to accomplish...

There are so many things you can do. It will be time consuming and may lead to disapppointment.
However, given the reputation of that particular breed, if you can not find out anything about his bloodline or his breeder, I would NOT breed him.
Just because he is that sweet and lovable dog, doesn't mean anything. It is possible that he was the only one in his litter of several and the rest were the total opposite of him. Remember, they are have the genetics.

Just my opinion.
Good luck with your quest. Hope you get the answers youa re looking for.

by EuroShepherd on 08 April 2012 - 01:04
He looks just like Cesar's "Daddy" with natural ears.


---
---
Contact information
Disclaimer
Privacy Statement
Copyright Information
Terms of Service
Cookie policy
↑ Back to top