This is a placeholder text
Group text
by snowAtka on 22 February 2019 - 19:02

What kind of group are they with? My question is if you can help me find out if this pedigree is true.
since the breeder tells me that it is from the puppy that wants to sell me


https://imagizer.imageshack.com/img921/4453/eKtFnE.jpg



by hexe on 22 February 2019 - 21:02
Not sure I understand what you're trying to find out. The pedigree you posted a link to appears to be a copy of an AKC-issued pedigree, but without the official embossed seal--so unless it's been edited, I would suppose it to be a true and accurate pedigree. Is it the pedigree of a puppy someone is trying to sell you? It would have to be from a repeated mating of the sire and dam of Kodiak of Oklahoma, since that dog was born Jan. 25, 2016, but it's certainly possible. If you don't feel the person selling the puppy is being truthful, I would strongly suggest you not do business with them.

I have no idea what you mean by "What kind of group are they with?", however.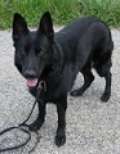 by Lunastar on 22 February 2019 - 23:02
It does look like a real AKC pedigree and the seal is there, but as it's a b&w photocopy you can just barely see a bit of it. Look under where the dam/mother is and you will see a part of it. If you really are worried it's fake, have them send you a color photo taken of the pedigree instead. Also ask if this pedigree is for the puppy's sire/father as that would be most likely. And if it is, then ask about the mother's pedigree as well.
by GSDHeritage on 23 February 2019 - 00:02
This is what a AKC Certified Pedigree looks like.
https://www.akc.org/expert-advice/dog-breeding/discover-dogs-family-tree-akc-certified-pedigree/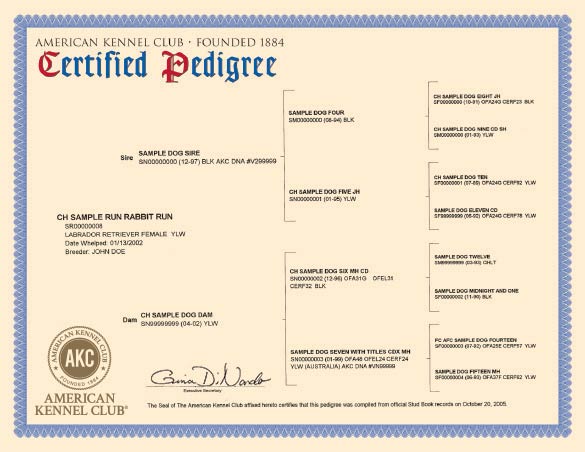 If you buy it on-line it looks different but still has AKC Seal and on top AKC Certified Pedigree.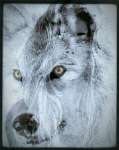 by Fantom76 on 23 February 2019 - 05:02
That looks like real AKC pedigree to me. The signature of the person is even the same, and you can see the seal. The Font, looks the same. I bet that you could send the picture to AKC and ask them if it is real, or you can pay less that $20 and download the pedigee yourself from the AKC website.
If it bothered me that much, and I was really interested in the pup, I would pay the price... but that is me.
by snowAtka on 01 March 2019 - 14:03

Thanks to everyone for your replies, but I have another question because when looking for this puppy in Pedigree Database there is no information about this dog.

https://imagizer.imageshack.com/img923/9235/JKhBsy.jpg

and how to show that the dog is in this pedigree is the same one that is registered
by GSDHeritage on 01 March 2019 - 15:03
You would need to contact AKC as they registered the dog.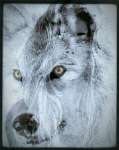 by Fantom76 on 01 March 2019 - 21:03
The dog Kodiak of Oklahoma has been deleted since there was nothing but a name, although he is listed in the AKC online database AKC WS53250703 JAN-25-2016 Red & White. As I said previously, you can purchase a pedigree from AKC if you are really concerned about the dog.
by hexe on 02 March 2019 - 08:03
The reason you can't find this dog's pedigree in this Pedigree Database is because the dog's breeder or owner hasn't entered him into the database as of yet--the Database isn't linked to any breed registries, so pedigrees don't automatically get loaded into it. Consequently, just because you can't find the dog here in the Database, that should not be considered as evidence that you're being given a falsified pedigree.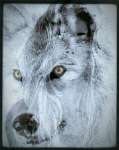 by Fantom76 on 02 March 2019 - 16:03
Good Point. Thanks Hexe.
---
---
Contact information
Disclaimer
Privacy Statement
Copyright Information
Terms of Service
Cookie policy
↑ Back to top