by Nans gsd on 14 August 2018 - 17:08
Has anyone on the forum tried apple cider vinager for yeasty ears, given orally, daily. If so how much do you use per day added to food?? Thank you in advance...Nan

by jcturf311 on 14 August 2018 - 22:08
Miconosol drops

by Jessejones on 14 August 2018 - 22:08
I haven't had yeasty ears, Nan, but I do put about 1 teaspoon of organic ACV (with the mother) into the food a few times a week. I don't feed kibble for main meals though, so I'm not sure about mixing it with kibble, I've never looked into that.
But I've also added it to drinking water. Big bowl and about a teaspoon of ACV.

I also use it topically to clean the ears, by mixing about 50/50 ACV with warm water and soaking a cotton pad with it to clean the outer ear as far as my fingers can reach. Maybe luck, but never had a yeast issue (knock on wood).

On another note...I did have one pup with a mite in one ear. It had the crusty brown/reddish typical discharge for about 2 months. I could not get rid of it with ACV, or anything else, so I researched and bought a little bottle of Thornit dust from England. It is an iodine derivative, I believe. Not available in the USA as far as I know.
WOW! After just a few dustings it got rid of that issue in less than a week, and it has never returned. I was very impressed with Thornit. They say it can be used for any itching as in feet, anus, ears, etc...
by Nans gsd on 15 August 2018 - 01:08
Thank you all; will try ACV first, wasn't sure of dosage. Used it to clean inside ears but also wasn't sure about mixture and only did once so far.
by Rik on 17 August 2018 - 13:08
never tried ACV, but if nothing else works, I have used Zymox several times over the years and it works.
by Nans gsd on 18 August 2018 - 01:08
Well cleaned with ACV/50/50 and put Zymox after. We will see.

Thank u Rik it is my go to. Nan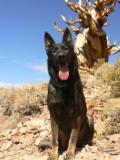 by Prager on 18 August 2018 - 23:08
I have treated persistent problems with ears infections and yeast and so on which were resistant to any other treatment by a veterinarian and otherwise, by flushing them with red wine. Specifically, Sardinian wine Cannoneau known for the supper high amount of antioxidant and others amazing health qualities...
You must be logged in to reply to posts
---
---
---
---
Contact information
Disclaimer
Privacy Statement
Copyright Information
Terms of Service
Cookie policy
↑ Back to top