by CharlieWS on 25 April 2012 - 15:04
Hi... :) I am beginer at raising german shepherds and I wana know couple things about changeing from puppy to adult coat. My white GS is about to turn 6 months in less than a week,but his hair(coat) behind ears is still the same as it was when he was a little pup. I dont know when is it suppose to change to that sharp,small hair...Everywhere else the coat has been changed to adult one.If enyone can answer me this question i would be very thankfull... :)





by Hundmutter on 27 April 2012 - 14:04
Charlie - have just revisited this thred for 3rd day running and I can't bear it that no body bothered to reply to your post yet !
Your dog probably has the genes for whats known as 'long stock hair', ie a longer than the standard coat but not a very long coat. It should have some undercoat too (correct "double" coat). About 12% of GSDs have this genetic component. Lots of long-stock coated dogs a) have some bits of their bodies "fluffier" than other bits; lots also retain their fluffier 'puppy coat' for a bit longer than normal coated dogs. You might find that after a moult or two the fluffy hairs around the ears will
eventually brush out and disappear. There again, they may stay for good (and just be part of your individual dog's appeal !) Yours is still young.
I don't know if this would affect your chances if you were to show him as a White Shepherd; I'll leave that to someone who knows about current expectations with Whites to answer - or maybe you could post a separate question.
If the hair stays that way, be sure to keep it fully combed out while grooming, as this sort of hair can get into some terrible knots if neglected.
[Thank you, by the way, for at least giving your dog its correct Breed name !!!]
Best of luck with your boy.
by CharlieWS on 03 May 2012 - 18:05
Thanks a lot
Hundmutter
... :) I don`t care if he loses that hair around ears or not,I love my dog anywas... :) But to be honest i would like him to lose that hair. :) And I don`t want to show him off at dog shows,I just like hanging out with him. :))
Once again thanks,I thought that no one will respond. :)
by magdalenasins on 04 May 2012 - 10:05
I just wasn't sure what the OP meant by puppy fur vs adult fur. I had a long stock coat and he had the fluff ears as well. I just buzzed them short because he had a habit of sticking his head into bushes/brambles and anything he could and always came out with funny accessories stuck all around his ears. :D Is his tail very full and fluffy as well?
by CharlieWS on 06 May 2012 - 11:05
Well,his tail i fluffy from the down side,but not so much from the up side. :) You got that right about "accessories "... :))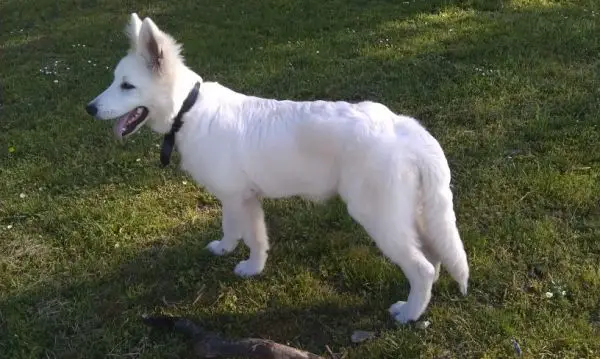 This is my Charlie... :)
by magdalenasins on 06 May 2012 - 15:05
What a cutie, definitely a long stock coat so his ear fur won't change. Keep it brushed or trimmed and that will save you from having to pick small shrubs out of it lol.

You must be logged in to reply to posts
---
---
Contact information
Disclaimer
Privacy Statement
Copyright Information
Terms of Service
Cookie policy
↑ Back to top