by Bundishep on 24 September 2017 - 15:09
The results are in Debby vom Eisernen Kreuz gets 2nd place i thought she won it last night but the first place male got 100 score in tracking today and took first by 1 point i always hope a female can win her sister Dina also did well at 11th place then a brother in that D- litter got 55 place i think thats doing very well for siblings to be in a big ipo event like that i suspect the influence of the Quardes × Yucca match will be felt for years in the working dog world the USA is lucky to have Quardes in the USA as a stud dog in minnisota also Terror produces well a half brother to Quardes out of the same female Gracia then i think Stephan has a new Stud dog out of the Vulcan von Peroh male, Vulcan i think was also in the BSP this year and perhaps even a brother to Vulcan also the dam of Vulcan seems to have been a high level producing female.

by BlackMalinois on 26 September 2017 - 20:09

And what about the influence from the handler......................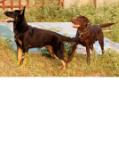 by aaykay on 27 September 2017 - 13:09
BM, I think we are talking about 3 separate siblings, handled by different people. Certainly the handling is a critical factor, but one cannot ignore the genetics that created these results, either.

by BlackMalinois on 27 September 2017 - 13:09

For me all that points championships have most to do with the right handler with all the respect

But you can see it different ofcourse...

by susie on 27 September 2017 - 20:09
If this would be true no top handler would need to buy/sell any dogs...but they do on a regular basis.
That said, a "top handler" for sure is able to get the best out of any dog, way better than you or me -
but "the best" always is restricted to the genetics of the dog.

Nature + nurture = genetics + raising/training

but the best nurture is not good enough in case nature doesn´t help.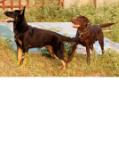 by aaykay on 27 September 2017 - 23:09
Some of the top handlers I have interacted with, spend a lot of time/energy in assessing the dogs/pups that they take on, for further work. They just don't take on any dog/pup. So the baseline they start with, is typically showing excellent traits that they require for further IPO work.
So yes, handling has an outsized role in how the final dog shapes up, in IPO type venues. But the starting point for those handlers, is a pup that has very strong ability to be shaped the way they want (the genetics/nature part).
Thus when you see 3 separate siblings being placed at very high levels, that also means that their respective handlers handpicked those particular pups (from among the several others available) for further training. The litter was certainly exceptional for IPO work.
PS: I also agree with BM that the best dogs for me, are not from these IPO oriented litters, where racking up points for a podium finish is the singular priority. Several other desirable GSD traits that I value, are deprioritized in these "point dogs", and thus those traits are probably bred out of these focused IPO-oriented breedings.
by duke1965 on 28 September 2017 - 04:09
winning a competition is much about handler and people around handler, but cant get past the fact that three dogs from this litter perform well and the pedigree is build/linebred on one of the strongest producing females, maybe of all times,
would love to see what these two littersisters will be bred to and what they will produce, hope to see some more connie blood brought together

You must be logged in to reply to posts
---
---
---
---
Contact information
Disclaimer
Privacy Statement
Copyright Information
Terms of Service
Cookie policy
↑ Back to top