by Sunsilver on 05 December 2020 - 15:12
GREAT NEWS!

And it's very common for bitches to eat dead pups, or sometimes even sick ones. I'm sure after being inside her that long, the pup smelled nothing like a live puppy - it was probably starting to decompose!

I'm going to bookmark this thread and show it anyone who thinks about casually breeding their female, and it's just going to be a walk in the park. It's an excellent education of how difficult breeding can actually be!

It certainly isn't for the faint of heart!

by Sunsilver on 05 December 2020 - 15:12
I've long since forgotten where I found this, but the struggle you went through made me think of it. SO glad your female didn't need surgery, and that the vet was smart enough to check before he opened her up!
Breeder's Poem


I love my little puppy; she makes my house a home.
She is my very sweetest little friend; I never feel alone.
She makes me smile; She makes me laugh; She fills my heart with love . . .
Did some person breed her, or did she fall from up above?

I've never been a breeder, never seen life through their eyes;
I hold my little puppy and just sit and criticize.
I've never known their anguish; I've never felt their pain,
The caring of their charges, through snow or wind or rain.

I've never waited the whole night through for babies to be born,
The stress and trepidation when they're still not there by morn.
The weight of responsibility for this body in my hands,
This darling little baby, who weighs but 60 grams.

Should you do that instead of this . . . or maybe that was wrong?
Alone you fight and hope, one day, he'll grow up proud and strong.
You pray he'll live to bring great joy to someone else's home.
You know it's all just up to you; you'll fight this fight alone.

Formula, bottles, heating pads, you've got to get this right,
Two-hour feedings for this tiny guy, throughout the day and night.
Within your heart you dread that you will surely lose this fight,
To save this little baby, but God willing . . . you just MIGHT.

Day one; he's in there fighting; you say a silent prayer.
Day two & three, he's doing well, with lots of love and care.
Day four & five . . . he's still alive; your hopes soar to the heavens.
Day six he slips away again, dies in your hands, day seven.

You take this little angel, and bury him alone.
With aching heart and burning tears, and an exhausted groan,
You ask yourself, "Why do this? . . . Why suffer through this pain?"
Yet watch the joy your puppies bring, and everything's explained.

So, when you think of breeders and label them with "Greed,"
Think of all that they endure to fill another's need.
For when you buy your puppy, with your precious dollars part,
You only pay with money . . . while they pay with all their heart.

... Author Unknown....

by Hundmutter on 06 December 2020 - 03:12
That is lovely, Sunny, and completely new to me. Just shows that there are always new things to find, even when we have been around so long we think we 'heard it all' !

by mrdarcy on 06 December 2020 - 05:12
Love that poem Sunsilver and so very true speaking from firsthand experience.
Blacksable, so very happy and relieved for you, now sit back and let your girl do her job as you still have work to do, more fun though, after her job is done!!,lol,lol. Please keep updating us as the puppies grow.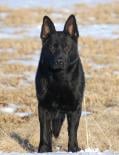 by Jenni78 on 07 December 2020 - 19:12
I always have oxytocin on hand for whelping. While you NEVER want to give it before any pups are born (and if you do, a VERY tiny dose and only if you are prepared to open her up for a c-section within 15 minutes), you can definitely give a small dose of it near the end if you know or suspect dead pups OR as a morning after "clean out" shot to expel anything left behind and get a jump start on milk production. I don't know how anyone could verify that a placenta was retained- it takes seconds for a dog to eat one during what looks like normal labor licking- I would not ever be planning a surgery because I thought there might be a placenta in there. That is what oxytocin and antibiotics are for. I am sorry for the OP that none of these vets seem super experienced. That is such a struggle, especially for the new breeder. Few vets anymore have a wealth of breeding or whelping experience. I adore my vet, as she is so knowledgeable and experienced, but she acknowledges that with whelping, we don't ever "know" and we often need to just go with our gut feelings (if we are experienced). The last time I brought one in for an ultrasound because things were going "weird," and I wanted to check fetal heart rates, I asked what she thought about whelping vs. c-section. She threw it back at me and asked "How do YOU feel?" I said "I don't like it. Doesn't feel right." She said "That's good enough for me. I'll prep for surgery." There was an absolutely massive puppy that had his front paws up in front of his face making his shoulders and head so broad they never would have passed. It was absolutely the right call, though "by the book" it might have not warranted a c-section, but we'd have lost that pup for sure, and still might have needed surgery to remove him and by that point, my poor girl would have been exhausted. My gut was to do the surgery while she was feeling fine and it worked out. My point posting this is that there is truly no substitute for experience, long nights...and sometimes, sad endings. A good vet will acknowledge that and help you make the best decisions you can with the information you have available. First timers only add drama, as you have no pattern to compare. I'm so relieved to see everything went reasonably well. <3
by GSCat on 08 December 2020 - 01:12
Congrats on the puppies and God's answers to prayers. Early Christmas presents to you and your dog.

Yay!!! Something good in 2020!!!

Just wait until the pups turn into land sharks . . . Sharknado and Jaws have nothing on puppy land sharks LOL

BTW, puppy-proof any place your puppies will/could/might accidentally be/go NOW. Before they start getting into everything and maybe choking or getting poisoned. Or destroying something expensive or irreplaceable or mightily inconvenient.

You need to find a way to differentiate between puppies for people intending to buy. You may know the puppies by sight, but strangers won't. Different colored collars is one way.

Get your litter registered right away and keep careful track of the paperwork. You'll need names for the official names on the registration paperwork. Tradition is a breeder's first litter is called A litter and the names all begin with A. The second litter is B litter and the names all begin with B. Most breeders have their kennel name in the registered name. If you don't have a kennel name, perhaps your last name, or ???

Have a wonderful Christmas, but remember that ribbon, string, yarn, cotton beards and fake snow, styrofoam peanuts, etc. are horrible choking and strangulation hazards (including inside the throat, esophagus, intestines, etc.), plants like poinsettias and food like chocolate are toxic, cleaners and car fluids are toxic and caustic, essential oils, candles, fragrance thingees, etc. are often toxic, power cords are electrocution hazards when chewed, bulbs and ornaments break and can cut externally and internally, etc., etc., etc.

:-)
by GSCat on 27 December 2020 - 00:12
Hey, @Blksableworkingdogs any update on the puppies?

by mrdarcy on 27 December 2020 - 04:12
GSCat...was just thinking the same thing, would be nice to know how they are doing!

by Blksableworkingdogs on 27 December 2020 - 11:12
Hey Guys !..... the pups are GREAT ! .... very chunky aggressive little tigers, it's bazaar how at 3 1/2 weeks old they are biting my pants where they can and my sleeve with there little mouths !!!! they barely have there little teeth coming through but there sure trying. They are all very healthy chunky fat and loud boogers, I LOVE them,, I will weigh them again today and I will take new pics of them and post them.

by Koots on 27 December 2020 - 11:12
---
---
Contact information
Disclaimer
Privacy Statement
Copyright Information
Terms of Service
Cookie policy
↑ Back to top