by jimbean on 23 April 2019 - 09:04
Does black pencilling on the toes suggest a darker final sable coat irrelevant of the body colour at present? This is a 13 week old puppy? Her brothers are all darker on their bodies but none have the black pencilling on the toes. Genetically she isnt going to be a really dark sable but, in my limited experience, I have noted that black pencilling tends to suggest darker sables as adults compared to those who don't have the dark pencilling at this age? Anyone?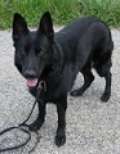 by Lunastar on 23 April 2019 - 13:04
Yes, dark sables have black penciling on their toes, while light sables have none. My red and black sable male Sam, was very dark nearly black sable when we got him at 8 weeks old, but as he grew up he became lighter. He ended up a saddle sable which looks like a normal red & black saddle GSD, just with black sable in the shape of a saddle. Sam also never had any penciling on his toes. Every dark sable I've seen in real life and in photos has had the black penciling.

by Cutaway on 23 April 2019 - 13:04
My wife's dog is a light sable and has the pencil marking and my dark sable has no pencil marking at the toes :(
But one thing I was told which seems to hold true, is the color they are when there born is the color they will be when they mature?????

I will try to post a pic later

by Hundmutter on 23 April 2019 - 17:04
In my experience Cutaway yes that is generally true, a sable dog will end up more or less the shade it first comes out. Don't know how one could measure it any more precisely than that; it is certainly a decent 'rule of thumb'.
Not having much experience with very 'dark' sables, of the sort we see increasingly these days, I would still like to agree with you that the 'pencilling' varies, some lighter sables DO have it, and while on a darker sable coat its not always easy to see, sometimes they do not.
I always pay more attention to pencilling on bi-colours than on sables, because it can vary so much with sables.
---
---
Contact information
Disclaimer
Privacy Statement
Copyright Information
Terms of Service
Cookie policy
↑ Back to top