by 11daniel3 on 21 April 2014 - 15:04
Im looking to import a dutch herder or 2 i just dont no where to get one from lol there are only a handfull in the uk and most of the breeders are crossing them with gsd so any help with exporters on a dutch herder would be great cheers
by Hired Dog on 21 April 2014 - 15:04
A malinois or a Dutch Shepherd? Not that there is any difference between the two, but, which of them are you talking about?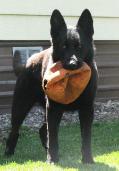 by k9gsd78 on 21 April 2014 - 15:04
Don't take this the wrong way, but are you sure you want a dutch shepherd? From reading your other post, you are a newbie handler. My husband and I have owned and trained GSDs, malinois and dutch shepherds for IPO and, in my experience, the malinois and dutch shepherds are not for newbie handlers. They are not nearly as forgiving of a new handler's inevitable mistakes and they will not slow down for you to take the time to learn. In general, it is much easier for an inexperienced handler to ruin a malinois or a dutch shepherd than it is to ruin a GSD.
This is not to put you down as a handler in any way. I would just hate for you to spend all that money importing a dutchie and then realizing you should have waited until you were more experienced.

by Q Man on 22 April 2014 - 02:04
Maybe the question should be what are you wanting a Dutchie for? Sport...Protection...Pet...Police Work...etc?
If you're new to Working Dogs...Do your homework first before leaping into a breed that might not be right for you...
~Bob~

by Hundmutter on 22 April 2014 - 07:04
OP claims to be having problems teaching his six m.o. Mali
to walk to heel. Seeking a trainer on his other post. Not so
sure he should even think of buying another puppy at this moment ?

by Kaffirdog on 22 April 2014 - 08:04
There are a couple of IPO clubs in West Midlands.
Margaret N-J

by Hundmutter on 22 April 2014 - 14:04
Margaret, I was about to find their addresses for him, when it
started to look like he was trolling ! For the same reason, I
held off referring him to you & Ulf

.
by 11daniel3 on 23 April 2014 - 23:04
sorry for the late replies guys i wouldnt put myself in the class of a newbie handler as i do own and have trained other successful dogs i own a mali bitch a mali pup a mali x gsd and two dobermans and i want the herder to train for protection and yes i am on another forum asking about teaching a dog to walk off lesh to heel witch is not requiered in any protection work in the uk its just to show off if you like and yes as above im on another forum asking about tracking witch yes i would say im a newbie to tracking as ive never done it before hope ive answered all your questions cheers

by Hundmutter on 24 April 2014 - 17:04
OK. If you are saying you go to Protection work clubs already with that
collection of dogs, and they none of them do heelwork, they may be PPD
classes, they surely are not IPO / Schutzhund ?
[You can learn heelwork at any old pet obediance class, b.t.w.]
The whole thing about Schutzhund (with GSDs, and as I understand it
other breeds wot do it, Rotties, Dobes, Boxers &c as well as Belgians & Dutchies)
is that it is a discipline in parts, with basic temperament and obedience - BH -
to start, endurance - AD, and then three sections of each Grade I II III, being
an Obediance [fuss/heel, platz/down etc], a Tracking Session, and a bitework /
protection component. So if you train with a proper IPO Club, you will get to school for,
and practice, all of those, with people to help you, experienced 'dummies', blinds and
other equipment normally provided, and so on.
I have not had time to look up contacts / addresses for the W Midlands yet; but you
could certainly do worse that to introduce yourself by PM to our very own 'Kaffirdog'.
Although some way south of you, in Hertfordshire, they breed and train both GSDs and
Malinois, and have far more knowledge and contacts than I do. Good luck; i will post
w mids IPO and GSD Clubs info on here as soon as I can.
by 11daniel3 on 25 April 2014 - 10:04
my dog heels on leash but it doesnt off leash i only walk him off leash on fields anyway but no i do not train with a club my self and a few others train them thanks for all the advice though guys much apriciated
---
---
Contact information
Disclaimer
Privacy Statement
Copyright Information
Terms of Service
Cookie policy
↑ Back to top