by Dab353 on 22 February 2018 - 05:02
Hi there!

I have a 12-month-old female GSD. She is a show-line import from Serbia with an amazing bloodline. I have joined a Schutzhund club here in Canada which has only working-lines (my GSD is the only show-line in the club). The club claims that my GSD is a long-haired GSD and that she will only be able to compete in conformation trials (Sieger Show) with other long haired GSD. I am in complete denial because I believe that while yes my GSD has a longer coat during the winter months, spring/summer months she doesn't look or in my opinion, identify as a long-haired/coated GSD. I would love some feedback on this matter!

Here is her pedigree with a picture:
http://www.pedigreedatabase.com/german_shepherd_dog/dog.html?id=2640030-emilla-vom-team-panoniansee

by Hundmutter on 22 February 2018 - 06:02
I'd say she is a stock coat - there is some variance in the overall length of guard hairs from one GSD to another, but she does not have obvious 'feathering' on her legs and belly or ears. The coat looks a little too 'open' over her back for my preferences, though - JMO.

The coat ought to have settled into its final form by one year old, so apart from the (quite common) seasonal variation you've already noted, I'd say that's how she is going to stay.

But there are exceptions, and even if the guard hairs grow a little and the overall impression takes her into LSH territory, what is the problem, these days ? SV shows will either allow all dogs to compete on equal terms or they will divide between stock and LSH classes, it is quite 'legal' (especially now we have the WUSV's "global harmonisation plan").
by hexe on 22 February 2018 - 06:02
I'd consider her to be a stock coat. As Hundmutter points out--she doesn't have the feathering of a long stock coat, or the nor does she have the guard hair length of a true long coated dog.

by Reliya on 22 February 2018 - 08:02
She's stock coat. No long tufts of hair behind the ears or on the legs. I'll post a long coat for reference. His fur around his head is just a poof.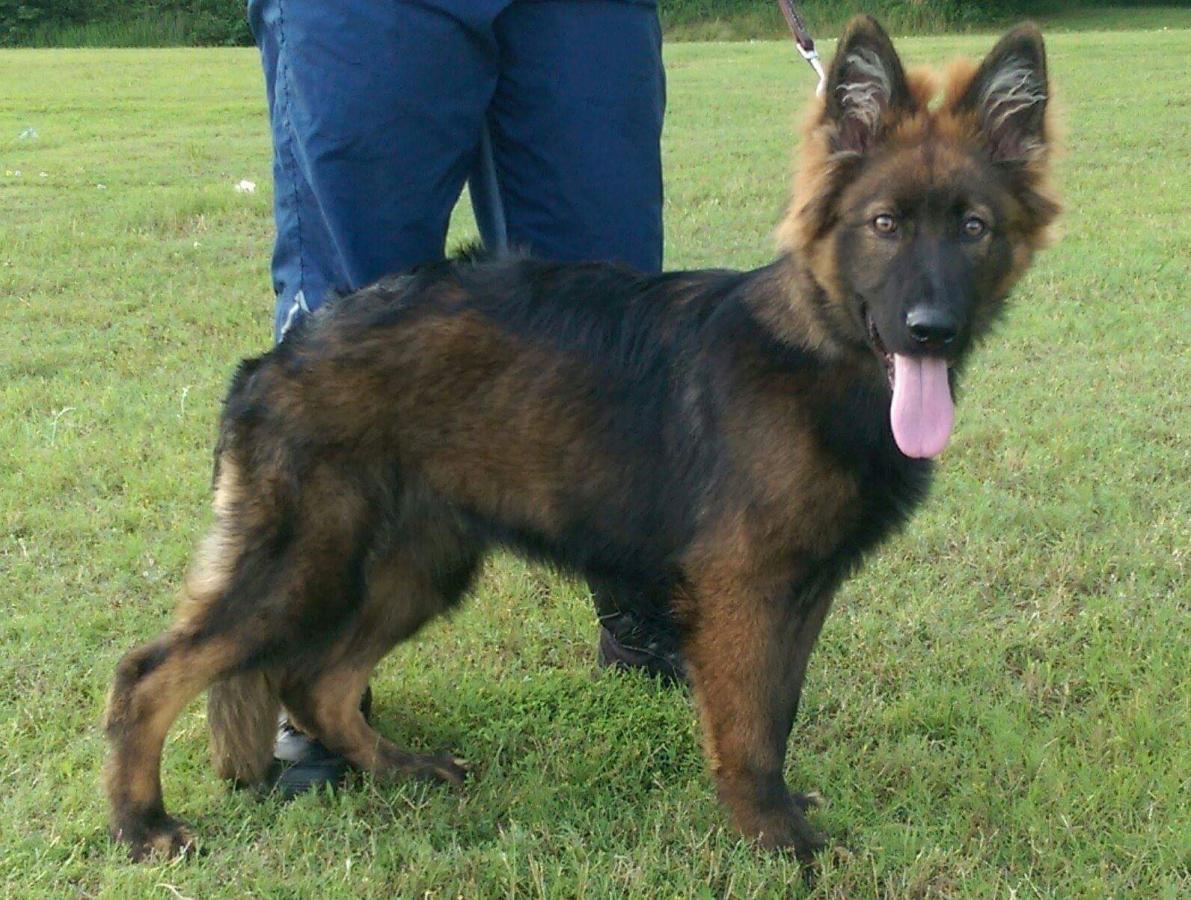 by Reliya on 22 February 2018 - 08:02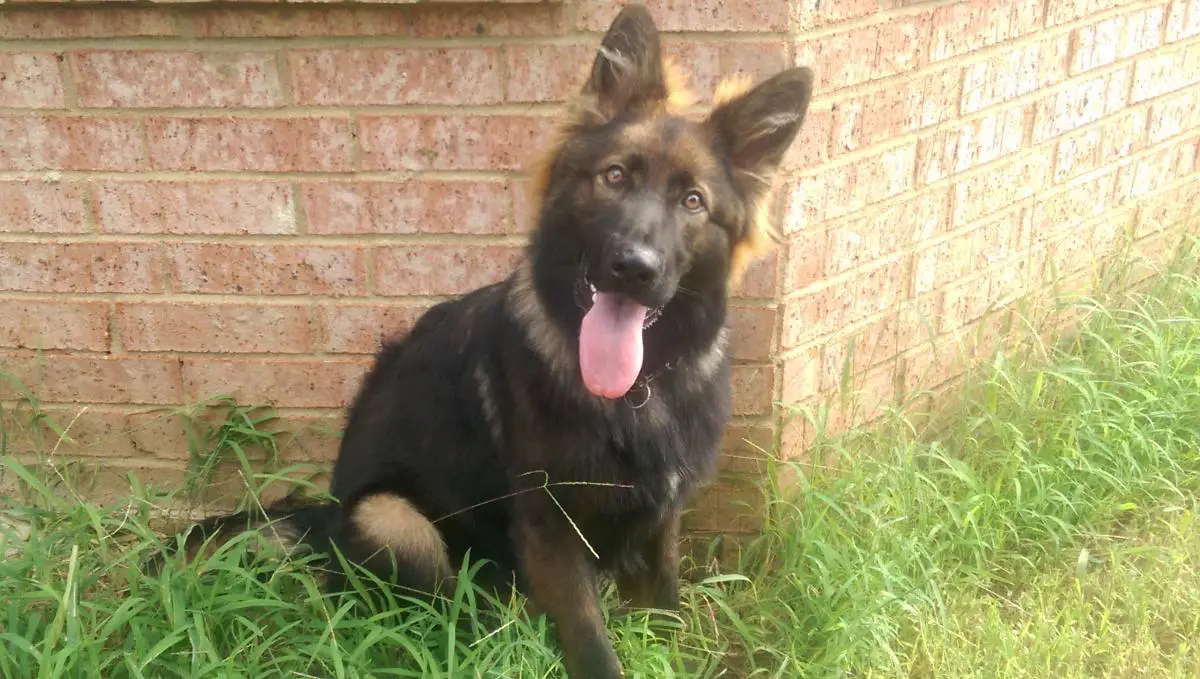 by Hundmutter on 22 February 2018 - 09:02
You just like putting his pictures up, Reliya !

He isn't a particularly strong example of a LSH, his head shows he is definitely a 'coatie' but he could have a good deal more feathering on the rest of him; he's still lovely.


by LiliBerg on 22 February 2018 - 20:02
Definitely stock coat
Here is a longcoat 8 months old pup from my latest breeding (50% german showlines / 50% german worklines)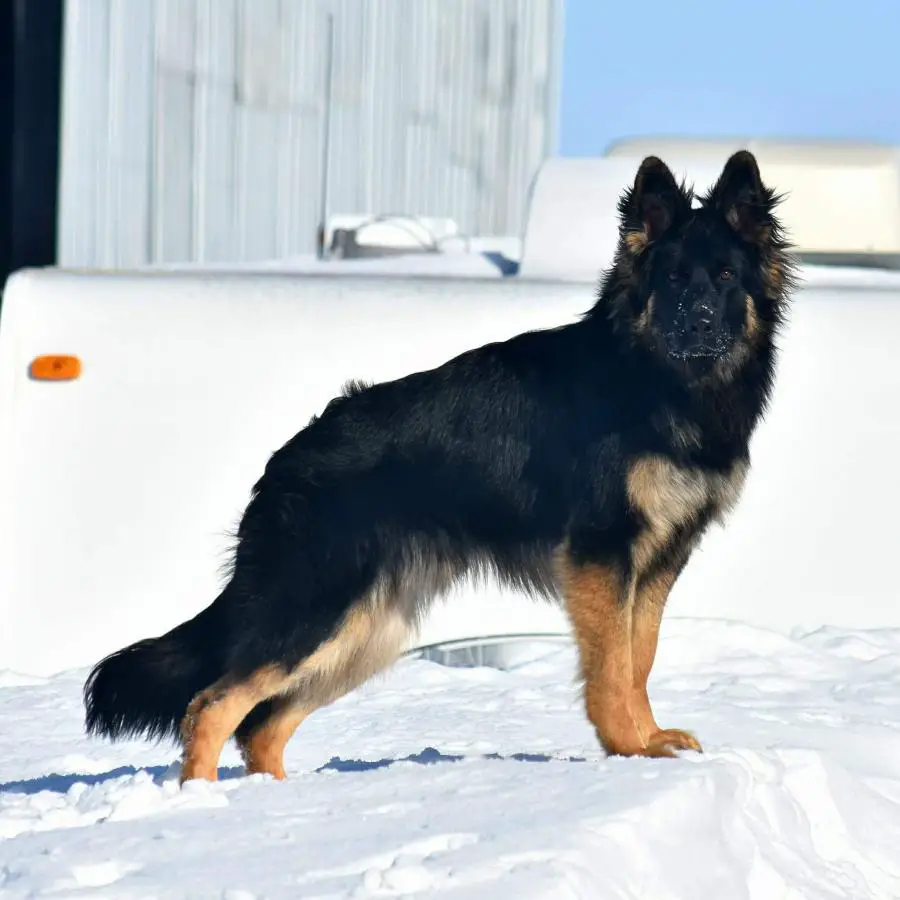 http://www.pedigreedatabase.com/german_shepherd_dog/breeding.planned?litter=2466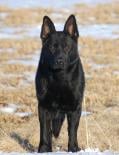 by Jenni78 on 23 February 2018 - 01:02
Don't think just because people are at a SchH club that they have any clue what they're talking about. I learned that one long ago :D

Your dog is stock coated.
by Dab353 on 23 February 2018 - 06:02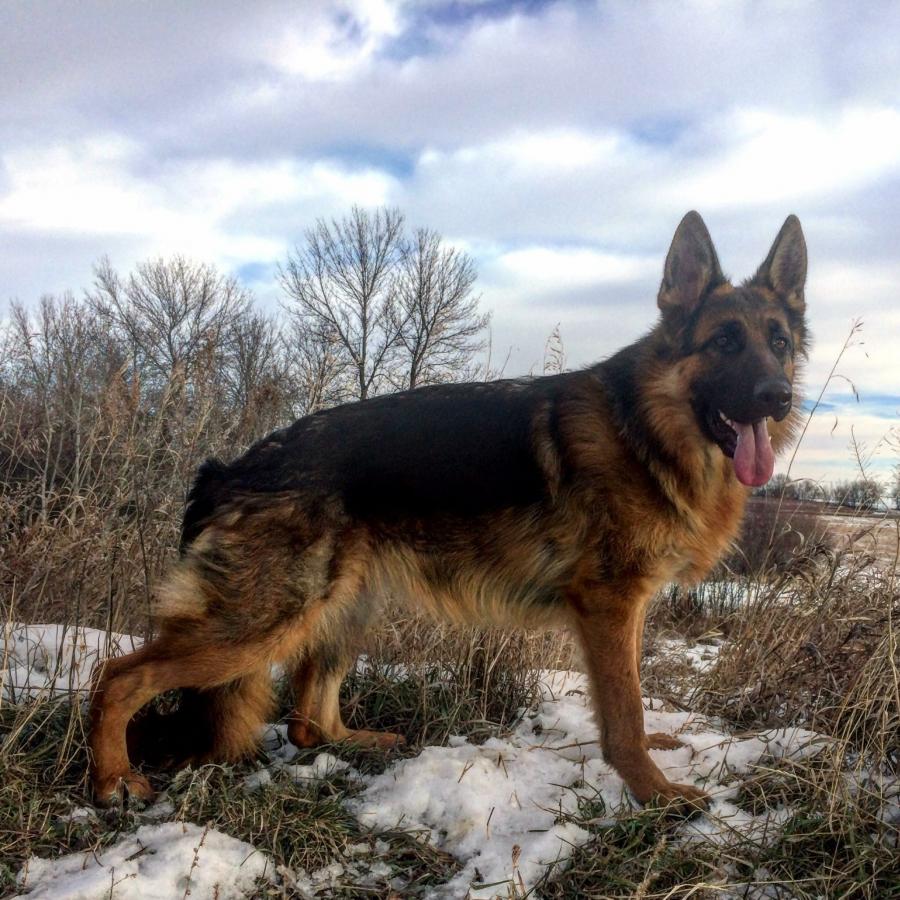 Here is the coat of the GSD in question during this years winter. I am curious to know as to who exactly determines what class in the Sieger show a GSD is placed into to compete.

by Hundmutter on 23 February 2018 - 07:02
SV Classes are determined by gender and age group, primarily. Now that the WUSV accepts langstockhaar coats as NOT being a fault, show classes can be held for them. I don't know what the practice is currently with SV shows organised in the States, but here in the UK we still have a choice, between allowing all dogs to compete in the same (age & gender appropriate) classes together; or in identical groups of classes, one series for 'normal' / stock coated exhibits and a second series for LSH animals.

Some local kennel clubs / show organisers go with one route, mostly the separate LSH classes; a few others run the combined classes. The latter happens more often at Championship Shows (all breed), held under the auspices of our national Kennel Club. Mostly (single breed) shows held by local and regional Breed Clubs are run with separate classes.

The result at the end of the show day is that a best, or V/VA, dog and bitch (and puppies) are awarded for the breed as a whole at the first sort of show - (LSH do, occasionally, win top awards !); and the same but as separate coat types for the second. They are regarded as "different but equal"; it is purely a matter of aesthetics now, whether you prefer a stock coated dog or a long coated one. [ Provided the coat is not so long that it falls outside the LSH definition and causes concerns about weatherproofing, insufficient undercoat, etc. People at your Club should read the GSD Standard. Jenni is right - there is no guarantee anyone you speak to at a working club has kept their knowledge up to date about the breed as a whole, or in regard to conformation requirements.]
You must be logged in to reply to posts
---
---
---
---
Contact information
Disclaimer
Privacy Statement
Copyright Information
Terms of Service
Cookie policy
↑ Back to top