by cprladie627 on 02 May 2007 - 17:05
Can anyone give me their preference between Advantix and Bio Spot? I now use Advantix and have for a couple of years, but noticed on the internet that Bio Spot is sooo much cheaper. We have 5 dogs, and saving money is so important. Feel free to email direct to me if you'd like. Thanks in advance
by DKiah on 02 May 2007 - 17:05
Biospot is a product that is absorbed into the dogs sytems whereas Advantix and Frontline are not.... the reason for the difference in price is pretty obvious. I have used Frontline happily for years but am thinking of changing to Advantix, just to change things up a bit. Where do you buy yours ?.. check out www.entirelypets.com or www.petvetdirect.com.. very good prices..often shipping incentives and somtimes coupons.... I have 7 dogs and often puppies, so i hear ya!!

by animules on 02 May 2007 - 18:05
dogs.com also has decent prices for Frontline. We get the jumbo pack for extra large dogs then use a plastic syringe to dispence it based on weight. The larger the quantity the better the savings.
by Blitzen on 02 May 2007 - 20:05
I've used biospot on my dogs for over 25 years, never any fleas, ticks or any problems due to using it.
by p59teitel on 03 May 2007 - 14:05
I've also used BioSpot for 12 years and found it 100% effective against fleas and about 95% effective against ticks. BioSpot contains permethrin, as does Advantix. From what I've read, some dogs are allergic to permethrin and products containing that ingredient should not be used if a reaction occurs (never had any problem myself). Frontline is said to be spread over the dog's skin via penetration to the glands that secrete oil. If so, then it penetrates the skin in exactly the same manner as BioSpot, so I'm not seeing any particular advantage if skin penetration of a pesticide is a concern.
by LMH on 03 May 2007 - 15:05
The subject of these products makes me crazy. I hate every time I open one of these vials and administer them--but, I keep doing it between May and Nov. Take a look at: http://www.drsfostersmith.com/pic/article.cfm?acatid=176&aid=281 Compare the active ingredients of BioSpot, K9 Advantix, and Frontline Plus. The average price per pill: Biospot-$4, K9 Advantix-$11, Frontline Plus-$12 The question of how they actually work has always been a bone of contention for me. Follicular transference vs systemic--I find it hard to believe it doesn't penetrate the skin (and, that goes for all of them). So, I can see why p59 came to his conclusions---if you compare ingredients. K9 Advantix and BioSpot say they repel mosquitoes (not ticks). A friend has used BioSpot for years with no problems. I've used Frontline Plus with no problems, and because of this fact, I'm hesitant to try anything new---just because you-never-know. Honestly, when did we all start using these vials, anyway. About, 10 yrs ago, yes? Personally, I would love to hear some of the ages of your dogs, and how long they've been on these products. No matter what--it's still poison. BTW--Anyone have a tip to recommend some natural substance, such as an non-poisonous oil, that would repel TICKS that can be rubbed lightly on the dog? I hate the ticks even going for a bite. Yes, they die with Frontline, but it still makes me uneasy.
by LMH on 03 May 2007 - 15:05
I should have said a natural product to be used in conjunction with the Frontline Plus.

by Sunsilver on 03 May 2007 - 15:05
AAAACHOOOOO!!! Dogs aren't the only species allergic to permethrin. I cannot be anywhere near it. It is also in many commercial insecticides, such as Raid. I found this out the hard way, when on a canoe trip, and my partner sprayed the tent with Raid before we went to bed. I spent most ot the night with my nose plastered against the door screen, struggling to breathe. If the skeeters hadn't been really bad, i would have slept outside! Any opinions on Revolution? My vet gave me a package of it when I had my new pup checked. It controls heartworm as well as fleas and ticks, but is HORRIBLY expensive! ($118 for 6 doses, which is a full year's supply here in the frozen North.)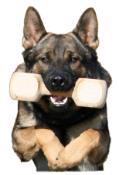 by SchHBabe on 03 May 2007 - 15:05
I am using Advantix now, but just switched recently. I no longer use Frontline Plus because from my experience it doesn't kill ticks as promised. When I was living in the pest-infested swampland known as Louisiana I always had to check my dog for ticks after a romp in the woods. He was on Frontline Plus year round. I would find adult ticks on him that obviously had been latched on longer than the 24-48 hours in which they are supposed to die. I always felt terrible about finding ticks already half bloated. Now I've moved out of state where the parasite count per sqaure mile is significantly less, but I'd still like to use the best possible protection. Does anyone living in a high pest zone have a product that works for fleas and ticks?

by djc on 03 May 2007 - 15:05
Question: ? Maybe I'm wrong, but isn't Advantix FOR ticks??? Advantage is the product that is for fleas???
You must be logged in to reply to posts
---
---
---
---
Contact information
Disclaimer
Privacy Statement
Copyright Information
Terms of Service
Cookie policy
↑ Back to top