by GSCat on 27 December 2020 - 00:12
Looks like training is going well/may be successful. The human had a confirmed episode of afib and the dog alerted using the taught signal.

by DebutShepherds on 28 December 2020 - 12:12
I know that Dog Training Institute offers service dog training- but I believe its a long and tedious process. I dont know much about it, and I dont know if they could help you with this, but maybe worth a phone call?
by GSCat on 29 December 2020 - 04:12
Thank you, DebutShepherds.


by Sunsilver on 29 December 2020 - 09:12
That's awesome! I really didn't think this was do-able!

Debutshepherds, some of the books I've read by organizations that train service dogs don't take into account how very smart GSDs are.

I read one that says you have to repeat something over 100x before you can be sure the dog REALLY gets it.

When I was training Ranger to be my service dog, I needed the help of a trainer to teach him to respond to the door, as I couldn't be in two places at one. It took him 15 minutes, and he was responding reliably to either a knock or someone ringing the bell.

The trainer then said, "You've paid me for a whole hour. What else would you like to work on? How about the kitchen timer?"

We did two reps with the timer. I'd hold a treat in my hand, and when the timer went off, Ranger had to nudge me to get the treat. Then I said, "You know, I use this timer maybe once every 6 months. Let's make sure he's proofed on the important stuff, like the alarm clock and smoke detector."

A couple of months later, I had the timer sitting beside me while I timed something I was baking. As soon as it went off, Ranger came over and nudged my elbow!

I'd totally forgotten about the trainer doing those two sessions, and at first I thought he was generalizing between the beep of the timer and the beep of the alarm clock or smoke alarm. It took me awhile to remember she had done this with him.

They really are amazing dogs!

by GSCat on 30 December 2020 - 16:12
They remember stuff better than we do LOL
by jillmissal on 03 January 2021 - 09:01
OP, can you describe exactly how this dog is being trained to alert on afib?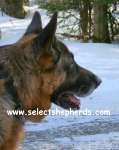 by Sue-Ann on 03 January 2021 - 13:01
Happy to help with this. Send me a PM and I'll give you my phone number.
by jillmissal on 10 January 2021 - 10:01
I'd just like to know how you set up an afib episode to teach the dog what to respond to.

by Hundmutter on 10 January 2021 - 14:01
I would be interested to hear the answer to that question too, please.

by Sunsilver on 10 January 2021 - 16:01
Me three!
---
---
Contact information
Disclaimer
Privacy Statement
Copyright Information
Terms of Service
Cookie policy
↑ Back to top