by duke1965 on 24 July 2020 - 14:07
vdkh, if a dog doesnot have civil/sharpness, what will it bring to the field, retrieve of a sleeve ? many todays sportdogs dont have civil, but have prey/frustration and with that comes thinner nerves
by jettasmom on 24 July 2020 - 17:07
I've seen Noditha work many years ago. Excellent female very strong male like character.
by apple on 24 July 2020 - 23:07
I still think many people in the dog world lack a consistent jargon when it comes to traits. A dog an be civil meaning it will bite without equipment and not be sharp, defensive or thin nerved. A dog can be civil without much genetic mistrust or a low threshold for defense. I could go on and on. Each dog is an individual and there is no magical combination of traits that make a dog civil. I think Duke has a preconceived idea of what a civil dog is because he has a preference for the type of dog he breeds for which is a form of kennel blindness. I am not saying he doesn't produce strong dogs but the variation of genetic traits that make a dog civil are much more varied than a sharp, defensive dog, which can also have thin nerves.
by NatureDragon on 25 July 2020 - 03:07
Noditha is in my dog's pedigree, her great grandmother, I think Noditha is beautiful. I dont know anything about her temperament though. Emoryg, I wish my dog was sharp. She reminds me more of a lab right now unfortunately.....
by duke1965 on 25 July 2020 - 03:07
apple, form of kennelblindness, LOL, the amount of dogs I breed are a zero point percent of the dogs I work and test annualy, so i have a bit wider reference than that, secondly, every breeder is trying to breed the type of dogs he likes, would be stupid not to LOL
by apple on 25 July 2020 - 12:07
That makes sense. I would have been more accurate to say there are different types of dogs that can work the streets successfully than a sharp dog. Some sharp dogs are capable and some are not because there can be many other different traits that can be part of a sharp dog and dogs that are not sharp can be successful for the same reason.
by duke1965 on 25 July 2020 - 14:07
actually, Apple, there is only two possabilities for a dog to be able to work the street, first one is to have good balance prey/civil, second one is for dog in prey only, but then prey must be that extreme high that dog will see everything as prey, and therefore will bite anything without being triggered by a sleeve/suit or whip, but if a dog sees everything as prey, that includes your kneecap and your partner rushing in LOL
but have to agree that it is all about the balance of all available qualities like hardness, posession, frustration,dominance, prey, civil etc

by emoryg on 25 July 2020 - 20:07
NatureDragon, you're not alone. There are a lot of labs in a German Shepherd's body. Not trying to take anything from the lab. Some of the best odor detection dogs you could find were labs. At one time they were the hardest dogs to come across and if you had a good one, you could name your price. Good field labs can compete at any level in nosework.
I trained a lab to do bitework for an officer. He worked interdiction on the interstates and wanted something to help him in an emergency, or at the least make someone think she could. I explained that I could train any dog with teeth to bite, but no amount of training would change the fact that she was a lab. He wanted to go through it anyway and understood that her value would be in her deterrence, especially since most people on the side of the road only hear a dog in the back of the patrol unit bark. They don't know what kind of dog it is.
She was loaded with prey and loved playing tug with a roll of jute, so training moved quickly. Basically it just bringing her up in drive and transferring her to other equipment. Once she was loving and wanting to posses whatever it was she was biting, I made her start defending it. She would show her battle weapons and had a nasty little growl as she stood over her jute roll. That was probably the hardest part, getting her to defend her toy. It took a little more effort than I anticipated.
Then it was just a matter of unrolling the jute to make an arm sleeve and then slowly covering it with more and more clothing until she was biting through clothes to get to the tug. I guess the second hardest part was getting her to maintain a hard bite while under pressure, but she was eventually able to provide enough grip to be lifted up and thrown about during a fight. It looked impressive and made for a good show. Unfortunately, after the show, she was still a lab.
by ValK on 25 July 2020 - 21:07
Noditha vom Teufelsgrund
she has good masculine type of head and strong jaws but lightboned body. typical of present
breeding pretty average/unimpressive build.
https://www.pedigreedatabase.com/pictures/126162-361242.jpg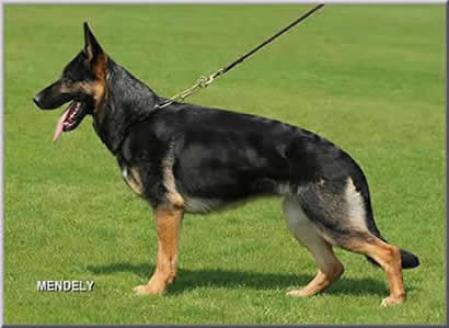 video isn't extremely good one but enough to noticed her nature is somewhat impulsive above
desirable but on positive note - she definitely has some kind of recklessness in her.
she most likely was very brave and stuborn (in positive meaning) girl.

by emoryg on 26 July 2020 - 14:07
Video was not of the best resolution, even when enhanced I can't tell for sure, but appears she drives through on the long attack with her ears pinned.
---
---
Contact information
Disclaimer
Privacy Statement
Copyright Information
Terms of Service
Cookie policy
↑ Back to top