by zigzag on 29 November 2019 - 05:11
UAP ?


by emoryg on 29 November 2019 - 07:11

by Koots on 29 November 2019 - 12:11
UAP = ununited anconeal processes.

I have a good pic with labels of elbow parts on my computer but cannot post it yet. Will see later when home.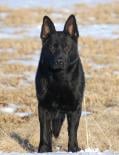 by Jenni78 on 30 November 2019 - 09:11
I posted and have no idea where it went.

There is significant DJD present which may or may not be secondary to primary lesions not visible on this film. A CT would show more.
by zigzag on 03 December 2019 - 15:12
Well just got off the phone with OFA. Hips Good, Elbows grade 2 dysplasia

by Sunsilver on 04 December 2019 - 01:12
Damn. So sorry!

Jenni, wow, you're good! I thought the elbows looked fine!
by zigzag on 04 December 2019 - 05:12
Thank you Sun, And unfortunately Jenni you are good.
by Nans gsd on 04 December 2019 - 11:12
Sorry to hear that Zigzag, is this your keeper or?
by zigzag on 05 December 2019 - 06:12
Thanks Nan, Yes he is a keeper but lots of things going through my mind at this time. He was going to be use for breeding also. He is a very stable boy in public he is great. When he was 7 months old took him to 4th parade. He would stay by us even if other dogs going crazy barking at him. During the parade he just laid at our feet even when fire trucks sirens , horses went by us . It is a huge parade last about 45 minutes and nothing phased him. The night of the fireworks he sat outside with us to watch them. Great view from our back yard. The down fall is his drive is intense so that means the boy is always on the go outside. Inside he is excellent unless someone he doesn't know comes a knocking. A 3 months back he started limping on front legs from one leg to the other. I thought for sure he has pano. So to make sure off to the vet and they did xrays and they thought pano also. They did stick him on Trazodone to keep him calm and he has been kept calm now for about 3 months. And that means no ball play which is driving him crazy and me to see him walking around with ball in mouth. And limited walks which he also enjoys. So now we are going to check in on the cost of repair the elbows and is it guaranteed.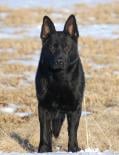 by Jenni78 on 05 December 2019 - 16:12
Is he limping now?
---
---
Contact information
Disclaimer
Privacy Statement
Copyright Information
Terms of Service
Cookie policy
↑ Back to top