by Koots on 06 January 2019 - 18:01
Ask around of the vets in your area if they do OFA x-rays, and if the x-rays are digital. Digital imagery can be sent by the vet directly to OFA, and you should also get a digital copy on disk or stick. Don't forget your AKC registration forms to fill out the x-ray paperwork at the vet.

Good luck on your training, and most important is to have fun and learn with your new dog. She's a nice looking girl.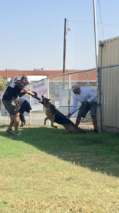 by Coronagsd89 on 06 January 2019 - 21:01
Awesome thank you all for the help.. I'm going to start calling around to find a place..

Another question I have is so I need to get both SV and OFA certs?? And thank you I think she's pretty good looking also!!
by gsd39mr on 07 January 2019 - 01:01
The SV will certify x-rays from 12 months while the OFA age for certification is 24 months, but you can submit an x-ray for OFA preliim before that. Make sure all the SV required information is on the X-ray and if it comes back favorably you can then submit to the SV. It needs to be submitted via one of the GSD organizations. Just be aware that all the fee's will add up-depending on what the vet charges etc you are looking at $5-600 for hips and elbows.
---
---
Contact information
Disclaimer
Privacy Statement
Copyright Information
Terms of Service
Cookie policy
↑ Back to top