by duke1965 on 29 November 2018 - 16:11
thanks emoryg, this is how I think GSD should be, he is familydog, and sportdog, can be LE material, could do well in IPO as well, and be PP material.
if young dogs(3 months and up) have a forward reaction to something (coming around corner or out of brushes for example) im fine with it if they have a brush on their back etc,basically, you can feel what you need to know at that time in linepressure so to speak, and offcoarse several other signals/bodylanguage you will get from the dog, if your youngster jumps all over everything and everybody, tail wagging and licking faces and hands, the first impression for PP is not that great
by ValK on 29 November 2018 - 17:11
seems pup isn't much aggressive but quite possessive, which brings following defense behavior, to defend his belonging.
if there are intention to use that pup in future for protection, decoy doesn't do good job.
by duke1965 on 29 November 2018 - 17:11
Valk, pup is in training for KNPV program, decoy is doing exelent job
by KAL on 29 November 2018 - 17:11
Very impressive pup Duke, thank you!

by ValK on 29 November 2018 - 17:11
you're serious?
decoy is doing excellent job... by teaching that pup from young age - "it's ok. to be touched and petted by an opponent"?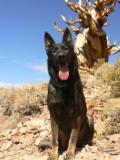 by Prager on 29 November 2018 - 17:11
On the video, I see a nice pup with a correct attitude towards the work at hand. The dog looks ballanced at what he does at that momoent so i am quite sure that the dod will do protection of famlity However, I do not think that the video is showing a specific enough test to show natural protectiveness which I think is what KAL calls civil drive. But the video is showing sond doGSd and the assumption can be made that sound GSD is trainable for family protection., The pup is sound so I am sure he could be a family protection dog.
However, In my experience, almost any dog can be trained protection to some level. If I can get a woof out of the dog then I can train it to some level of protection. Such a test may be for older dogs more than 6 mo old though. But in 6 mon old pup I would like to see natural protectiveness when alone in his familiar surroundings. Is he going to alert on a stranger peering over the fence in the backyard?( and other such tests) I would look for the keen attention towards the person and alert and I would evaluate if the pup advancing standing or running. But all this may be premature at this age and only a few dogs will be decisive at this age. and such decisive dog may then be too much for the family to handle.
The bigger question is what specifically do I want the dog to do. is going to protect Children, 10 acres estate, a wife who is jogging with the dogb ut does not train too much. Are there a lot of visitors in such family. How serious do I want the dog to be? Is the dog going to be just deterrent or man stopper? Is the family going to continue in training or is the dog just going to hang around and work off past training and natural instincts? Are the handler or handler's able to be in a leadership position? The last point is important in selecting a dog with proper dominance.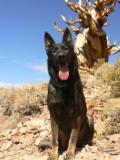 by Prager on 29 November 2018 - 18:11
No valk is is not if the dog is in ptraining for protection. yet it is done all the time since all protection and LE training degenerated into sportism ( Development of the protection and LE dog via sport techniques). This pup is trained for a sport where the helper is a friend of the dog with a toy. There such touching is no problem.
by duke1965 on 29 November 2018 - 18:11
looks like a no brainer to me, that a dog training for certain program, is trained according to the rules and ways of that program
by bladeedge on 29 November 2018 - 18:11
I do not see civil I see a very nice young dog .has good possessiveness and good nerve I'd say a strong candidate for what ever work is for him in the end. But far from civil now in the video . Able to be rubbed definitely not . Nothing I have not breed myself on many occasions . I certainly do like him . will be a good dog in the right hands

by emoryg on 29 November 2018 - 18:11
Duke, what more could you ask for?

I understand this is a six month old puppy. I notice the decoy setting the grip on the leg sleeve and letting the dog know he has done right as he pats him on the side. From early on we like to see the dog counter under stress. This is not some guy with a leg sleeve loving on a cute puppy. This is a highly skilled decoy teaching a puppy to counter. Please watch the hands of the decoy as he manipulates the dog to adjust. Note how he takes the lead and pulls the dog into the leg sleeve. Good stuff.
You must be logged in to reply to posts
---
---
---
---
Contact information
Disclaimer
Privacy Statement
Copyright Information
Terms of Service
Cookie policy
↑ Back to top