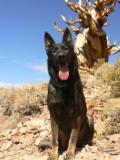 by Prager on 04 November 2018 - 02:11
Susie: Not going to comment on "SV rules suck" besides
"They may suck, but they are still good enough to produce the top producers world wide, proudly announced, proudly paid for, proudly used for breeding..."

"Sucking" rules seem to be better than no rules, just saying...
.
Prager : Susie the point is that if they would suck less they would produce better. Personally, I would not defend lesser of 2 evils.

by susie on 04 November 2018 - 09:11
Prager, I am well aware about the advantages and disadvantages of SV.

When you really think about it most "disadvantages" are not the rules, but human interpretations of these rules.

The "evil" ?
No, just the still most successful breed
Club worldwide.

Everybody outside of Germany is free to do whatever he wants...
The result: Alsations, King Sheps, Off colors, health problems ...

The percentage wise very few breeders who really care about the breed within their home countries ( SV or not ) are not able to influence the overall quality in the single countries.

Has not much to do with SV, but first and foremost with following the breed standard, health testing, and, most important, training and comparing.

People are lazy, in case there is no need to spend money and time 99% won't.

And why should they?
The Cash flows...

by Rik on 04 November 2018 - 18:11
I think back 100+ years ago, the Captain and company (and he wasn't alone) knew the human spirit and that his dream could not survive without very strict guidelines.

why else is the GSD the only breed with such a strict and rigid set of regulations?

I think he did not account for the greed and corrupt nature of the human spirit.

it's not the rules at fault, or even the dogs. even with the corruption, there are still GSD that can do what GSD was first intended, and that is because some few still breed them as intended.

if you disagree, go and find Dobermans, Rotty, Bouviers, Airedales, Goldens still doing what they were first bred for.

JMO,
Rik
by Gustav on 04 November 2018 - 19:11
I agree, Rik....there are still people breeding for the total dog. And these breeders are not identified by an organization, or system, or type, ( though some types have wandered so far from the original capacity that you seldom see dogs of this ilk in anything but fun and pet); but specific breeders still breed for the balanced strong dog that with training can excell in all the things of the past. That's not to say that every dog in the litter can be LE dog or therapy dog or SAR dog,etc, BUT within the genetics of the breeding you may consistently find specimens that will be able to do these things.
i find it amusing that in the last 10 years, the type of dogs ( German Shepherds) that I see as guide dogs for visually impaired are the same type I see as LE dogs. How can this be when you read the narrative that a certain type dog is bite crazy and hyperactive?
The reality is there are some breeders still breeding for the versatility that the breed was known for.....but unfortunately very few breeders and even less people knowledgeable that this is still possible.
by GSCat on 12 November 2018 - 04:11
1Ruger1--

Sorry I didn't get back to you in a timely manner.

Anyway, breeding only will happen if the xrays and bloodwork are good.

The dog displays good and identifiable traits of her lines (4 and 5, and a little 2), hard, courage, and definitely "civil." The last was demonstrated real life with no cue from me and no relevant training for it at a very early age, even earlier than the breeder usually found. Also continues to show this appropriately as she's matured. Good color, conformation, personality, and trainability, and strong prey, defense, and fight drives.
Czech line traits seem to be disappearing/mixed w non-Czech and there is a growing le/mil need for specific types of gsd. I want to see identifiable line traits preserved. Dog is representative and w right stud can help preserve/improve specific desirable traits.
Dog is not perfect (no dog is), but If I did it again for original purpose (le) or for mil or livestock, I'd still be very happy w this dog. I don't have enough knowledge about SAR, therapy dogs, guide dogs, etc, to say whether the protectiveness would be undesirable for these uses, although dog likes to learn and do new things, so I don't think the task learning would pose a problem.
You must be logged in to reply to posts
---
---
---
---
Contact information
Disclaimer
Privacy Statement
Copyright Information
Terms of Service
Cookie policy
↑ Back to top