by Juno on 09 July 2018 - 11:07
Went for training Saturday evening and worked on several PSA - PDC scenarios and I was thrilled that my dog outed when I asked him to without any corrections. Here is the disclaimer - he bit on command and decoy gave him a good fight and let him have the sleeve, I took him away from the decoy and asked him to out and he dropped the sleeve - we did it 3 times and he did it each time. Did the same when we did the car -jacking scenario. As per advise from Centurian and others I did use the 2 ball technique and later the 2 sleeve technique and worked on the "aus" by making it a game for about a week and a half and did no bitework with him during that time. Last Saturday was the first time we did the "aus" - it was a great feeling to see him do it - now we have to continue proofing till I am 100% confident that he really got it. Of course, now we have to practice the "aus" on command with the decoy still wearing the sleeve and see how he does. One step at a time but we are slowly getting there. Once we get past this we can make some real progress as he has absolutely 0 issues with biting on command and not biting even with the decoy standing next to me, holding the sleeve right in front of his face and almost touching his mouth. Then I give him the command and he barks and bites with no hesitation and full force. He did the same with the car -jacking scenario - first time we have ever done that.

Also, for the first time I decoyed for my TD's IPO 1 female GSD, they were practicing - running the blinds while training to get her IPO2 and I took several bites in the blind. That was a very interesting experience - but I will leave it for another topic.
by Juno on 08 August 2018 - 16:08
https://youtu.be/Tsmnt1N_1P4

Here is a short clip of my dog doing his first inner bicep bite with a brand new decoy, in a brand new field, while tied to a bungee. Training for the PDC
by duke1965 on 08 August 2018 - 17:08
Juno, good grip as far as I can see, but all prey, low fight, I would like to hear a lot less : good boy " , go to him few times and pet/reward, but stop with the continuing talking IMO
potentially nice sportdog and good you show the new vids everytime
by Juno on 08 August 2018 - 17:08
Thanks Duke. Appreciate your comments.
by Juno on 10 August 2018 - 11:08
Last night's training session was interesting. By the time we finished obedience and started protection work it was getting dark - so no videos this time as we were using our car headlights. We wanted to continue with the inner bicep bites as required by PSA, for the first bite - Zeus targeted high on the inner arm and the shoulder and almost nailed the decoy which would have been a nasty situation. In order to avoid that the decoy put on the top half of the bite suit - this time instead of targeting the bicep he took a bite straight to his chest inches away from his face and would not let go despite putting a lot of pressure. As per the decoy - Zeus is targeting him as opposed to the sleeve - so in a competition that would be a big loss of points, in real life a lot of points. Now we have to take a step back and turn him more into a sports dog and less civil as he is taking it as a fight.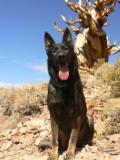 by Prager on 11 September 2018 - 01:09
I just got on this thread so I may repeat what someone already said. What I see on the video on OP is that dog is trained to alert on the decoy which is a big mistake if you train a civil dog. Also I am not takling about sport training here like PSA. I am talking strictly PP. If the dog is alerting on the decoy then you have a problem. Big problem actually. In the video, I have not heard one command to alert . All I hear is praising the dog who turns on the decoy's presence and antics. That is fundamentally wrong. The dog should be trained to alert on command, and not on the decoy. He should alert on a wall or at an open field.
Also, it is telling (to me) that not just this video but almost all training videos on the internet are cut at the beginning so it is not shown what is done before the first command, which to me indicates that there is no importance given to the preparatory phase of the training. But think about it every alert command is caused by some situation and it is done while he dog is usually in "calm " state of mind and not in drive.
What I am talking about is that in training the dog must not be in the drive before commanded to alert. In this phase of the training, the alert and not the presence and antics of the decoy should cause the dog to get into drive . That is an important part of the training.
Duke's video is quite good yet it still does not show that the dog is put in a drive by command. Dog on his video is in drive because he sees ( probably familiar) decoy in probably a familiar location> In all fairness he may have been put in drive correctly from "calm" on the beginning of the session but unfortunately even this video does not show nor emphasize importance of turning the dog on from "calm" . On the duke's video Dog is properly taught to alert on command on the decoy but the problem is that the dog prior to the command is not defused and in "calm" but is merely under controll and already in drive. Civil training is training bringing the dog into a drive from "calm".
The fact is that it is of paramount importance for the dog to be trained to alert from a "calm" state of mind because in real life just before sh1t hit the fan the dog is probably going to be in "calm". Thus alert should be given when the decoy is out of sight or in sight but totally passive with ho equipment and that includes stick, and the dog is in "calm" state of mind ( not in drive). Dog in "drive" and under control is not dog in "calm", keep that in mind. The mere presence of the decoy should not put the dog in drive. If that happens you can go home ( or wait untill he is in "calm" mode again). To turn the dog "on" when already in drive but under controll is useful training for the dog to do just that but in real life, the dog will most likely be commanded to alert when he sleeps under the table and the owner hears or see something suspicious outside. Or he sees a suspicious person doing something which dog may not read as a reason to alert. That is why you must teach the dog to get into "drive" from "calm" on command. That is where the center of gravity of your training lies.
Keep it real and train like you fight and fight like you train. Happy training.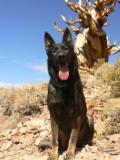 by Prager on 11 September 2018 - 01:09
I have just watched this video.
https://www.youtube.com/watch?v=Tsmnt1N_1P4&feature=youtu.be
Again alert and attack commands are completely missing and the dog is improperly alerting on the presence of a decoy. Or on the presence of this particular person/decoy and on his antics. I seriously ask. Why would you want this dog to do that? Are you expecting this decoy to mug you? No? So then what are you training your dog to do?
Do not feel bad you are not alone. People are not training a dog to be real. And I will throw there one more thing; even when you do sport the dog should be real. This is a fake training.
Keep it real and train like you fight and fight like you train. Happy training.
Hans
by apple on 11 September 2018 - 12:09
You are training your dog to try to title him in PSA, not to be "real" which doesn't mean much. In PSA, you are going to need a ton of control because you are going to have several decoys trying to get your dog to bite them and he is only supposed to bite a designated decoy. In obedience, there are decoys on the field, but not actively trying to get your dog to bite during obedience. For example, at the higher levels, the dog will have to retrieve going past a decoy on each side of him. If he wants to bite every time he sees someone in a suit, you will fail.You need to start working on protection obedience and outing and then training with multiple distractions. Your regular obedience has to be trained by getting the most drive out of the dog to increase reliability. Figure out if he is more food or toy driven. Your static heel position should become the dog's default. It is probably best to train a service recall rather than an AKC recall where the dog comes to the front of you and then to the heel position. That is an extra step that he can make a mistake on where with the service recall you essentially call you dog directly to heel all the time. In PSA, they can use just about anything as a distraction and to pressure your dog during bite work. If you train your dog to be overly civil, you will not have the control you need. Also, if you have a good decoy, he should be training the dog in a competition suit where the dog feels the decoy's muscles moving which results in the dog biting the man and not the suit.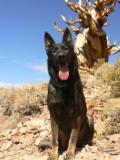 by Prager on 11 September 2018 - 12:09
Apple,
I agree with you but IMO you can teach the dog when not to bite or you can teach the dog when to bite. Sport or not sport. I personally prefer to teach the dog when to bite and that is when I say so ( give the dog command to do so). In that case, I need minimal controll which is only reduced to keep the dog out of drive which is much easier ten to keep him under controll when in the drive. Until I give the command the dog must not be in the drive. That is what I teach. The problem is that these days the training is such that the dog when on the field is automatically in drive and then it is up to the handler to keep him under the control while in the drive. I know that my concept may be unfamiliar to most but IMO it is a sound and a more realistic way to go.

by apple on 11 September 2018 - 12:09
But sport is sport and not realistic and you are competing to win which requires the most points and that the dog be in as high as drive as possible while still maintaining control. That is why the sport is dominated by Malinois or Mal X's.
You must be logged in to reply to posts
---
---
---
---
Contact information
Disclaimer
Privacy Statement
Copyright Information
Terms of Service
Cookie policy
↑ Back to top