by Western Rider on 29 November 2017 - 03:11
Good looking dog. You say papers what kind. Just information on him, his parents or registration papers.
DNA information would come from the Registry that he was registered with if a DNA test was done.
Any other DNA test would NOT tell you anything of his parents.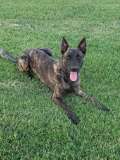 by JP831 on 29 November 2017 - 05:11
Thank you!! Jax is a really good boy. Very good at separating home and work time. My buddy basically had birthday info and early Vet paperwork. That's a bout it. Nothing on parents unfortunately.

by Hundmutter on 29 November 2017 - 08:11
Yes, very nice looking boy. I wonder if the fact that you had no paperwork but he has a tattoo number is as a result of whoever bred him originally doing this non-pedigree, Working dogs Dutchie/Mali/GSD mixing thing that goes on among e.g. the KPNV sector ? Don't know how much of that goes on in the States; it is certainly a 'thing' in Holland and Belgium. They are concerned with the type and aptitude of the pups they produce, rather than the purity of the Breed they belong to.

In which case unless you can find the person who bred him, hopefully by someone recognising that Tattoo, you are on a hiding to nothing for ever finding out about his ancestry, especially if he is not wholly Dutch Shepherd. You say you know who the 'vendor' was who sold him to your friend; maybe that vendor was a broker/dealer or maybe the actual breeder, as well as a 'VCSI' employee. He/they may have gone out of business, but you might still be able to locate him ? 'Cos that's who you need to talk to. Perhaps the tattoo relates solely to dogs bred / used by the (company ?) VCSI.

But if he's a great dog, none of that matters too much - anything it could tell you to know his breeding would only be about any notable competition / trial wins by parents/grandparents, or point up issues to watch for re: his health; it won't actually prevent him having successes or failures or diseases ! That would seem to be quite a low number tat, indicating that the place he originated hasn't been using tattooing for long, or maybe producing many pups. I don't suppose he is micro-chipped by any chance ?
There is unlikely to be any Register of Tattoo Numbers on which that code appears; the USA isn't big on centralised registries for much, unlike in Europe for instance, and that is probably the breeders own sequence of letters and numbers, not relating to anybody else's stock. A more 'organised' tattoo would be a much longer combination of digits, and would have things about it that someone here would recognise as belonging to one Register or another.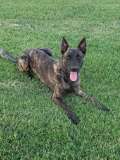 by JP831 on 30 November 2017 - 02:11
Western Rider & Hundmutter,

Thank you for your time and replies. I believe you guys are right. Unless I can track down the former employees of the vendor and they happen to know exactly where they obtained Jax (Bishop), I have come to a dead end. Unfortunately, Jax is not chipped to try and run down any leads through that. I was hoping someone on this sight would recognize some of Jax's info or tattoo info.

The way I understand how VCSI worked, they purchased dogs from other trainers or breeders and furthered their training for Law Enforcement or Military purposes. They were not into the breeding themselves as far as I have been told. VCSI also provided the 6 week "new handler" orientation classes so the K9 can become certified for police or military services.

Hundmutter - The cross breeding and purchasing of working dogs is a "norm" here in the states also. The Police Department I retired from last year has 15 working dogs. I can think of 5 off the top of my head that are either GS / Mal or DS / Mal cross breeds. Most of the handlers I am friends with say most of the dogs purchased by our Department are not "papered". They are selected for their working ability and not their pedigree. I honestly believe Jax falls into this category.

I was just the "Dad" in me to try and track down where Jax might have come from.

-JP
by hexe on 30 November 2017 - 07:11
FWIW, the guy who ran VCSI, Buck Dikes, does have a FB page, so perhaps you could message him and see if he recalls anything about your dog. Can't hurt to ask...

by Hundmutter on 30 November 2017 - 07:11
Nice one, Hexe ! How do you KNOW this stuff ???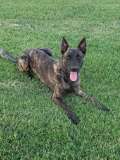 by JP831 on 01 December 2017 - 04:12
Nice!! hopefully he worked in northern California and when they moved to Reno. Thank you for the info. I will send him a message.
by hexe on 01 December 2017 - 18:12
OK, for some reason, I inserted the wrong URL for Buck Dikes' FB page, so that one takes you to the American Veterinary Medical Association's website.
THIS is the correct link for Buck Dike's page. Sorry for the error in the previous post...

by Sunsilver on 01 December 2017 - 22:12
I've come to realize Hexe is something of an internet wizard. She's very good with that sort of detective work! :D
You must be logged in to reply to posts
---
---
---
---
Contact information
Disclaimer
Privacy Statement
Copyright Information
Terms of Service
Cookie policy
↑ Back to top