by SitasMom on 07 August 2017 - 15:08
You have a lot to learn in a very little time.
This site will give you some info as to what to watch for and expect...
https://www.petforums.co.uk/threads/hello-everyone-have-a-few-questions-about-a-min-pin-in-labor.138926/page-2

Research what is necessary for a whelping box, and what you need to have on hand for whelping and what to do during whelping, and what is considered an emergency during whelping.

You can use a small kiddy pool, with swimming noodles zip tied a few inches from the bottom for a pig rail. A large cardboard box with the sides cut down so she can come and go, but not jump on the puppies. If using a box, it must be "clean", never been used to hold anything toxic.

As she comes closer to whelping she will need something to dig, shredded newspaper or old towels can work.

You will need a heat source and some way to know how warm it is. A dark closet in a spare bedroom can be a good place.

She should be eating a high quality puppy food now.

If you can, find someone with experience to help, pay them if necessary, their time spent when whelping, and experience is valuable.

"The temperature under the heat lamp in the whelping box should be around 85°F for the first 2-3 days, and then can be dropped to 75-80°F depending on the surrounding temperature. A temperature of 70-75°F on the far side of the box is fine. "

"I'm an old time advocate of making whelping boxes with a puppy rail so that mom doesn't squash a puppy by laying on it.
Just go to Home Depot and get some cheap shelving and a 2x2. frame 4 pieces of the shelving into a square using 2x2 along the bottom edge. Then attach 1x4 to the top of the 2x2. This will give you a 2 inch rail that is 2 inches off the floor. If mom lays down with a puppy behind her it will fit under the rail and not get squashed. I do not put a floor in mine, instead I cut a piece of indoor/outdoor carpet to set the box on."
by Stellaminpin7 on 08 August 2017 - 01:08
Ok. I will have her whelping box in my room. tonight I will prepare a whelping box. I have read a lot about supplies that I will need. I can get them soon. When should I introduce the whelping box to my bitch? Also she is not very fat. But her nipples are huge. I read that some dogs don't show until a week before the birth. Could she be carrying them in her rib cage? Or maybe she is only going to have 1 or 2 puppies.
by GSCat on 08 August 2017 - 02:08
Another reason for no trip is the potential for parasites or diseases (parvo, fleas, etc.) to be present at a rental home from the last tenants/visitors, the cleaning crew, realtor/landlord, etc. Baby puppies need to be protected from that stuff due to very immature immune systems. Along those lines... no shoes worn outside the house in the room with the puppies, and preferably no clothes worn outside the house, either. Inside shoes should not walk where outside shoes have walked. If a family member makes the trip, make sure everything is sanitized and kept away from the puppies, including suitcase(s), shoes, etc.

Once you have a better idea of the due date, make arrangements for vacation from work for at least a few days.

Make sure you have a quality substitute for mom's milk, along with bottles, etc. Whoever you get to help you and your vet can help with a supplies list and best/cheapest place to purchase. Keep in mind you can never have too many white towels you've washed and bleached/sanitized, and have a spare bulb for whatever lamp you use for heat. A back-up source of power would be ideal, or a non-electric alternative. Watch out for fire hazards though.


by Stellaminpin7 on 08 August 2017 - 15:08
Ok. Her due date is the 20
by Stellaminpin7 on 11 August 2017 - 13:08
Could I use a heating mat for plants as a heat source for the pups? (The ones you use for starting plant seeds)

She is getting pretty close! She has began having milk and she has been very restless. But she only has milk from two of her nipples (the two closest to her back legs) is this normal? Her other nipples aren't sagging as much as the two with milk.

by Western Rider on 11 August 2017 - 15:08
If it is safe, such as they cannot, either chew the wire or the pad and it does not get to hot needs to be 80-85. How big is this pad.
You might only use it for the first three weeks and take it out.. Don't put it in until she has had all the pups that way when she does her nesting digging it won't get damaged.
If she has milk it is hard to believe that she will last until the 20th as you mentioned.
by SitasMom on 11 August 2017 - 18:08
Yes, the back nipples are usually the most full. Milk can be drawn 7 to 10 prior to whelp.
The plug is usually an indicator of 3 to 7 days.
24 hours before whelp her temp will drop to 98 or 97 and then go back up to 101 or 102. Have you been taking her temp 2x a day? Poop becomes very soft and she will need to poop very often, and she will stop eating as much.

The heating pad should cover only a portion of the whelping box, it should be covered with a towel or cloth.


I use a chick heat lamp and aim it on only one corner of the box. The puppies find the heat and are able to adjust their location for what is comfortable for them. Lamp like in this article,, http://timbercreekfarmer.com/making-a-chick-brooder/ they come in 3 sizes, the smallest along with the smallest bulb will work for you. I find an outdoor thermometer to check the temp in the box too.
I make sure it is secure and cannot fall into the whelping box and the wire is out of the way.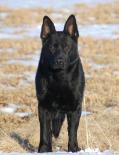 by Jenni78 on 11 August 2017 - 19:08
I would caution that a first-time mother often doesn't get milk too far in advance of delivery. In fact, my most recent litter was a first-timer. She didn't have milk until halfway through labor. They're all different, but typically, experienced mothers get milk sooner and if I had a first timer with milk, I would be watching her like hawk.

by Q Man on 11 August 2017 - 23:08
We have Yorkies and one of the real things to watch in a Small Breed having puppies...Is if they only have 1 puppy then it might be too large to Mama to have so then a "C" Section is needed...So if she doesn't have her puppy/puppies around the correct time/date...then you might have to take her to your vet's for help...
And...YES...You shouldn't be going on Vacation...

~Bob~
by Stellaminpin7 on 13 August 2017 - 19:08
Hi, looks like I was wrong about her having milk, she must of had discharge on her belly. What is a plug? Also she has a ton of clear discharge.
You must be logged in to reply to posts
---
---
---
---
Contact information
Disclaimer
Privacy Statement
Copyright Information
Terms of Service
Cookie policy
↑ Back to top