by SitasMom on 07 August 2017 - 14:08
Every dog that I've imported from Europe looked like the dog pictured in the pool. It's taken a few weeks to straighten it out and get it used to the feeds we give them.
I facilitated a regional dog show a few years back, in a lunchtime conversation with the judge, he complained that American dogs are always too fat.
Granted the dog pictured was not a showline, in Europe, it would have still been considered in "working condition".

by susie on 07 August 2017 - 21:08
Sitas, there is a difference between slim and emaciated - take a look at the head, that dog doesn´t look healthy ...
Personally I´d wait for the necropsy -
either the owner is an animal abuser or the neighborhood sucks ( poison? ).
Who knows?
Have there been any complaints about "barking dogs"? ...
by hexe on 08 August 2017 - 04:08
susie, according to the news reports, the autopsy findings indicated that the four dogs all died of starvation. I'm not buying it, not when law enforcement had been to the property multiple times in the days and weeks leading up to when the dead dogs were found, and saw nothing amiss, and when the dead animals were removed from the property, the authorities stated that they did not appear to be 'abnormally thin'.

The owner's property is reportedly a number of acres, so I really don't see how someone could legitimately complain about barking dogs. But apparently this breeder has had on-going problems with people putting up deer blinds right on the property line where her land abuts someone else's land, and she's complained about that a number of times, to no avail.

There's an awful lot of stuff that doesn't add up, and then there's stuff that is just flat out suspicious as hell--like the fact that the two people the breeder had hired to do kennel chores [one of them being the person who made the cruelty allegations] both have pending felony cases against for 'manufacturing' marijuana, conspiracy to distribute and possession with intent to sell. IOW, they've got court dates coming up in the next county over.


by Mad4Dogs on 08 August 2017 - 04:08
UPDATE:
https://www.google.com/amp/myfox8.com/2017/08/07/dehydration-likely-contributed-to-4-dogs-deaths-in-alamance-county-animal-cruelty-case/amp/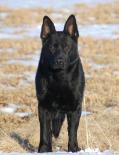 by Jenni78 on 08 August 2017 - 16:08
I'm all for lean dogs but the dog in the pool looks bad, to me. The entire rib cage is visible, not just the ribs themselves but underneath- like we can see the whole cage, not just the side, and the head/neck look emaciated. I have never gotten a dog from Europe looking like that. In fact, every dog I have been sent from Europe was in exemplary shape, to be honest. Having said that, who knows what that dog's story is? Did Nancy Brewer do it? Did she get the dog the day before that, returned for EPI? An abuse case? I don't know.


















by Baerenfangs Erbe on 08 August 2017 - 19:08
There are a lot of questions I'm having. Especially when she was put on the psychiatric hold by that police officer. There are tons of questions about this one.

by Baerenfangs Erbe on 08 August 2017 - 19:08
Alright, here it goes.

She was put on a 5 day hold and came back to starving dogs. In all that time she had no right to make a phone call? And the police officer that admitted her didn't have an obligation to contact dog control since she was unfit to care for the dogs in that time period?

How did the dogs not die from dehydration during those five days?
Or is this why the dogs were starving?

Another thing is that the Sheriffs department went to her place four times in two weeks and they publicly said they didnt see any issues and that the dead dogs do not look overly skinny, so if the Sheriff department things these dogs looked fine, how is it possible she gets charged with abuse and neglect even though the Sheriff cleared her in the first place within those two weeks?


This whole case is so darn confusing. I'm honestly on the fence with this one. I know she's had a good reputation and people cannot believe whats going on, but there are a lot of holes in the story. It just doesn't make sense.
by Mad4Dogs on 09 August 2017 - 14:08
What makes sense, is that the Alamance Animal Control officers did indeed find neglect that was reported to them the first time they went, and decided to say they didn't find anything so that people would stay away and stop calling them.

They were not happy it was all over social media, just like the person that started this thread. There is a lot of misinformation in that original post, by the way, and those of us that know better see how ignorant it is. For starters, authorities were notified first, then media and then it was posted online, to ensure Animal Control took it all very seriously. Law enforcement does not appreciate that kind of pressure, and attempted to quiet the growing attention.

They brought in other officers to visit again, all the while collecting evidence, but didn't think any of the dogs were in immediate danger. When they were ready to seize the animals, and went to get them, four had died. I am sure the officers feel horrible they did not realize the severity of the situation, but they did save the lives of 18 other animals seized.

The petition and rants to defend the woman who neglected the animals should come down. Remember, even serial killer Jeffrey Dahmer's co-workers said he was nice guy. Nancy Brewer is probably a nice woman. It does not mean she is not guilty of the charges. If you want to direct anger at someone, direct it at the breeder accused of neglect, or Animal Control, who did not recognize the animals were suffering to death, or the "friends" of the accused who know well that Nancy Brewer is often publicly under the influence and was on a psychiatric hold earlier this year. Why would anyone direct it to the courageous whistleblowers in this case?
Nancy Brewer was on the property with the investigators and not on some 5 day hold. The confusion lies in the original post. That post is riddled with false information and distractions about a tornado, hunters, an 18 year old SPCA employee, mean law enforcement, a watchdog Facebook page, a slashed tire, a woman in Colorado, stolen puppies, a rescue group, online opinions, deleted comments, etc. It is one big attempt to deflect from the fact that animals in Nancy Brewer's care died a horrific death by starvation and she faces multiple counts of felony animal cruelty, as she should.
by NowWhatMom on 08 September 2017 - 22:09
I was at Nancys house feeding and watering her dogs when she was taken on a "5 day hold"!! All of those dogs ate and had water and we're not neglected nor were they anywhere near unhealthy. Her dogs are her life and that was all she cared about when she was taken. I guess that when you care for your animals and other people are harassing you and abusing your animals to the point of death, there is something wrong with you if you keep complaining and asking for help.

by kitkat3478 on 14 September 2017 - 02:09
Mad4 dogs.. I myself believe you are a part of this womans problems
Do you really expect ANY of us to believe the following statement s made by police are BOGUS?
We are not first graders here.
If the police covered up abuse of dogs as is you r explanation than those officers equally as guilty.
Not for one second is that believable.
And not so funny is the fact you joined here same day I posted this story to slam the breeder.
Again. I have strong suspion you are a BIG part of thus problem,
After all you were aware of abuse but did nothing
"The problem is, when we were getting this information, [it] was coming to us off of social media and stuff like that, we go out there, and we find better food than you feed your family," said Randy Jones, the public information officer for the Alamance County Sheriff's Office.
Posts on social media indicated awful conditions at Brewers Kennel, such as dehydration, heat stroke and the dogs eating only raw meat.
"Well some of that stuff on Facebook was saying, 'Well the dogs were standing in their own urine and feces,'" Jones said. "Do you see anything?"
"High quality food provided on the premises, everything's being done in a proper manner there," Jones said. "We found absolutely no issues whatsoever."
You must be logged in to reply to posts
---
---
---
---
Contact information
Disclaimer
Privacy Statement
Copyright Information
Terms of Service
Cookie policy
↑ Back to top