by Hundmutter on 18 May 2017 - 22:05
If 20 January is the correct date for YOUR puppy's litter (can you check on this ?) that would make him a couple of weeks OLDER when you got him, not younger. It is unlikely, but not imposssible, that a bigger, older puppy would still have all his puppy teeth at nearer to 5 months. It does look from the first pictures as though he hasn't got second, adult teeth yet, but its a little difficult to tell without seeing the dog in the flesh.

If you had a pedigree or registation document for the pup and info on both parents, you might have a chance at disputing any birthdate that seemed to be false. Not sure about legal position with a claim in Egypt, maybe its not the same as the US or UK - but in any case, without papers to argue about you seem to be without any redress. You just have to work with what you have ! As long as your pup is healthy and happy, teething will eventually happen, other developments will gradually happen too as he matures, even if these turn out to be later, or earlier, than you at first thought. Enjoy his puppy days, they are all too short even when we know exactly how old a dog is !
by Debieky on 18 May 2017 - 23:05
I wish to create a pedigree for my puppy but that will cost me too much , as I have to register the mither which I don't own , plus paying for the DNA sample to be sent abroad plus the pedigree cost itself

We only got sv and fci here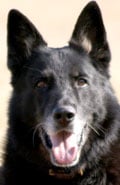 by BlackthornGSD on 19 May 2017 - 02:05
I agree with the guess of 3.5 to 4 months. Just before the teeth really start falling out, so younger than 4 months. But you can see how swollen the gums are, so he's very close to 4 months.

Christine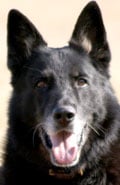 by BlackthornGSD on 19 May 2017 - 02:05
By the way, he's a really cute pup. :)
by hexe on 19 May 2017 - 04:05
He is a good looking pup, but I sure wasn't thinking you were told he was younger than he actually was--I forgot that there was a preference for oversized dogs [regardless of breed] in Egypt...

To me, he looks like he's the right size for a pup born 4 February 2017 that isn't going to be grossly [and incorrectly] oversized, but will instead mature into a correct and normal sized male GSD which will be much more physically sound than the ones that are 76 cm and 55 kg.

by Hundmutter on 19 May 2017 - 05:05
And therefore all the more a pity that Debieky doesn't have papers.

@OP: Do you have / can you get the mother's name, at least ? Then you could check if she was Registered herself. But be prepared to find that she too is an unreg'd dog; even if you can afford the money you might never be able to Register this as a purebred pup.


by hexe on 19 May 2017 - 05:05
Hundmutter, the pup's father is registered, it's the pup's dam he'd have to get registered before he could even try to get the pup registered. Thus all the expense... :(

Fortunately, the pup doesn't know [or care] if he has registration papers, he just knows when he's loved and well-cared for. :) He'll pay that back to the people who give him that with loyalty, courage and love.

by Hundmutter on 19 May 2017 - 05:05
BTW there appears to have been an "Egyptian Kennel Club" (or Federation) in existence for some years. But despite a protest in 2011 that their site is NOT just for people to advertise puppies free, it seems to have degenerated into not much more than a marketplace.

Somebody (one breeder / kennel) set up a 'Sieger', for 'GSDs and Rotties'. Maybe that is where the SV involvement figures ? Can anyone who knows the country tell us if the WUSV really IS active there ? (Where's Ibrahim when you need him ?) And doesn't the SV need to work with a GSD Club and the country's Kennel Club, and require dogs to be registered on a National basis, as it does in other countries ?

by Hundmutter on 19 May 2017 - 05:05
Hexe, OP just said "he has no papers as only the father has a pedigree" - (and he's not listed on PdB); I took it from that he might not even know whether the bitch had been registered, or not. Or where. Not necessarily Germany. Not 100 % clear. Looks as though he does not own her.
TBH its even possible that although the sire has a name and a
'pedigree', even HE may be an unregistered dog, from the post.
Just trying not to assume too much LOL.
Nonetheless from what we can see it looks like a purebred GSD.
And, as you say, will doubtless give years of love and good company to the OP.
by Debieky on 19 May 2017 - 10:05
Sire

[img]http://i.imgur.com/0JJg8jO.jpg[/img]

Pedigree : http://www.pedigreedatabase.com/german_shepherd_dog/dog.html?id=2409634-canyon-jarkoski-dwor

Dam : pedigree is not available

[img]http://i.imgur.com/kFGsiFo.jpg[/img]

We have in Egypt "Egyptian kennel federation" which is partnered with FCI

And we have GSDCE which is partnered with SV
You must be logged in to reply to posts
---
---
---
---
Contact information
Disclaimer
Privacy Statement
Copyright Information
Terms of Service
Cookie policy
↑ Back to top