by Hundmutter on 17 February 2017 - 13:02
Xeph, its in the eye of the beholder, I think ! You say tomato, I say tomarrto... LOL

by Ryanhaus on 17 February 2017 - 13:02
by JonRob on 17 February 2017 - 14:02

Well, hell . . .

Not a fan of conformation shows or the ass-dragging nervebags so many ASLs I meet are, but . . .

Rumor is a gorgeous, confident, happy, substantial GSD. She does not have extreme overangulation. Her gait is beautiful to watch (thanks for the link Ryanhaus). She has the look of eagles. Judge got it totally right when he talked about "nobility." Rumor's got it in spades.

Much rather have Rumor as the GSD breed ambassador than some poor skittish roach-backed creature that looks like his back was broken and never healed right.

"Queer" judge? WTH? Who cares whether the judge is gay or not? This site sure does attract the haters.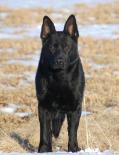 by Jenni78 on 17 February 2017 - 15:02
VK4, I understand what you're saying, but that's not what I was criticizing in Max's post. There are LOTS of guys who think they're all that and a girl can't possibly handle a "real" GSD. I just charge them extra ;) (Kidding, kidding...I don't even train professionally). My point was insulting the judge based on sexual orientation is about as irrelevant as it gets.

by Koots on 17 February 2017 - 18:02
Whatever you think about the dog, Rumour sure looked like she could have done all the showing and running around the ring on her own, lol. I liked how easily she moved out in front when it was her time to move. She looked comfortable and very approachable, not being fazed by the venue, crowd, or examinations at all. This in itself is good to see, if you have ever witnessed some of the less-than-stellar examples of GSD's in the ring. And I agree with Xeph - Rumour is just feminine enough without being snipey or too light in body/head. Dare I say that this example of a less-extreme GSD will result in a change in direction for the ASL breeding?

by Xeph on 17 February 2017 - 19:02
Honestly, probably not...not for some time. The reality is that the Old Guard is in charge. I am going to be 32 this year, and honestly, the only way it is going to change is for younger people to change it...and that is not going to happen in just a couple of years. Not when youngsters are not readily given opportunities to show these animals and truly learn about them.

Too many people (in general) want Yes Men, not inquisitive kids who challenge them.

A junior showed one of my dogs at the Garden this year. She recently went BJH down in Florida at Royal Canin (formerly Eukanuba). She went to crufts last year and will go again this year. Her breed? Great Pyrenees.

The young lady who got Soul Eater on the cover of the GSD Review? She handles sighthounds (usually Borzoi). She's 10 years old, tiny, and a little Dynamo. I will be co owning a puppy from my current litter with her for her to show in juniors sometimes. She took Mikasa to a match and after a ten minute lesson in how to set her up and properly exhibit, she went BJH in Match (with competition). She'd never handled Meep (or any GSD) before. The photo that ended up on the Review cover was her second time ever working with a GSD and her first time working with Soul.

I'm the idiot that just starts handing kids dogs, ribbons be damned.

I can't change what the Old Guard likes or breed for. But I can influence the littles
by Nans gsd on 17 February 2017 - 19:02
Loved her; would have had a hard time deciding on Reserve Best in Show... Loved the Elk HOund also. Nan
by Sersi73 on 17 February 2017 - 20:02
While you guys argue, I am just going to sit here in amazement that my Nova is related to Rumor!

by Koots on 17 February 2017 - 21:02
Xeph - it is breeders like you who need to change the scene from within. Giving junior handlers the opportunity to get involved with the breed, with a dog(s) that are not extreme and can shape the direction of the 'trend', is a great way to effect change. But you are right about the 'old guard', the judges who don't put up dogs that are moderate and keep supporting the extreme are hampering change in the breed toward the middle. Until those junior people advance from handling to judging, or other breeders who strive for moderation get involved in judging, the influence of 'what wins today, sells tomorrow' will still be prevalent in the ASL GSD.

Keep up your efforts to get young people involved - they are your greatest resource and your best chance to influence the breed.

by Xeph on 17 February 2017 - 21:02
Thanks.

I think one of my largest sources of frustration is from people who SHOULD know better wanting to see change...and thinking it's going to happen tomorrow. It took us years to get where we are (in all lines, because none are the same now as they were then), and it's going to take years to change again.

Like, I get it, people are upset and don't like what they see, but a whole breed doesn't just morph overnight...I'll probably be in my 50s by the time anything has been adjusted again. That's reality. I'm doing what I can, but it's gonna be a couple decades no matter how you slice it.
You must be logged in to reply to posts
---
---
---
---
Contact information
Disclaimer
Privacy Statement
Copyright Information
Terms of Service
Cookie policy
↑ Back to top