by Hundmutter on 20 March 2017 - 11:03
Kitkat, save me typing that v-e-r-y long set of digits and first explain why you think a Dutch report of a meeting between Messler and the Japanese dog club that belongs to the SV has ANYTHING to do with what the Chinese are breeding, please ?

by susie on 20 March 2017 - 18:03
Belgian ...

by Hundmutter on 20 March 2017 - 21:03
Ok, so somewhere in the Lowlands LOL. Either way, I'm not labouring over that URL unless Kitkat convinces me it is worth the effort.

by kitkat3478 on 21 March 2017 - 23:03
i was just doing odds and ends research and came upon a few 'ITEMS' in this blog. How true any of it is is unknown, at least to me. BUT, when you read it, sort of makes you aware that the SV is aware of what is going on with the breed, AND that some of the more influential breeders are also aware, not only aware, but don't care as long as German Shepherd sales are up.
i'll see if i can find the link again, it is Jantie, I believe, Not sure how good the google translate really works, but some of the info is really troubling FOR THE BREED-.

by Koots on 22 March 2017 - 14:03

by Hundmutter on 22 March 2017 - 14:03
That's true, Koots. Although I suspect there is (also ?) some photographic distortion on that page.

Kitkat, I guess that is always true, as the SV does not TRY to dictate much of anything to clubs elsewhere that sign up as SV Member-clubs. You have to assume they have reasons for this non-interventionist stance. But I too expect they know what goes on, to some extent, in any country that has an SV member club (or clubs, when there is more than one). Remains to be seen whether the SV knowing something is happening in China has anything at all to do with them having meetings with the Japanese; you/Jantie would presumably not just assume if there was such a meeting here in the UK that it meant 'we' recognised / colluded with something happening in say Ireland or France ? [And is that: Jantie reporting recently; or from some time back when he posted here regularly ?]

by Sunsilver on 24 March 2017 - 10:03
Koots, I was just coming here to post that same photo!

If you look at the pedigree, you can see where that head comes from. You can see the ears have inserts in them to keep them erect - that's the only distortion I can really see.

Could be some photoshopping, though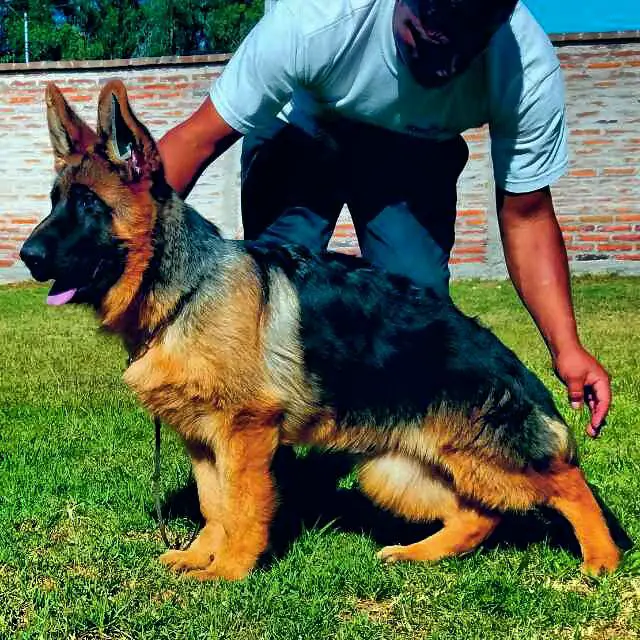 by Hundmutter on 24 March 2017 - 13:03
The whole pic looks a little bit 'squished' to me, as though they had probs with resizing it for the site, is all I meant.
Which could mean all vertical elements get lengthened very slightly (height of ears, depth of muzzle). Just not sure its the most accurate photo to draw conclusions on re the 'mastiff heads'.

by Baerenfangs Erbe on 24 March 2017 - 22:03
it's pure selection. You don't need to outcross to create those heads. And people don't realize how fast you can alter a breed within a few generations. Just look how a few popular breeds have changed, without any outcrossing within 5 or 6 generations.

by Hundmutter on 25 March 2017 - 06:03
Yes BE several people have already pointed that out here; doesn't really matter, whether that is all there is to it, or if someone somewhere has introduced a wider gene base;
surely the important thing is that we 'all' hate it, and would like to find a way to stop it happening (IF it [still] is happening) in China or anywhere else, to the detriment of the GSD breed.
Any ideas how that could happen ?
You must be logged in to reply to posts
---
---
---
---
Contact information
Disclaimer
Privacy Statement
Copyright Information
Terms of Service
Cookie policy
↑ Back to top