by Ramage on 18 August 2016 - 17:08
So David refunded the money?

The dogs have not yet been returned, though?
by GSDSouthFlorida on 12 September 2016 - 16:09
I bought now four females and one male from David and I always received my dogs. Sometimes the paperwork took a little longer to get, but so far I can't say anything bad about David and Von Bluhen Kennel.
My last IPO male I purchased through him from Romania is also very scittish but after 6 weeks he is warming up slowly. I just have patience and give him the space he needs. Many people here forget that the best dogs could get sick (of course it shouldn't be anything serious) or depressed at any time. That's just life! That can happen with any dog right?
by vomhausdurandkennels on 18 November 2016 - 18:11
I bought 2 dogs through David the first dog cam on time with all papers and appeared in good health and was pregnant. Had 5 pups and they were healthy. The second dog came here rail thin missing most of her hair and in very poor health. I called him at 11 pm at night when the man brought her to my house. I had the man tell David how bad she was and David promised to fix it. Well no money was ever returned and not replacement dog. However David gave me a male for no cost to help. But I never got any fix for the bad dog which cost me a lot of money in vet bills.
So then after I had the puppies from the first dog I took her to the vet and was told she had a severe heart murmur and could never be breed again. I called David and he called the breeder they did send me a new younger dog that was in good health. I do not think David is a crook I just think he needs to pick better kennels to buy from and should not tell people he knows these dogs because he really has no clue what is coming.
David is a good guy and he and I have gone round and round but he did do all he could but should have give me my money back since I did buy the dog through him.

by susie on 18 November 2016 - 18:11
Guess, Haus Durand summed it up best - the guy in question is a broker, that said he makes his money with selling dogs he doesn´t own ( and most of them never saw ).
That´s like a realtor advertising and selling homes he never visited by himself...
But at least the dogs are cheap...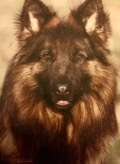 by LovesGSD007 on 19 November 2016 - 06:11
Well,
You were not swore at, lied to or scammed. It's not just me- other people have P.M. me- they unfortunatly can't come forward- Bad things have happened to them as well.
Most of all 2 (could have been) beautiful German shepherds so totally destroyed. In terrible condition. Their coats were falling out. One had ticks the other had fleas- malnourished, and scared- cow hocked
one had a broke foot (of course I was blamed) and one had Lymes disease, also phimosis. (Which I was also blamed for)
I was given photos of one nice looking dog-swapped out for another, the difference was so obvious.
This is not his first rodeo in dealing with a quick buck-sad because I still see him fishing for another sucker. It's a damn shame-
by vomhausdurandkennels on 05 January 2017 - 21:01
Guys I have bought 2 dogs through David both my dogs had medical issues. But let me just say that yes David and I butted heads more than once but the dogs are not his fault but his responsibility to make sure that it's al, made right. David had one of my dogs replaced by the breeder and shipped to me without any other cost. The first dog I had bought a male from David on time so when my imported female came I David had them to bring my male along with them. The female was in very bad shape very sick and the breeder refused to give my money back or send another dog. David because the breeder would do nothing gave me the male dog without charge to make up for the lost money. David is a honest man who will work hard for you to make sure you get what you pay for.
It's up to you to understand that David does not travel to these out of country kennels to see these dogs he works with breeders and sometimes he gets a bad one. He only gets to see pics and videos just like you.
David is responsible to work hard to make any issue right that's why we use him.
I would still use David for a dog if he has a dog I want.
Charles Durand

by DuganVomEichenluft on 06 January 2017 - 08:01
Couldn't all of this been avoided by simply purchasing a dog bred and raised here in the States?
I don't understand why so many people think buying a dog outside the states is so much better.
There are amazing breeders here in the states.
This story is a prime example.

by K9 Enthusiast on 08 January 2017 - 19:01
Wow, what a story. I am an individual that is currently in the process of looking to purchase a GSD myself. I can tell the subject matter in this story has addressed my concerns of purchasing an unseen pup prior to ownership. It also has brought to the fore-front in this example no matter what the reputation of the seller and how many precautions you implement within the purchase process it comes down to ethics and morals to resolve the issue.

The truth to this entire story is, once a seller offers a standard-of-product and that standard is not met and disputed by said purchaser, it is legal law to immediately start refund 100% of monies based on sales agreement and fund pay-out within a reasonable timeline. It is my understanding that domestic animals in the legal system are considered personal property and no pain-suffering funds will be considered for your time/emotional trauma or choice of personal fund expenditures. No, I am not lawyer, I am just aware of this circumstance through a friends situation.

I must say my attitude in the purchase process did become complacent and too trustworthy, (confirmed by this article), in that the system as a whole does not carry the same ethical standards as the many great canine owners, I have had a chance to meet on PDB.

Reading this commentary has certainly heightened the reality of (business first concept) and personal dog ownership second in the purchasing procedure of your canine. Just one more line item in the sales contract that requires in-depth explanation, I must say this article has taken some of the fun from the process.

You must be logged in to reply to posts
---
---
---
---
Contact information
Disclaimer
Privacy Statement
Copyright Information
Terms of Service
Cookie policy
↑ Back to top