by SlammedDime on 23 July 2009 - 01:07
Hello all,
This is my first post to this board, I've been reading quite a bit the last few weeks, but unfortunately, Tyke is still having some issues. A bit of background on him.

Tyke is a 10 month old German Shepherd. We received him at 3 months old, took him to the vet to have him checked out, and all signs pointed to good. He's very loyal, always wanting to be by mine or my wife's side regardless of where we move around the house and is always alert to what is going on around him. He's likes to sleep a lot, but also has quite a bit of energy. He goes on at least 3 walks per day, he loves playing with other dogs in the neighborhood and gets along with just about everyone. We live in sunny Phoenix, AZ.

Now, about his issue... Around 1.5 months ago, on his morning walk, he had some really soft stools... that afternoon it was even more liquid, and by bed time it had zero substance to it. After his afternoon bout, I kept his water to a minimum, and passed on feeding him that evening. We put him in his kennel as we do everynight and when we woke up the next morning, he had gone in his kennel and was wimpering. I took him outside and he had even more diarrhea, then we walked a few feet and he threw up in 3 seperate piles, all pretty much liquid.

After we gave Tyke a bath outside and got him all cleaned up, I hopped on the phone to the Vet and made an appt for later that day. I gave Tyke cups of water at a time and didn't let him eat all day. We went to the vet and they advised us to put him on a bland diet of chicken and rice for a few days until his stools hardened up and also gave us some medication to give him as well (amoxicillin and Metronidazole). They also gave him a shot of Poly-flex.

So then I started reading up on foods, thinking that perhaps something in his food might not be agreeing with him. His stools have always been soft, but never had a problem picking them up. So once the bland diet was over (did that for about a week), we put him on Blue Buffalo Puppy Chicken and Rice. His stools were pretty much as soft as before his little bout 1.5 months ago, we were at least able to pick them up... well then a week ago he started getting runny again.

We put him back on a bland diet for a week and he became more solid again, so I started giving him a spoon of plain unflavored yogurt once a day with his dinner... This morning we switched him back to the Blue Buffalo and again he is runny...

Help! I don't get it. I will be calling the Vet tomorrow morning to schedule another appointment... is there anything that I should ask they check for? Or are there any suggestions on what we can do for him?

Matt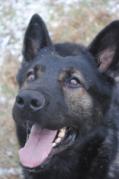 by mollyandjack on 23 July 2009 - 02:07
Hi Matt,

There are a couple of things you can do and questions you can ask of your vet.

First: since you said that the stools improved on the bland diet of chicken and rice but became loose on a decent quality chicken and rice dry kibble, that would lead me to believe that either the transition time was too short or the dog could be intolerant/allergic to something else in the food. It's hard to tell with these things sometimes because there are so many variables and it could even be a combination of things. My friend's dog can't eat Blue Buffalo because he can't tolerate the quantity of vegetables/herbs. He has to eat a very bland diet.

So, I'd look into limited ingredient chicken based high quality kibbles with puppy appropriate nutrition...ask your vet about this but ALSO take their advice with a grain of salt because a lot of vets will push hills science diet, purina, etc at you because they sell it in their practice but these are really not the best...definitely better than Alpo though. You can now find some good foods at local Petcos...solid gold, wellness, and natural balance has a good limited ingredient line. However, I didn't like what it did to my dog's coat and it might not be appropriate for puppies. Do some research on appropriate calcium/phosphorus levels: that's really important in a food.

Make sure you slowly transition...for some dogs even a 2 week transition is too fast.

Ummm what else...I think they can test for pancreatic insufficiency? That causes loose stools as well and has become more common in the GSD.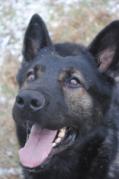 by mollyandjack on 23 July 2009 - 02:07
I think I'm becoming the poo expert.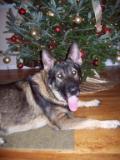 by TStrickland on 23 July 2009 - 02:07
I feel you completely. Mu dogs were on TOTW venison combined with raw, and my female (8 months) was constantly having "less than solid stools." My vet ran all the test, and everything looked great. For us, the crude protein content of our food was to high which caused loose stools ...go figure. I spoke with her breeder, who recommended putting her a different diet. When we lowered her protein, she did awesome! To date, she is still doing great. You might try TOTW Pacific Stream Canine Formula, or other foods with similar protein contents. Good luck!

T


by SitasMom on 23 July 2009 - 03:07
mine had less then solid stools until i went with a grain free feed. we changed to TOWT venison and he hasn't had a problem.

was the kibble fresh, was it handled properly? if it get hot, like being left in a car or an un-air contitioned feed store or truck it can go bad.

keep trying new things

also search this site for panacur, it can also help.
by missyfly96 on 23 July 2009 - 13:07
I fed my puppy blue buffalo for a long time and her stools were alway very loose. Then I switched to TOTW venison and now her stools are normal. Maybe it's because it was grain free, but she didn't do well on blue buffalo or wellness (loose stools on both)! I also noticed after being on the blue buffalo for a few months her coat was dull & dry looking. Since I've had her on TOTW I add one fish oil capsule a day and her coat is so soft, shiny & beautiful.

by oldkicker on 23 July 2009 - 13:07
we've had very positive results with venison/beef and potato/sweet potato, including the new Euk. wild formula, which still has a little rice in it. But the key is to exclude as much grain as possible. our two working line GSD's ,one DDR, one Czech had a total reversal in 2 days once we took the rice and corn away. this problem apparently has not so far been addressed well by any Vet we've heard of, and the rice w/chicken had no positive effect

by uvw on 23 July 2009 - 15:07
hi matt,

are you at all interested in starting him on a home made or raw diet?

donna
by Amelia on 29 July 2009 - 00:07
I'm new so I don't know if you got the issue resolved, but ask about coccidia (not sure on the spelling) I know it causes loose stool and may have not been shedding in the last stool check.
by SlammedDime on 05 August 2009 - 09:08
Sorry for not replying back yet... been a heck of a week...

Anyway, Tyke is doing great now. Rather than take him to the vet, I decided to try something I had seen recommended here to see what would happen...

I started giving him 2 spoonfuls of Plain Yogurt everynight after he ate his dinner. Not only does he LOVE it, but it seems to have drastically helped, over two days after I originally posted this topic, he started having solid stools, and hasn't had a problem since. I've kept him on the Blue Buffalo and he's eating more of that as well... around 3.5-4 cups / day.

You must be logged in to reply to posts
---
---
---
---
Contact information
Disclaimer
Privacy Statement
Copyright Information
Terms of Service
Cookie policy
↑ Back to top