by duke1965 on 21 August 2013 - 15:08
Im training 2 dogs obedience together for a client, it is really fun to do


by vk4gsd on 27 August 2013 - 00:08
hey thats cool, you have given me a challenge for this weekend.
by Gustav on 27 August 2013 - 08:08
Don't mess your dogs up trying something you know nothing about....

.
by Blitzen on 27 August 2013 - 09:08
What do you mean by - training 2 dogs at the same time? Teaching them the exercises while tethered to one another like a team or training 2 dogs on the same day but at a different time?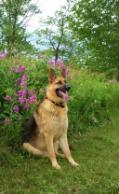 by Eldee on 27 August 2013 - 09:08
I am hiding from this post. I can barely train one. And that's only if there are no rabbits, birds, raccoons or foxes anywhere within a five mile radius of my back field. Duke, you have my utmost respect, buddy.
by Gustav on 27 August 2013 - 12:08
Duke is extremely skilled....most of the rest of us need to focus on one!
by Jeffs on 27 August 2013 - 14:08
I have 2 dogs. Individually, they are pretty good. And even together, they aren't bad. But if something goes south, then 2 dogs is more than twice as hard as 1. If one sees something that sets it off, the other one will pick up on it and then they encourage each other. It's the 2 dogs plus the pack mentality. Also, the subordinate dog becomes braver when he's with the dominant dog. And the Dominant Dog is quicker to puff out its chest.

But it would be cool to be able to do a bunch of obedience exercises with 2 dogs. But I would think they should be on the same side.
by vk4gsd on 27 August 2013 - 20:08
gustav if that was aimed at me, go pound some salt dude, like i will take instruction on what to do with my dogs from some internet stranger.
by Paul Garrison on 27 August 2013 - 21:08
vk4gsd
I have been reading your post for a while, you need to read the words, do not think too hard, just read the words. It is not about you. You have insulted some real good people and dog trainers that have forgotten more about dogs and dog training then you know. We have all seen your training. Who is impressed?
by vk4gsd on 27 August 2013 - 21:08
yep whatever
You must be logged in to reply to posts
---
---
---
---
Contact information
Disclaimer
Privacy Statement
Copyright Information
Terms of Service
Cookie policy
↑ Back to top