by GSDzip on 14 February 2013 - 06:02
K-9 Specialists in Colorado. If you love dogs don't ever use them. petr is a scam. He sells frightened dogs that bite out of fear they're not protection dogs they're fearful scared animals. I had a very bad experience with him and would never recommend anybody to buy a dog from him. It took me thousands of dollars to retrain this poor dog I bought from him. But it will never be the same. The dog he sold me also wasn't worth as much as I paid for it he overprices his dogs. Buyer beware! He calls himself a trainer I would let him train my fish. He said that he trained dogs for police I think somebody should call the police on him. I wish I would've seen this before got a dog from him. http://www.pedigreedatabase.com/forum.read?mnr=593089-k9-specialists
by crazyhorse on 14 February 2013 - 18:02
May I ask what dog you are talking about. I have had dealing with Petr.
by Abadonsdad on 14 February 2013 - 23:02
Yes i to would like to know what dog. i have had dealings with Peter , and have foud him to be more than honorable .
by Von Ward Kennels on 15 February 2013 - 00:02
I think bashing one trainer/ dog broker or seller from one dog experience is wrong. I have dealt with Petr, researched him long and hard, could not find any negatives on him (until now) and would not hesitate to buy from him again.
I talked to a head of k9 at a local police dept. in Petr's area and he has bought many dogs from him and was more than happy.
I also met with and talked to people in my area that have bought from him and they were also more than happy.
If you were not happy with your dog, I am sure he would have replaced it.

by GSDzip on 15 February 2013 - 05:02
Well then you must not be that good at googling things. My mistake was I just didn't look from the start. I blindly trusted.... my mistake. I'm just putting my experience. So that other people don't have to go through the same thing. Just google his name or his company name and the word scam and watch a whole bunch of stuff pop up. Why would you ask me what dog ? Are you trying to defend him because you work with him?... Are you part of his brokering operation? I also would like to say that I believe he's a little crazy and would prefer to keep my info private. Once again just my personal opinion.

Oh and Abadonsdad
"it is monday 6.38 colorado time i need to know how far apart puppies come don;t they just have them all at once? please not to sound stupid just need to know " -Abadonsdad
How would you know what is honorable when you can breed puppies without even knowing how far apart they come? To recognize an honorable person you must be honorable yourself!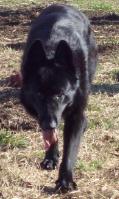 by Weezy on 15 February 2013 - 17:02
Oh My, I have been considering doing business with Petr.
If any of you have had personel experience with his training on your own dogs please PM me with pros and cons.
I appreciate it.
Thank you.
Weezy
by Abadonsdad on 16 February 2013 - 00:02
GSDZIP; PLEASE TELL ME YOU ARE NOT QUESTIONING MY HONOR!!!, As far as how far apart puppies come, it is different ,not everytime, but most of the time. i have had a dog that stopped delivering,its over right? washing puppies i heard more puppies . she had two more over a period of 4 hours.but that is one of the 2 litters i have had, i am not a breeder! i now have a german shepherd rescue , although small i do what i can. So if you would like to discuss what i know about Honor in detail, please feel free to look me up in denver, we'll chat. i have takin some of petr's dogs that were retiring , or were to low drive , not thier fault just not protection dogs. so insted of throwing these dogs away , he gave these dogs to me and they now have wonderfull homes, and as petr he calls or e-mails often to find out how these dogs are doing. this is what i know , this is the man i know , and that was what i am speaking. but since you questioned my Honor without even knowing me, i feel that readers will take that into consideration when reading your post,have a glorious day sir .
by K9 Specialists on 16 February 2013 - 01:02
hello everybody..I just have few words to say:
1.EVERY single dog I sell/sold ,comes with written contract ( will send it to you upon request), so in case that ANY of my clients would doubt dog's quality, can take legal actions against me
2. If I am not happy with provided services, I'd see how I can result such situation first before I'd talk bad about you ( I am not aware of anybody contacting me about quality of purchased dog)
3. If there's such bad dog this person is claiming, I am sure he/she has a name... It is interesting how powerful internet is.. I feel so sorry for this person as well as for people who judge people ( not just me) based upon what some one wrote ( annonymously) on the ineternet. I ALWAYS stand behind what I get to say..
4. to you GSD zip and your followers: if you have a problem with my dog, why I NEVER heard from you about such problem? Also, what makes you think that I am "crazy"?.. If I am so bad, why Policde dpts. in Ill, MO, N.J. are buying dgs from me?
Well, thank you for publicity.. those who knows me, must have a good laugh out of this, and those who wants to trust "noname"..well, ALL THE BEST OF LUCK to you... you may need it if you end up dealing with such person...
..EVERYBODY IS WELCOME TO COME AND SEE ME PERSONALLY, AS I AM NOT HIDING...AND PLEASE, AFTER YOU SEE MY DOGS AND ME WORKING, JUDGE ME..if I am that bad, I'll go to work in Wallmart or something.. OTHERWISE, I AM SURE YOU'LL SEE ME COMPETING THIS YEAR ON NATIONAL LEVEL :-).. what about you "noname", will you show us your face?
Thank you,
Sincerely,
Petr Spurny, owner of K-9 Spelcialists, LLC
PS:
my dog;
http://www.k-9specialists.com/irmo-z-kurimskeho-haje/
Invitation to our seminar: ("Noname" -NO cover charge for you:-) )
Working dog seminar- Obedience, Protection work (bite work): March 8,9,10, 2013
Phase1. We would like to present you "Working dog days" in March, 2013.. So, if you a have dog and would like to get him/her trained or simply want to get ideas how to train very effectively your dog, you should not miss out this event!
Seminar is going to be about "approach, effective techniques (using positive reinforcement) of training, owner's mistakes that causes behavioral problems, fixing such problems and lot more, building up your dog's drive, using different methods and tactics to keep your dog focused on the task, etc...
Phase2. There will be also a lot of demonstrations of bite work (sleeve, hidden sleeve as well as bite suit-real life situation), so you get the feel how it is when your work is truly a "working dog". In this program, we will test and evaluate your dog, train new dogs and/or exercise/practice your already trained dog. .. Most of people think that their dog is a protection dog, but we can show you that the fact that your dog is "barking and charging" does not mean he is going to do the "job"..Let's get your dog to next level!
For more info, please go to:
http://www.k-9specialists.com/march3-12-2013-obedience-seminars-by-professionals-from-the-czech-republic/
http://www.k-9specialists.com/invitation-to-working-sessions-during-march-3-14-2013-with-top-czech-decoy/
BONUS
: our existing clients gets
15% discount
Optional
: We'll have professional photographer on site, so if you want to get your dog's pictures, it sure can be done! Please, see some of Petra's work at :
http://www.petrafoto.cz/
Price: $25/set of 5pictures
FOOD
: there will be beer, soda, BBQ…J
Videos:
Petra:
http://youtu.be/ndpeZs6TAes
<iframe width="560" height="315" src="http://www.youtube.com/embed/ndpeZs6TAes" frameborder="0" allowfullscreen></iframe>
Seminar schedule
Day 1:
8:30– 9:30 Theory of obedience and short demonstrations of using different methods (puppy-clicker/food, handling, positions (sit, come, stay, etc.), dumb bell
9:30– Noon obedience-practical part-working with dogs
Noon -1:00 Lunch break (hot dogs, burgers, etc..)
1:00 – 5:00 Protection/ bite work –working with dogs, demonstrations of different styles and methods
5:00 – 6:00 Photography (optional-additional charge)
6:30 BBQ…
Day 2:
8:00 – 11:00 Obedience-practical part-continuing work based upon things thought previous day
11:00 - Noon Demonstration of Schutzund trialing (competition), explanation of how the breed works, what should be (and should be not) done!
Noon – 1:00 Lunch
1:00 – 7:00 Protection (bite work) and Obedience –practical part-working with dogs and demonstration of properly trained dogs!
by Abadonsdad on 16 February 2013 - 03:02
OLI , This Gsdzip is on the site to try and trash people , could you block him sir. thanks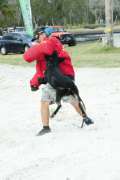 by Riven on 16 February 2013 - 05:02
K9 Specialists,
Well said Sir, you show class where others have none

You must be logged in to reply to posts
---
---
---
---
Contact information
Disclaimer
Privacy Statement
Copyright Information
Terms of Service
Cookie policy
↑ Back to top