by Grumpyman on 26 November 2012 - 14:11
Hi everyone, I am new here and desperate for answers.
I am trying ot find out as much information as possible about disseminated aspergillus.
My beautiful 4 year old spayed female first complained about sensitivity to the neck area back in early July. We visited the vet and the vet thought it was sterile menangitis and were given prednisone, which helped her but she never was back at her 100%.
In August she complained of lower back/hip area pain, especially when getting up. So back to the vet we went and were given more prednisone, which seem to help. This time, the vet thought it might be an auto immune disease.
In September and October we went back again and she was given again more prednisone, but this time she was also given arthritis medication and pain killers.
Well in early November she got worse to where she would cry horribly to get up, but once she was up and moving, she seemed to be ok.

So finally we were referred to a neuoroligical vet. in Phoenix and after undergoing MRI's, CT Scans, X rays, blood and urine tests that were also sent off to the lab for cultures.

We recieved the bad news about a week ago that she tested postivie for aspergillus, the disseminated type. It is in her spine, affecting her getting up and a bit walking.
We now have her on Clavamox, Prednisone, Gabapentin, Tramadol and Morphine. She recently started with Itraconazole and Terbinafine, which will help kill the fungal disease.
She will also have to undergo IV Treatments 2 - 3 times a week to also help kill this fungus even quicker. So far she has recieved 2 IV treatments last week and just this past weekend, I could see some improvement, which makes us all happy.

My lovely Shepherd is very alert, has a good appetite and drinks plenty of water. She does not look like a dying dog. The Phoenix vet said that we should see an improvement in 2 weeks from the IV treatments.

Has anyone ever heard of this disease or can head us in the right direction for more information or to someone who has been through this? From what I understand, this disease affects mostly female German Shepherds.
We don't want to put her down, I want to give her a chance, my kids are devastated and so are we, she is our first family dog.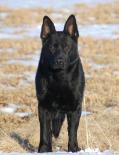 by Jenni78 on 26 November 2012 - 14:11
I'm so sorry to hear of your dog's illness. I sent you a PM.

by Shandra on 26 November 2012 - 14:11
Wow that is horrible! Do you have any idea how she contracted it? I am definately going to have to research this, I have heard of aspergillus in birds mainly from peanuts if I remember right but not dogs.
Good luck with your baby.
by B.Andersen on 26 November 2012 - 15:11
Did they test for Valley Fever?
by Blitzen on 26 November 2012 - 15:11
It's a difficult disease to manage. Have you consulted a vet school? The meds are expensive, but you should be able to have them compounded by an independent lab much cheaper than you can buy them from the manufacturer. A friend is dealing with this too. She uses the U of FL Vet school and the the dog is holding his own. It sounds like you are doing all you can with a similar treatment protocol to the one used in FL. Sounds like she is improving, so that's a very good thing. Good luck and keep us updated.
by Grumpyman on 26 November 2012 - 15:11
B. Andersen - Yes, they did test for Valley and Tick fever and she is negative.

Blitzen - No, I have not consuted a Vet School. Yes, the current meds are expensive. The Neuro vet. which we referred to did find an independent pet pharmacy in Phoenix which compounds medications and it is where the Itraconozale and Terbinafine are being purchased from.
Can you link your friend in Florida and I up so we can contact each other and share thoughts on this disease please?



by Blitzen on 26 November 2012 - 17:11
I'll try to contact her today. I'll send you a private email.
by Grumpyman on 26 November 2012 - 17:11
Thank you very much, it is much appreciated.

by ziegenfarm on 26 November 2012 - 17:11
okay, i'm gonna ask some stupid questions here. i'm an old timer, but not up to speed on what is going on here, so bear with me please.
how is this aspergillus disorder different from aspergillus added to foods as an enzyme for digestion?
didn't they determine that aspergillus was to the root of the problem with contaminated grain in diamond dog food several years ago?
i have some theories rattling about in my head, but hope someone can clear up these questions. thanks.
pjp
by beetree on 26 November 2012 - 18:11
Ziegenfarm, you got me curious so I did a google search and came up with the following in answer to:

how is this aspergillus disorder different from aspergillus added to foods as an enzyme for digestion?

Enzymes derived from the Aspergillus oryzae fungus have been subjected to numerous studies evaluating their role in supporting healthy digestive function. Moreover, several human studies suggest the proteolytic enzymes derived from this fungus may play a role in anti-inflammatory and fibrinolytic therapy. These enzymes appear to be relatively heat stable and they are also active throughout a wide pH range, important because most enzymes are deact*ated in stomach acid. These enzymes. synthesized from fungus, contain no fungal residue even though that is their derivation. Modern filtration technology enables these fungal enzymes to be ideal for human consumption.

http://www.lef.org/magazine/mag99/apr99-cover.html

didn't they determine that aspergillus was to the root of the problem with contaminated grain in diamond dog food several years ago?

Yes.

Aflatoxins are produced as secondary metabolites by many species of Aspergillus fungi (most notably Aspergillus flavus and Aspergillus parasiticus). Many agricultural crops including corn, rice, wheat, nuts, soybeans, sunflowers and even milk, are vulnerable to attack by the fungi that produce aflatoxin.

-------------------------------------

Aflatoxin exposure was brought to the attention of canine owners in late 2005 when a number of canines became ill from eating contaminated dog food. Although, it is entirely possible that this mass episode of aflatoxin poisoning could have gone unnoticed, an alert veterinarian realized that several dogs in his care were exhibiting similar symptoms. Once brought to the attention of the public through media reports, the full extent of the problem was exposed. After investigation, it was determined that certain pet foods made by Diamond Brand Pet Foods at their Gaston, South Carolina plant, and distributed in 23 U.S. states, were contaminated with Aflatoxin.

Contaminated pet food was distributed to stores in Alabama, Connecticut, Delaware, Florida, Georgia, Kentucky, Maine, Maryland, Massachusetts, Mississippi, Michigan, New Hampshire, New Jersey, New York, North Carolina, Ohio, Pennsylvania, Rhode Island, South Carolina, Tennessee, West Virginia, Vermont, and Virginia, and in a number of countries, including several in the European Union, according to reports.

http://www.skyhoundz.com/newsandfeatures/archives/406
You must be logged in to reply to posts
---
---
---
---
Contact information
Disclaimer
Privacy Statement
Copyright Information
Terms of Service
Cookie policy
↑ Back to top