by MellMell on 17 November 2012 - 06:11
They sold me a puppy that was completely lame with ELBOW DYSPLASIA at 18 months, he had a $5k surgery!!! Contract said they will replace, they refuse, said I caused a genetic disorder!!! They LIE, say they offered, to replace, etc, THEY DID NOT, I HAVE EMAILS TO PROVE IT!!! They said I abuse my dogs and that's why they won't replace, etc, have said a German shepherd and a Malinois cannot live together, every excuse they can think of and are ALL LIES!!! Contact me, I can prove what I say with emails. I have filed a breach of contract case and a case for slander for stating I abuse my dogs!!! I came home 2 days ago to the FOUR YEAR OLD DOG unable to walk, rushed him to the vet X-rays showed the arthritic spine of a FOURTEEN YEAR OLD DOG!!!! If you want a breeder that doesn't stand behind the health of their dogs or comply with the contract take a chance. WAY TOO MANY GOOD BREEDERS OUT THERE THAT DO STAND BEHIND THEIR DOGS TO TAKE A CHANCE WITH ONE THAT IS PROVEN TO NOT STAND BEHIND THEIR DOGS!!!!! They made one Attempt to replace if I paid the another $1,000 since they say they sell the dogs for twice what I bought mine for. Which btw, isn't in the contract!! The contract I have with them states if the dog is diagnosed before 24 months they will replace with only cost to buyer is transportation. Now they changed their contract and think they can hold me to the new one. THEY CANNOT!!! They also say I keep my dogs tied to a tree, I have a HUGE fenced in yard, ANOTHER LIE!!! They will sell their souls to lie and keep from replacing this genetic nightmare of a dog, which is a shame because it is a sweet dog a d doesn't deserve this!!! And they are still breeding the dogs that produced him!!! SAVE YOURSELF THE HEART ACHE!!!
by allanf on 17 November 2012 - 09:11
MellMell

As you know, Elbow Dysplasia can be a heritable disease. Leaving aside your contractual beef with the breeder, you would do better by publicly naming the parents of your dog, and stating whether or not they had been x-rayed for ED. If so, what were their scores/grades and can they be verified? Do you know of any other cases of ED from the same breeder?

Do you have any documentation regarding your own dog's ED diagnosis?

Sorry for all the questions, but this is a very tragic disease that strikes after a puppy has been loved and nurtured by an owner which makes the contractual obligations between owner and breeder difficult to resolve. Prevention is by far the best approach to the disease.

by Gustav on 17 November 2012 - 12:11
Elbow dysphasia is very prominent in the breed like HD. There are no guarantees and people with this language in contracts often inflate the expectations that it won't occur in their puppy, and the emotional letdown when it does. The Europeans got this right, and most American "reputable " breeders are not as candid or informative about the fact that scored or OFA certs in parents is really not a safeguard strong enough to effectuate a guarantee. Sounds good....sure!. But the thousands of broken hearts and expectations proves otherwise. To the OP, when the puppy started the chronic limping or irregular movement at 6-9 months did you get them xrayed and seek the replacement puppy at that time???? Also, was the elbow surgery necessary mbecause of the severity or the use of the dog??? I see many vets recommend surgery, or dog owners that have been on enough forums to think that HD or ED must always have surgical intervention and that is not true. Good luck with your dog, that's who I feel bad for.
by joanro on 17 November 2012 - 13:11
Melody, I just read you post in entirety. The new contract covers elbows, the old one that you refer to as "my contract" did not cover elbows. But regardless, I have indulged you all that I'm going to. If any one wants to read more, go to the comments on YT video that Melody posted after I asked for exrays. Also, rip off has her post as well. See, Melody threatened to slander me all over the Internet if I didn't breed two dogs of her choice and deliver an eight week old male pup by a certain date. This was after I had offered a full refund ( $900.00), which she said was not in her contract, that she is supposed to get a pup, not money.

anyone selling puppies to the general public are sooner or later going to get a Melody Stemple. Tends to make one become very cautious when dealing with strangers.
by allanf on 17 November 2012 - 14:11
joanro
I take it you are the breeder. I thought in your first post that you were trying to be funny in a strange way.
Perhaps you could answer some of the pertinent questions that I put to MellMell who is clearly upset.
Leaving aside your contractual beef with the breeder, you would do better by publicly naming the parents of your dog, and stating whether or not they had been x-rayed for ED. If so, what were their scores/grades and can they be verified? Do you know of any other cases of ED from the same breeder?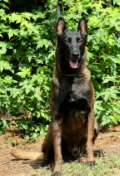 by Bhall on 17 November 2012 - 15:11
What doe sthe contract state? Full refund or replacement?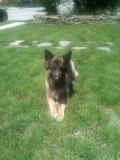 by nypiper127 on 17 November 2012 - 22:11
I do not know the details of this particular breeding but I can tell you from personal experience that Joan of VomRon German Shepherds is a woman of integrity and sticks to her WORD (never mind a written contract). Several months ago, I was looking for a female puppy for Schutzhund and possibly breeding. I LOVED the dogs Joan had but was not 100% sure the breeding was for me. In a simple phone conversation I told Joan I was still unsure about the breeding fitting my needs and that I still needed to do some research. When it came time to send $500 deposit for the litter, Joan told me that if I changed my mind (with reason), she would refund my deposit. There was NO signed contract at that time. After the conversation, I felt comfortable that Joan cared about her dogs, knew dogs and was honest so I sent the deposit.

Several weeks later I decided that the puppy would not suit my needs and told Joan. THREE days later I had a certified check in my mailbox for my full refund...just as Joan promised. Again...NO written contract....just her word.

I also talked to several people who have gotten dogs from Joan and the had nothing but good things to say about Joan AND her dogs.

I would have no problem recommending VomRon German shepherds and Joan to anyone looking for a German Shepherd.

Honesty is a quality that is hard to find...Joan has it!

Just my two cents....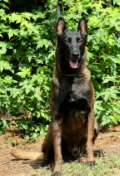 by Bhall on 18 November 2012 - 02:11
We don't know the whole story and I am sure both will have different stories.
Just replace the dog and be done with it.

by allanf on 18 November 2012 - 03:11
According to the first post, the dog is now four years old and suffering another ailment - "an arthritic spine of a fourteen year old dog". The owner has already spent huge sums of money associated with ED at eighteen months - not to mention the trauma of both the dog and the owner. I don't think a simple replacement is an option - perhaps it is?

joanro, I don't respond to PMs, and I am frankly appalled at your accussations regarding the health of the OP, MellMell. What the hell does that have to do with the dog with ED? You have refused to name the parentage of the dog with ED. You have refused to state whether there have been other cases of ED in dogs you have bred. And I believe the health caims of your dogs as shown on your website are inadequate.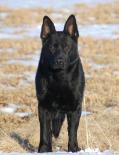 by Jenni78 on 18 November 2012 - 03:11
Allan, did you check out the previous "back and forth" on the two sites that Joanro suggested previously? (I didn't; I'm just asking) Perhaps there is more to the story? I don't know either party from Adam, but I would really wonder WHY a dog would be so arthritic at 4- was it accident? Was it injury? "Genetic" arthritis???? I see big, waving red flags when one person's dog has multiple problems, there don't seem to be others, and the person would rather slander someone all over the internet than speak civilly and accept a refund. Maybe Joanro had a reason she didn't want to give the person another dog and thus offered a refund instead? I cannot say I'd blame her and in fact would do the same myself. If there is even a tiny part of me that wondered if the dog had suffered injury, either accidental or intentional, I would hesitate to set a second dog up for the same fate. The fact that the puppy was purchased for only "half" what they normally go for, and the buyer refused a refund tells me there is much, much more to this story and Joanro refusing to answer over and over and over again the very same questions just tells she might have other fish to fry, not that she's necessarily hiding a damn thing.
What do health clearances posted on a website have to do with this? If Joanro doesn't post all health clearances on her website, that makes them 'inadequate," Allan? If they're not posted online, does that make her dogs more prone to passing on problems?

If they're American tested (OFA), can't anyone curious just look them up in the database? As I said, I don't know either party and haven't looked at the website in question- that last statement just struck me as patently odd.
You must be logged in to reply to posts
---
---
---
---
Contact information
Disclaimer
Privacy Statement
Copyright Information
Terms of Service
Cookie policy
↑ Back to top