by Kaffirdog on 18 October 2012 - 11:10
I am looking for the pedigrees of Graff at Peterwell and Allankee Sacha. Anyone in the UK got them please?

Margaret N-J

by Kaffirdog on 19 October 2012 - 11:10
bump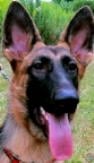 by GSDGenetics on 26 November 2012 - 12:11
by noddi on 26 November 2012 - 13:11
Margaret,how about contacting Jimmy Adamson(PETERWELL)re the Peterwell dog.Am sure he will be attending GSD club of Essex,s champ.show on Sat.DEC.1st at Towerlands Equestrian Centre,Blackmore Essex.Carole Spelman.

by Kaffirdog on 26 November 2012 - 16:11
Thanks for that GSDgenetics, the rest of Arkos pedigree came up so that was great, though nothing else on Brilley so far.

Thanks for the tip Carole, I wish I could go but too much commitment here at weekends, I understand my old friend George Woods is going to be there and I would have loved to meet up with him too. Hope you are keeping well.

Margaret N-J


by Sue Worley on 27 November 2012 - 16:11
The show is at Norton Heath Equestrian Centre...not Towerlands !!!!!
by Mandalay on 28 November 2012 - 10:11
If Brilley is the sister of Peterwell Boris (which I think she was) then parents would be Longvale San Diago/Peterwell Yelda.

Allankee advertised in some of the old GSD Weekly handbooks. Sacha is on here as mother to Allankee Salamander of Longvale (San Diago's sire).

by Runag on 28 November 2012 - 11:11
Hi

came across this website - http://www.peterwellgsd.co.uk/1980.htm

Peterwell Brilley is mentioned so maybe if you contact the site owner they will be able to help.

There is also a Peterwell Brilley of Wolse in this pedigree - is it the same breeding?

http://equiside.co.uk/equianimals/equidogs/rasta/rastapedigree.htm

and here

http://www.jaquenetta.com/gsd%20show%20results%201989/GSD%20Club%20of%20Wales%202%20Day%20Ch%20Show%20Jul%201989%20dogs.pdf

Hope this helps.




by Kaffirdog on 28 November 2012 - 12:11
Thanks for that, I've emailed them and hopefully they will help. I don't want to assume she is Boris sister without confirmation in case she's not, unless you are sure.. Allankee Sacha I still have not found, I only have the handbooks and not found anything so far.

All help much appreciated.

Margaret N-J


by Runag on 28 November 2012 - 13:11
Hi
it's my pleasure. I will see what I can dig up on Allankee Sacha.
http://www.thekennelclub.org.uk/download/9168/1980_1-part-2.pdf
there are common links with amulree and is there some Australian connection??
There was mention of Allankee Sacha on the icelandic part of this site but it has been removed. (see below)
is.pedigreedatabase.com/
german_shepherd
... - Iceland
-
Translate this page
Hundar frá ræktunarbúi Allankee: German Shepherd. ... Allankee Salamander of Longvale, 2, Allankee twopence. 3, allankee brigitta, 4, allankee sacha ...
You must be logged in to reply to posts
---
---
---
---
Contact information
Disclaimer
Privacy Statement
Copyright Information
Terms of Service
Cookie policy
↑ Back to top