by Frank Stommels on 12 September 2012 - 08:09
Never in the history of the KNPV: 2 dogs champion with 440 out of 440 points!!
In a spectacle with 30 other very good Malinois and Dutch Shepherds, Tom Verbruggen with the German Schaferhund "Edo van Brandevoort" got the championships title of the Dutch KNPV National Championschips policedog1. He won absolutely flawless with a maximum score of 440 points out of 440!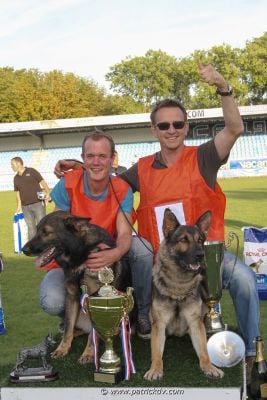 Rob Cordong with his German Schapherd "Assan van Casinohof" also got with 440 points the first place.
"Caro van Brandevoort" got with 440 points, the 7e space at the police dog 2 (max 455 points). In his spectaculair attacks Caro made ​​no mistake: score 100%!
See also:
www.van-brandevoort.nl
Dolf van Brandevoort
will be titled KNPV PH1 in oktober 4th and is for sale. See
working-dog.eu
by Koach on 12 September 2012 - 09:09
Fantastic news for the GSD. We need more breeders like Van Brandevoort.

by Bob McKown on 12 September 2012 - 11:09
Caro is a awsome dog!!!

by judron55 on 12 September 2012 - 12:09
we have plenty of breeders like Brandevoort...they just don't compete in KNVP....wish we could bring the sport here!
You must be logged in to reply to posts
---
---
---
---
Contact information
Disclaimer
Privacy Statement
Copyright Information
Terms of Service
Cookie policy
↑ Back to top