by clc29 on 27 August 2012 - 04:08
I belong to a SchH club that has two full brothers (Eliot von Prevent x Lena von der Staatsmacht) as working members, who also currently work in Law Enforcement. I have to say these are some of the most impressive dogs I've ever seen work and have beautiful confirmation to go with it. My instructor said he doesn't see dogs like these very often and is also very impressed by their character and drives. FYI, Eliot is also the sire of Terror von der Staatsmacht.

Does anyone else have an Eliot baby? I'm curious to know if he is just that type of producer or if the Lena/Staatsmacht cross is a "magical" cross.

Does anyone know who currently owns Eliot?



by hexe on 27 August 2012 - 05:08
Do you suppose that Lena contributed anything to those two dogs?
by hexe on 27 August 2012 - 06:08
Not trying to insinute that the dog in question isn't a good producer, BTW--just can't understand why everyone always focuses on the male in a breeding, as if the female was just some piece of pottery that the puppies were 'baked' in for 60 days....

As it happens, Eliot has at least one significant advantage in his favor when it comes to breeding: he's got an 'open' pedigree, e.g. he has no linebreeding behind him for at least 5 generations, so it makes him a viable choice to with females that are heavily linebred, as well as those which have a similar open pedigree which would result in offspring with minimal linebreeding. This has probably played a role in why he's presently got at 287 offspring on the ground, the oldest born in 2008, according the the European working dog site.

Lena has a strong working pedigree to stand on, too, with her father Asko vd Lutter and the good bitches Connie Körnerplatz and Gimmi Abfuhr behind her in the motherline; the pairing of Eliot and Lena continued the open pedigree, which can be risky because you might find a good 'click', or the puppies might just be all over the place in structure, work ethic and so forth.

Given the bitches he's been used with, it would appear he's bringing something to the table, because the kennel names read like a "Who's Who" directory of the top working lines; Staatsmach has used him several times over several of their females, and there are some repeat breedings that you would expect must have produced something desirable...otherwise, why repeat the breeding (doesn't seem to have been a repeat due to no live pups on first one, either)?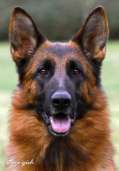 by bea on 27 August 2012 - 06:08
Eliot died about a month ago
by hexe on 27 August 2012 - 06:08
Wow, bea...that surprises me. Awfully young...only 7 years old. Do you know what happened?

Never mind that last question, bea. I found a memorial page for him, and see they lost him to bloat. How very sad...he was a beautiful dog, well built and attractive, and clearly there were a number of working line breeders who liked what they saw of him in the work.

by judron55 on 27 August 2012 - 14:08
Wow...RIP Eliot...I have a Lena daughter...Bo von der Staatsmacht...sired by Harro von der Staatsmacht....which makes it a 2-3 on Orla von der Schiffslache. I like her alot....though I wish she displayed more prey drive.
by duke1965 on 27 August 2012 - 14:08
judron, you should be very happy to have a 2-3 orla, could be a superproducer,with the right males
allways amazed to see dogs die of bloat at young age, especially the famous ones, anyway RIP

by clc29 on 27 August 2012 - 15:08
Hexe....I agree, the dam lines are very important.
I was just wondering if Eliot was a consistent producer with different dam lines or if it was the cross to Orla von der Schiffslache, the closest common denominator in both Lena and Gracia, with these particular breedings.

The dogs I'm talking about were born in 2010.

How very sad to hear Eliot has died. That makes two well known sires (Ajax vom Rohnsaler Bach and Eliot) this year that I know of who died of digestive problems.

by judron55 on 27 August 2012 - 17:08
@ duke....I'm estatic about her....she is a very nice bitch with an edge:-)

@clc....damn, I'm looking at a pup that has Ajax vom Rohnsaler Bach as the sire of the dam...I hate bloat even though I've never dealt with it personally....
by andhourspass on 28 August 2012 - 00:08
RIP Eliot... I always loved him. So sad when they leave us suddenly and even more heartbreaking when they are young. What happened to Ajax?
You must be logged in to reply to posts
---
---
---
---
Contact information
Disclaimer
Privacy Statement
Copyright Information
Terms of Service
Cookie policy
↑ Back to top