by Ace952 on 27 September 2010 - 05:09

Which do you prefer and why?
Any recommendations?


by KYLE on 27 September 2010 - 06:09
Pros and cons to both. Plastic easy to clean out, light in weight, Keeps solids and liquids in crate, ventillation ain't great, I'v had dogs push the doors and break the plastic guides that holds the door. Metal has better ventilation. Solids and liquids go everywhere. I've had a dog slide the plastic tray out, flip the kennel on its side and get out what was the bottom. The wire mesh on the bottom is not as tight as the top or sides. If you are going to use it for kenneling make sure its large enough for them to stretch out.

Kyle

by jc.carroll on 27 September 2010 - 17:09
For me it depends. I prefer the plastic crates in some situations, metal in others.


When it comes to transportation, assuming you're not using a metal dog-box, the plastic crate is the best. I can carry two halves in my car, snap it together when I get to the field, and if the dog gets the inside muddy from working, it's easy enough to clean on the spot, or throw some paper between the halves when I take it apart, and hose it out at home.

Wire crates I find a pain in the arse to set up and take down.

That being said, plastic crates are not necessarily designed for long-term regular crating, and I've had the plastic show stress lines from constant use. Also once they start to break, there's no real fix once the plastic cracks. Wire cages can be jury-rigged in a pinch.

Generally I only use metal crates in the house with dogs I know won't flip them, rip up the pans, or mess and splash it everywhere. I have more plastic crates than metal ones, because I find them more usesful overal; especially since my dogs often travel, and not needing to rush-order get a GSD-sized shipping crate at the last minute is always nice.


by Doberdoodle on 28 September 2010 - 15:09
I like wire metal crates, and I reinforce them with zip ties. Plastic crates can be better for some dogs who break out, if they are the ones with a strong door, plastic holds on to odor, but they are not good when it's warm b/c the dog gets hot, plastic also can be damaged scratched and the doors can rust, they are also more expensive. The good thing about plastic crates is the hair stays inside.


by Ace952 on 28 September 2010 - 20:09
I'm trying to decide which one to go with.
I live in Arizona and thinking a wire would be good in the house b/c it will let the air flow.
I am wondering though if a plastic would be better but how bad would the airflow be?

I plan on giving my puppy free run of the house after maybe 8 months if not longer.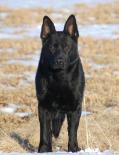 by Jenni78 on 28 September 2010 - 21:09
No one is mentioning REAL metal crates, which are all I can use w/a few escape artists. They will run you between $500-$1000 but you'll never have to buy another one. I have had dogs get out of EVERYTHING else...zip ties are a joke to a determined dog. I also don't like bars for tooth damage reasons. New teeth are a lot more expensive than new crates.

by Ace952 on 28 September 2010 - 22:09
Jenni...thanks for pointing that out. I meant wire when I said metal.

Those metal bozes look like a safe...lol

by CMills on 29 September 2010 - 04:09
Depends, the wire crates are nice for the dog/pup to be able to see what's going on around him, so not feeling so isolated, but the plastic ones keep stuff contained in them, i.e. hair/urine, and are easy to disinfect/clean. But the wire ones keep the dogs cooler. I've had dogs bust out of both kinds, depends on the dog.
You must be logged in to reply to posts
---
---
---
---
Contact information
Disclaimer
Privacy Statement
Copyright Information
Terms of Service
Cookie policy
↑ Back to top