by Runag on 26 January 2012 - 23:01
Hi
I have a 9month old male - he has very wobbly back legs and appears quite cow hocked. He is very big (too big for the breed standard) and has grown rapidly, weighing 40kg. I fed him Royal Canin from 7 weeks, starting with puppy and now on junior. He also got raw turkey mince.
He doesn't appear to be in any pain but his gaiting is not good and he sometimes seems to flick out his left back leg. Apart from that, he is very active and happy. I took him to the vet today and he immediately put him on anti-inflammatory and pain relief tablets despite him showing no signs of pain. He wants me to take him back next week for x-rays and is already talking about operations. I have read elsewhere on the forum that cow hocks don't always mean HD and that they might straighten up as he gets stronger. I paid £600 for him. Any advice welcome.



by dogshome9 on 27 January 2012 - 00:01

Sorry that you have to worry so much about your boy, wow 9 months and already 40kgs he is big. No cow hock does NOT have to mean that he has HD.

Did you see his parents?

Were both parents hip scored and did you see a copy of their results?

Please be aware if your vet takes xray and tells you that your puppy has Hip Dysplasia / ask your vet to have them assesed by a Radiology Specialist.
I must stress this as at the moment I am dealing with a vet who euthanaised a puppy that I bred because he told the owners she had HD, I sent a copy of the xray to a Radiology specialist and found out she had excellent hip and would have scored well within our scheme.

Meanwhile low impact exercise only, swimming is best if you can find a suitable place to go or walking on the beach.




by workingdogz on 27 January 2012 - 00:01
Your pup may just need to figure out where all his body parts are

Some of those big lanky ones take awhile to "get it together".
You may want to take him to a park and let him climb on the kids
play equipment so he can start to figure out where all his legs go etc.
Walking in sand/plowed dirt will help tighten up ligaments too.
As will swimming.

by Runag on 27 January 2012 - 00:01
Thanks for the advice. I did see his parents and the hip scores were 4/3 for Sire and 5/7 for Dam. I checked back on as many of his ancestors as I could and they were mostly ranging between 4 and 12 with one exception of 14. I feel that the vet is too hasty and the pup does have to be hip scored at 1 year before I would be allowed to breed from him. Of course if he has bad hips I wont anyway. I am just worried as I love him to bits. He is doing very well in his beginners Schutzhund and has a fantastic nose for tracking! I am close to a beach but it is hard to get him in to swim as he doesn't like going out of his depth. Do you think I should wait until he is 1 year or get the x-rays now?

by Rik on 27 January 2012 - 00:01
At this age, no reason to suspect any thing other than over angled and maybe loose ligaments.

If the dog is in no pain, I would not even do x-rays until ready to certify. No reason, from what you describe for the drugs either. Some vets get confused over the GSD rear, especially when over done.

jmo,

Rik

by dogshome9 on 27 January 2012 - 00:01
I agree with Rik, if he is not in any pain why give meds?
Wait for the xrays and take him walking on the beach, if he is not keen on the water go in with him, don't force him in just encourage him

(no idea as to where you live so you might be in the middle of winter ?)
I no longer live near the coast and I really miss those beach walks -- so good for my puppies -- really strengthens those back ends, encourages them to drive more.

by Runag on 27 January 2012 - 00:01
Hi, live in the North of Scotland so yes, it is freezing cold with horizontal rain!! Thanks for all your help folks, it has set my mind at rest. Will phone the vet tomorrow and cancel till he is 1yr. (NO more meds either) Have posted some pics for you to see.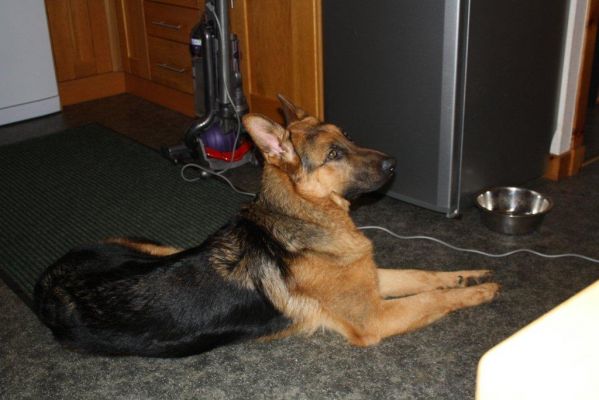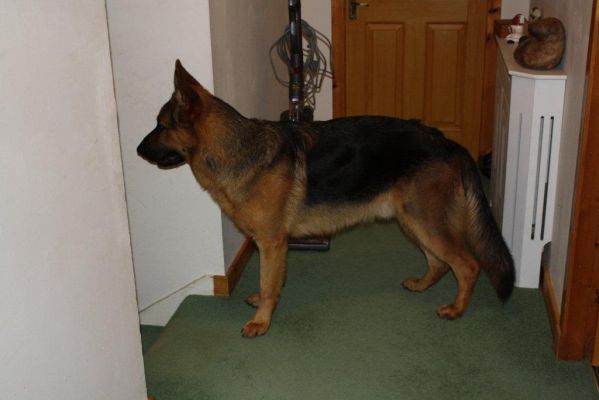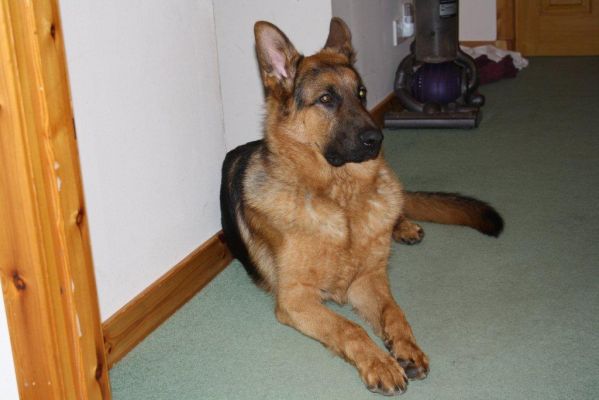 by dogshome9 on 27 January 2012 - 00:01

Hey he is one handsom boy, love that strong head and beautiful colour.

I thought that you might live someplace where it is rather cold right now.
Although here in OZ right now it sure does not feel like summer here on the southern highands NSW.

Good luck with your puppy let us know how he develops.



by workingdogz on 27 January 2012 - 00:01
Holey crap he is big for 9mos!
Lot's of walking, good looking pup, congrats


by TingiesandTails on 27 January 2012 - 02:01
I agree with Rik and I would keep him as slim as possible. Extra weight always means stress on the ligaments and bones. Hope you can return the pain meds and get your money back!
You must be logged in to reply to posts
---
---
---
---
Contact information
Disclaimer
Privacy Statement
Copyright Information
Terms of Service
Cookie policy
↑ Back to top