by JAGGER1214 on 27 May 2006 - 11:05
I have a 10 week old puppy with an Umbilical Hernia. Should I have it surgically fixed, fix the puppy or leave it alone. The vet wants to spay the pup and says it is a genetic defect. Bloodlines are excellent, not to mention the price for this pup. Any advice would be greatly appreciated.

by GSDfan on 27 May 2006 - 11:05
http://www.pedigreedatabase.com/gsd/bulletins_read/39091.html#39117 There was a thread on this topic not too long ago, copy and paste to the browser bar.
by hodie on 27 May 2006 - 14:05
Hernias are most often not genetic defects, but rather a result of too vigorous pulling on the cord during or after birth. Hernias are common in all breeds and it is not a reason to spay, unless you are spaying anyway and choose to repair it then. If it is small, repair is generally not necessary and, as the pup grows, it can get better. If it is larger, then surgery may be a good idea and when spaying, unless there is some urgency to fix earlier, it can easily also be repaired.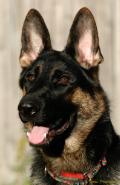 by DeesWolf on 27 May 2006 - 17:05
I wish I had a dollar for every vet that told me a puppy had an umbilical hernia when in fact it was just umbilicus. I'd be rich! Rich I tell ya!

by Nadia on 27 May 2006 - 17:05
DeesWolf: Can you explain the difference? Thanks!
by Jill on 27 May 2006 - 20:05
Go to this website and it is a great article on umbilical hernias and tells the difference. http://www.showdogsupersite.com/kenlclub/breedvet/umbilical.html
by Chey on 27 May 2006 - 21:05
My one bitch produced 3 pups in her first litter with hernia's. (out of 9). Dam does not have a hernia and neither does her sire and none in her sire's litter had hernia. I let her do all the 'ripping' on each placenta/cord. Second litter, I decided to do ALL the puppies cords manually. NO hernia's. ( The sire of this litter has produced hernia's in other litters) Personally I think MANY of the hernia's we see are not genetic but are due to pulling /tugging on the cord.
by D.H. on 27 May 2006 - 21:05
The superficial hernias are not real hernias and usually disappear, sometimes leaving the dog with an "outie" belly button, but not always. The link from Jill is an excellent reference. Most superficial hernias are small, so that you could not stick the tip of a finger inside the hole or barely. Carefully push the soft "outie" bits in a couple of times a day. Over time you should notice the "hole" get smaller, which does not happen with a true hernia. US vets are very quick to snip off/out reproductive parts. Seems just about is fixable to them with a spay/neuter. Let your pup mature but pay attention to the outie bits to make sure it will not lead to any future complications.
by Melissa on 29 May 2006 - 04:05
Jagger, my 9 week old puppy has an umbilical hernia also. My vet, who has treated many GSD puppies, told me to wait and that MOST of the time they just go away on their own. She also said they are VERY common. If it is small, just let it be for now. Also, don't let any vet tell you to spay a young dog. Do a lot of research on your own first. Good luck!
by klekoni on 14 November 2006 - 18:11
I have just noticed that my 3 1/2 month old female has a small umbilical hernia as well. I agree with Melissa that most times these settle on their own. I am a surgeon myself(human type) and know that with children we do not operate on these anymore until the child is 8 or over and only if this persists. The majority of umbilical hernias close off. There is no reason to suggest that dogs are any different. Umbilical hernias are not a specific genetic defect attributable to a specific chromosome defect. It is usually a mutation and therefore highly variable. So I certainly would not spay any female and would still breed her. She should not have any higher incidence of litters with hernias.
You must be logged in to reply to posts
---
---
---
---
Contact information
Disclaimer
Privacy Statement
Copyright Information
Terms of Service
Cookie policy
↑ Back to top