by WATSONS SHEPHERDS on 10 September 2010 - 19:09
MY Friend GSD HAs Crust ONLY At The Tips Of His Ears The Hiar Gets Pulled Off Very Easy Why Is This. Is There Any Recomended Remidies. It Seems To Go Away And Come Back She Explains. Any Direction Any One.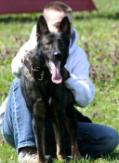 by Myracle on 10 September 2010 - 19:09
Has she had the dog checked for mites?
Also, does the dog live outside? He may be getting eaten up by flies.

by WATSONS SHEPHERDS on 10 September 2010 - 19:09
yes the dogs does stay out side and she lives in the county with farm animals but my guess is flys. i will ask if he got checked for mites.. did not know flys would do that but makes sence i think the horses are like that.

by Liesjers on 10 September 2010 - 19:09
My male dog had this for a year. It was not allergies, not mites, not fly strike. He just turned two and in the last month, it has healed over. Basically he was missing fur on the tips and sides of his ears, and in its place would be dry, flay skin. His was not oozy or scabby and he never itched it. I use a dog bug repellent because we thought it was fly strike and he does get bit by little bugs in the summer, but then it came back worse over the winter (no bugs). His was not really that bad, so I just gave up after a while, and now it's healed. Maybe it will come back, who knows. I used to rub Dermalone ointment on it but it didn't seem to help. I read it can be "vasculitis" which I think is related to circulation. That would make sense in our case b/c my male has pretty big ears, lol.
Here's a few pics that show it: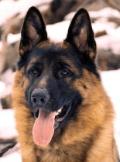 by VomFelsenHof on 11 September 2010 - 03:09
This definitely sounds like a case of bad fly strike, Watsons Shepherds. I would recommend purchasing some SWAT, which you can pick up at a feed store, or online. (here is a link:
http://www.lambertvetsupply.com/Swat-Fly-Repellent-Ointment-Clear-6-oz--pr--021FAR046
) It is cheap stuff--works great! Just put it on the ear tips every other day, and the dog will likely clear up within a week or so.
Liesjers,
Your dog looks like a friend's dog who had allergy issues. They would get bad off and on, and leave the ear with missing pieces/hair on the edges. She switched her dogs to raw, and voila--no more moth-eaten looking ears. Have you considered what he is eating as the possible culprit? :) Just an idea.
Good luck to both of you!
-Melanie
vom Felsenhof German Shepherds
by Louise M. Penery on 11 September 2010 - 04:09
I've seen this on the tips of lots of GSD ears. I usually consider it as something that comes from another part of the body that the dog licks that has Staph pyoderma . In my experience, it is definitely not fly strike and is seen in dogs never exposed to flies. When I've seen just a few patchy areas, it has not be fly strike in my dogs. I usually treat it by applying Happy Jack Pad Kote. Fly Strike usually extends about one inch down from the tip of the ear on the inside and the back of the ear.and is crusty with dried blood. For Fly Strike prevention (when you only see a few tiny crusts of blood or some frank blood), I use Absorbine Ultra Shield EX spray. Try to work off the bloody crusts with your finger nails as the blood attracts more flys.

by uvw on 12 September 2010 - 03:09
sometimes that happens in from forced hot air in the winter, or dry conditions. you can try rubbing vitamin e oil on the tips of the ears....just get the capsules and put a pin hole in
You must be logged in to reply to posts
---
---
---
---
Contact information
Disclaimer
Privacy Statement
Copyright Information
Terms of Service
Cookie policy
↑ Back to top