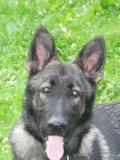 by burger64 on 21 July 2010 - 06:07
the other thread about white shepherds and the natzi's got me thinking, what were hitlers dog blondie's bloodlines /anybody know?history channel shows pups on a documentory ,just curious and sick of the bs threads

by Doberdoodle on 21 July 2010 - 07:07
I don't think anyone knows, Blondi and her pups were killed shortly before Hitler commited suicide. Hitler had many dogs at his kennel. Blondi looks like a sable, tall, square and lighter boned dog.

This is what I found online about one of his other dogs, Blonda:
"She was born in 1926 from Ally von der Grottenau and Armin von Ridekenburg, both dogs about whom little is known nowadays. However, the lines of the grandsire of Armin von Riedekenburg, Junker von Nassau, still exists today - in American showline German Shepherds of all places...."

Now I have another bad thing to say about American GSD's, they may be related to Hitler's dog, LOL!!!



by Sunsilver on 21 July 2010 - 10:07
Abhay came up with some very interesting information on Hitler and his dogs in this thread here:
www.pedigreedatabase.com/gsd/bulletins_read/142338.html
Well worth a read!
BTW, if you scroll to the bottom of the page, you will see Hitler with a dog that looks almost exactly like the Littlest Hobo!
More proof that this colour pattern (the so-called reverse mask) has always been part of the GSD genome, and is NOT due to an outcross to a husky-type dog!

by AandA on 21 July 2010 - 10:07
Prompted by the names Doberdoodle mentioned I was having a cruise round the various progeny/lines and came across this guy who for the time has a remarkably moderm look to him. Good tough looking hound with great feet.
www.pedigreedatabase.com/gsd/pedigree/493264.html
AandA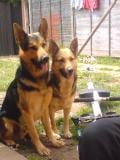 by leciesters doghandler on 21 July 2010 - 11:07
it was VERY good but wow was there a fight on pages 2+ and people think the PDB is bad now lol uglydog was fighting with like 2-3 diffirent people lol but it was a good thread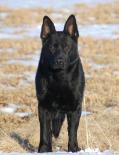 by Jenni78 on 21 July 2010 - 13:07
Oh, there are people who know what they were. Just because the dogs were supposedly killed (not saying they weren't...just making the point that none of us really know) doesn't mean that everyone who interacted with the dogs was killed;-)

by kitkat3478 on 21 July 2010 - 14:07
Here's a pic of hitler and Blondi. There is some interesting info here for anyone interested,(BTW-I DID NOT take the pic), I lifted it off this site!
forum.axishistory.com/viewtopic.php
You must be logged in to reply to posts
---
---
---
---
Contact information
Disclaimer
Privacy Statement
Copyright Information
Terms of Service
Cookie policy
↑ Back to top