by Royal1 on 21 April 2010 - 04:04
Hi!
At what age is German Shepherd consider to be an Adult?

Many people say at 2 years is consider to be Adult GSD and fully mature at 3+ years old.
Some people say the fear period as puppy GSD ends at 18 Months of age, meaning he is qualify to be as self-confident GSD like an adult dog.


by GSDtravels on 21 April 2010 - 05:04
Physically, 2...mentally 3...to another dog, 6 months
by Royal1 on 21 April 2010 - 07:04
by missyfly96 on 21 April 2010 - 12:04
I don't think German Shepherds are considered Giant Breeds, that would be Great Danes, Mastiffs, etc. German Shepherds are Large Breed.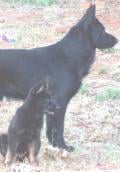 by Pharaoh on 21 April 2010 - 15:04
Pharaoh is a new breed of GSD. He is a perma-pup (permanent puppy). He is now 2 1/2 years old and is just showing some minimal signs of maturity. At this rate he will be mature just before he goes into senility.

Michele


by ZIN on 21 April 2010 - 15:04
LOL Pharaoh, lucky you...... Yes GSD's are not Giant breed dogs only large breed


by GSDtravels on 21 April 2010 - 16:04
When you're talking maturity there are many factors involved. Bone freeze occurs around 11 months. There will be no more "growth" after that, but they will "fill out" until the age of 2 and some, beyond that. In my experience, when they are 3, they are mature mentally. Dogs will consider puppies as just that until about the age of 6 months, then all bets are off. This is when you may start to see aggression from an older dog toward the youngster. Sometimes, it will be just to put them in their place, but it can lead to injury and even death.

I just thought I'd elaborate on my first, short response.

by ziegenfarm on 21 April 2010 - 16:04
agree with the others who say physical maturity around age 2; mental around age 3. i have a couple who took even longer. best to look for signs from the dog rather than look at the calendar. :)
pjp

by steve1 on 21 April 2010 - 18:04
If what is said above is true and i do not doubt one bit of it then what is little Izzy just 11 months old 15 of april
At the Show Club on Monday i was taking her on to join the Young Dogs when a Judge came up to me and said only Puppies or young Dogs on this session the older dogs later, I looked at him and said is 11 months old classed as an adult, because she is 11 months old today, To me she looks like a Pup and Acts like a Pup,
I nearly said to get his Glasses cleaned, but i thought he may have thought i was being funny
Steve1

by bea teifke on 22 April 2010 - 14:04
3 years old
You must be logged in to reply to posts
---
---
---
---
Contact information
Disclaimer
Privacy Statement
Copyright Information
Terms of Service
Cookie policy
↑ Back to top